Cubs outlast Reds in 13th on Schwarber's HRs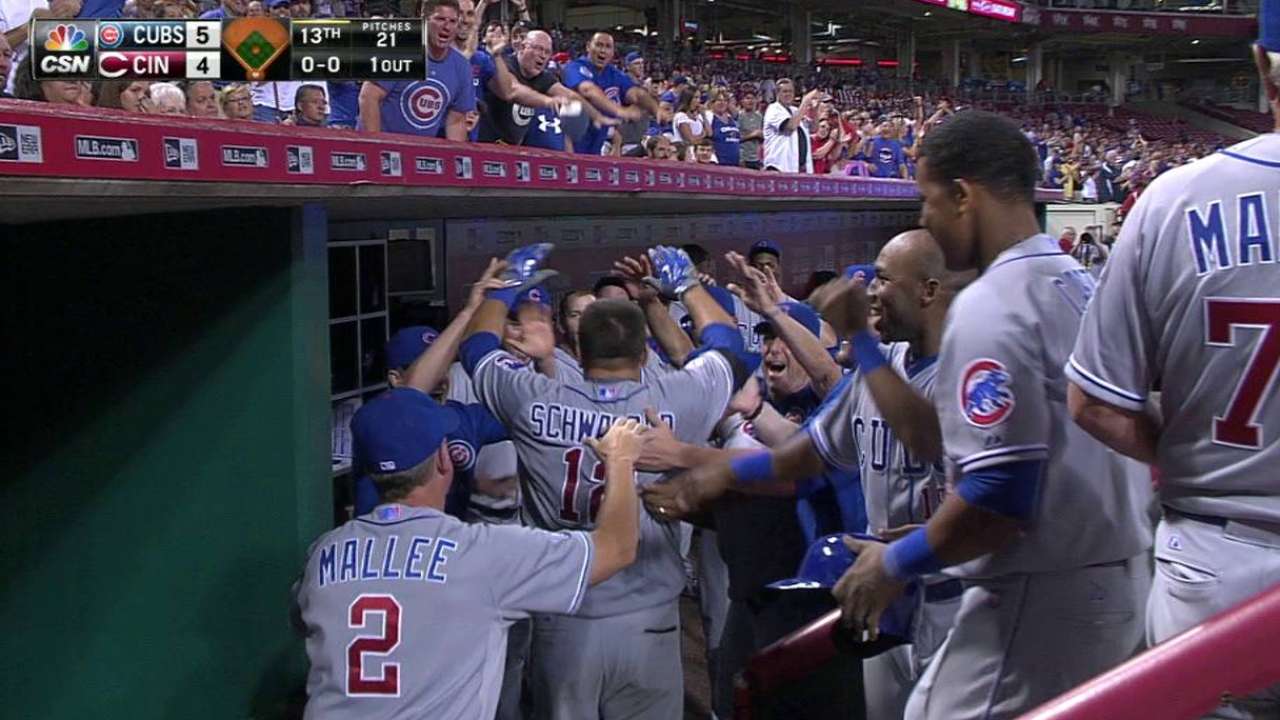 CINCINNATI -- Local kid Kyle Schwarber put on a late-night show all on his own Tuesday night at Great American Ball Park. Schwarber, a nearby Middletown, Ohio, native, had a four-RBI game as he hit the game-tying homer in the ninth inning and the game-winning homer in the top of the 13th to lead the Cubs to a 5-4 victory over the Reds.
With one out in the Chicago 13th, Schwarber lined a 2-2 pitch from reliever Nate Adcock to snap a 4-4 tie and even the four-game series ahead of Wednesday's day-night doubleheader. Jason Motte allowed three hits but had two scoreless innings to earn the victory. The Reds and Cubs have played 11 times this season, with five of those games going to extra innings. This time, it was all because of the rookie Schwarber.
"I always said I wanted to be a Major League ball player when I was growing up, but I never knew it would come to fruition," Schwarber said when asked if he ever thought he'd be rounding the bases in this situation. "A lot of hard work went into that, and now it's here. It's an awesome feeling to just play a ballgame up in the Major Leagues."
Because Aroldis Chapman was unavailable following a career-high 44 pitch outing Sunday, followed by a save on Monday, J.J. Hoover was summoned by Cincinnati to close with a 4-2 lead in the ninth. It backfired when Hoover allowed a leadoff single before Schwarber crushed a game-tying two-run homer high into to right field that forced extras.
"It's awesome to be able to just contribute first off, then it was a great feeling all around," Schwarber said. "We still had a lot of work to do [after] tying the game. We still had to go out and pitch shutout innings after that."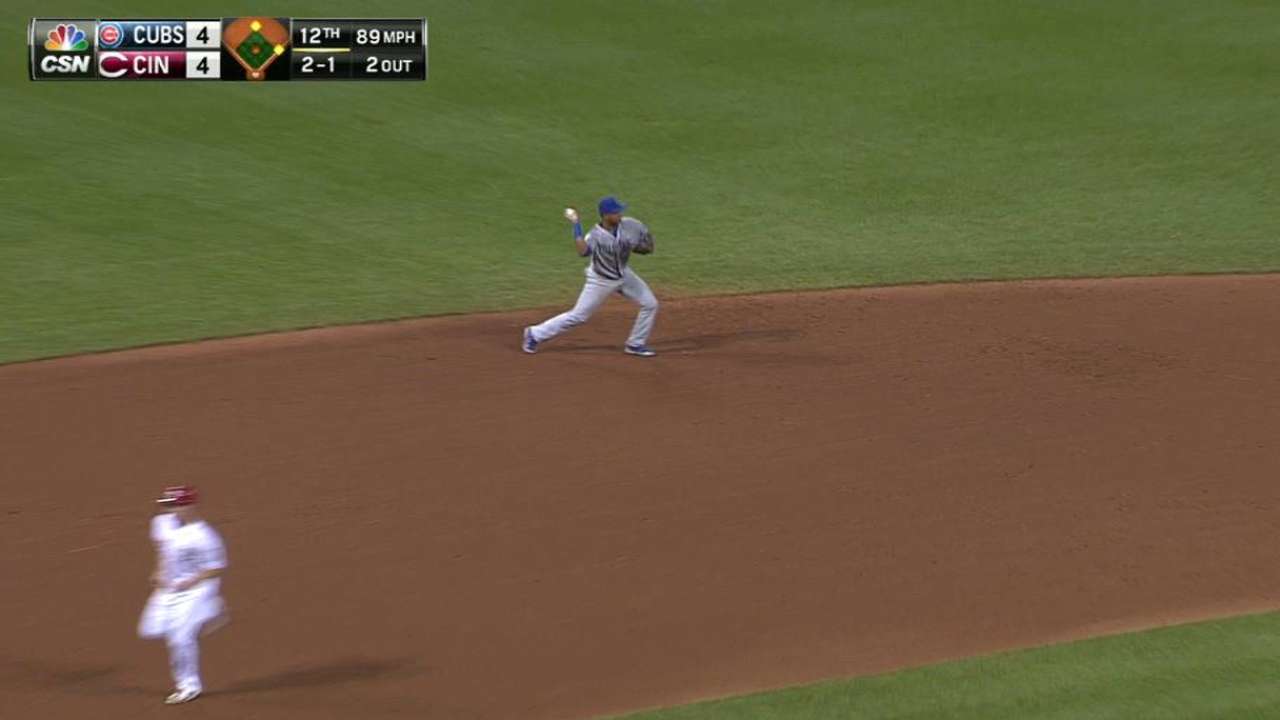 MOMENTS THAT MATTERED
Frazier's clutch hit rendered moot: Already with a sacrifice fly in the first inning, Todd Frazier added two more RBIs with a single in the bottom of the seventh to put the Reds ahead, 4-2. After working a full count vs. Pedro Strop, Frazier got a pitch low and outside but reached way down with a bent back to loft the hit into short left-center field. Now with 61 RBIs, he is on pace to drive in 110 runs this season.
"It was a great at-bat, and big," Reds manager Bryan Price said. "It got us into a 4-2 lead and we just weren't able to close it out."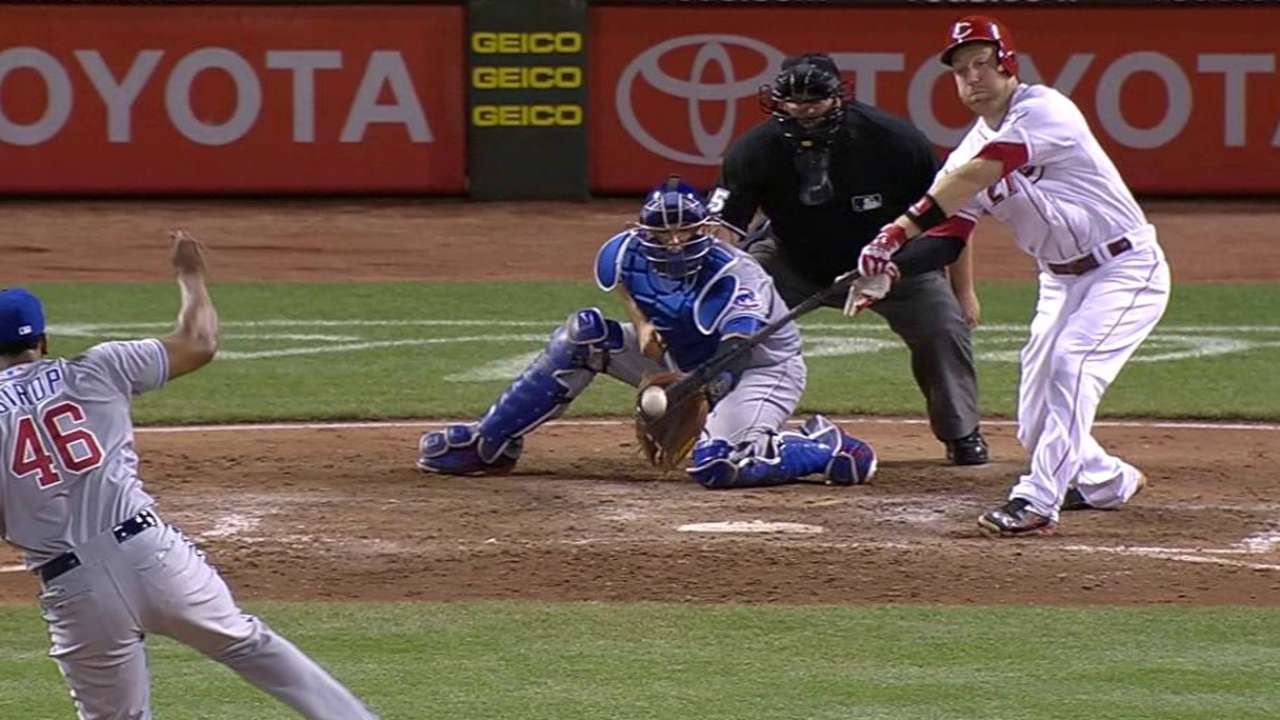 Memorable night for Schwarber: With the Cubs trailing by two runs, Schwarber went deep to right field to tie the game and send it to extra innings. According to Statcast™, the ball was hit at 108 mph and traveled an estimated 380 feet. Schwarber's big night began in the fifth, when he plated the Cubs' first run on a ground-rule double to center field. He finished 4-for-7 with four RBIs. More >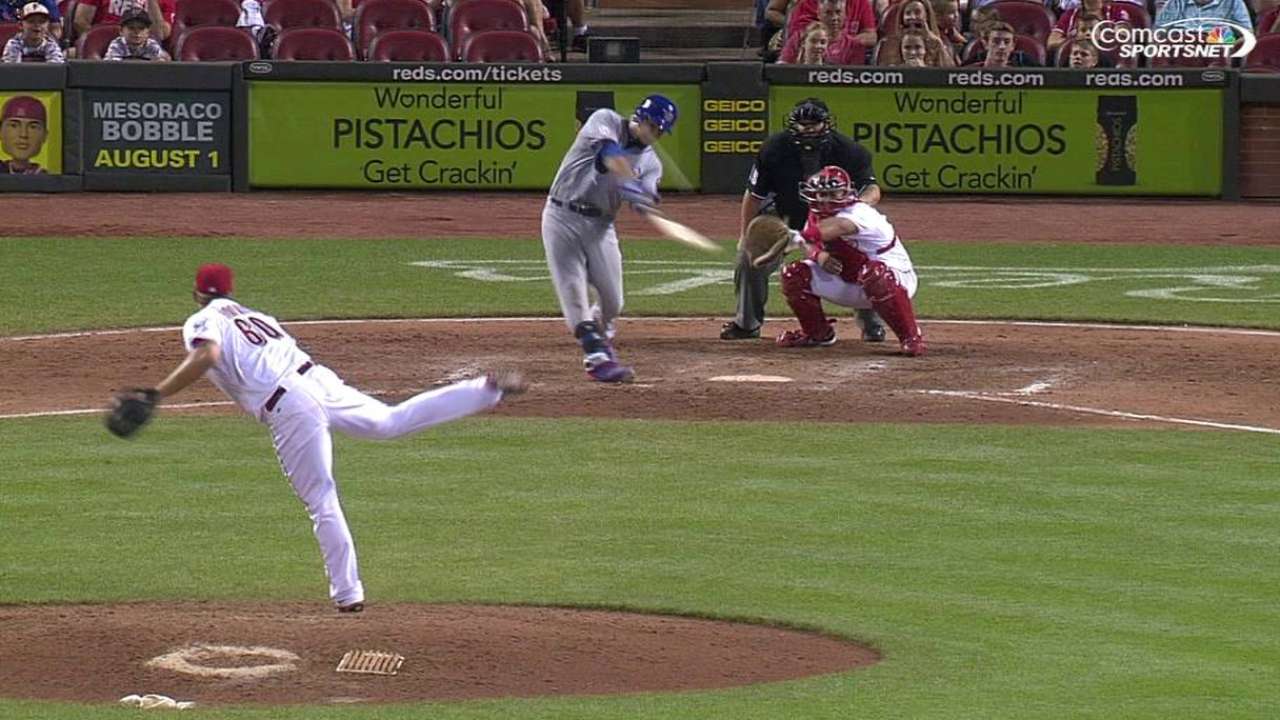 Missed chances: The Reds were 1-for-9 with runners in scoring position and stranded 11 men on base. They had a chance to win the game in the ninth after late-game replacement Billy Hamilton reached on a one-out single. Hector Rondon was called for a balk with Brandon Phillips batting, moving Hamilton into scoring position. But Phillips grounded out and Joey Votto flied out to left field, sending the game to the 10th.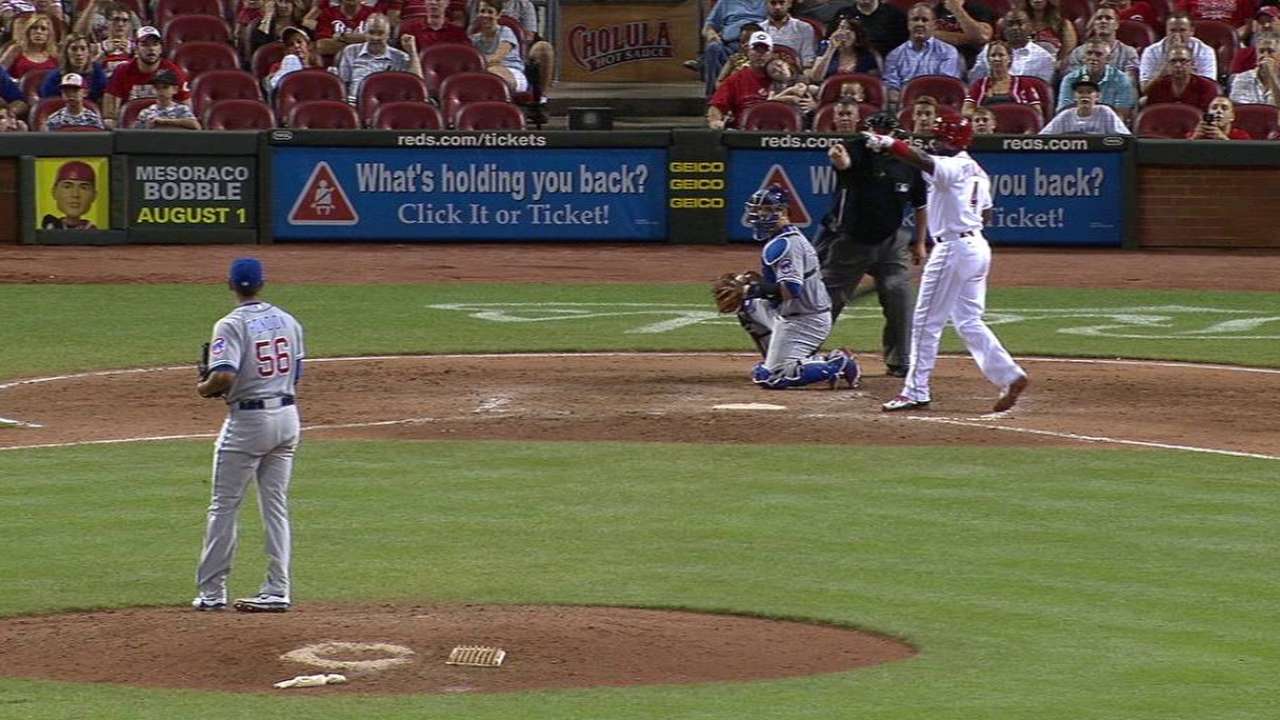 Hammel bounces back: After having to leave after one inning with left hamstring tightness in his last start on July 8 against the Cardinals, Jason Hammel threw five solid innings, surrendering two runs (one earned) on five hits and three walks while striking out four along the way.
"Obviously, it was a stepping stone for me," Hammel said. "Things definitely weren't as bad as last time, but we're still going to keep treating it and make sure we stay on top of it."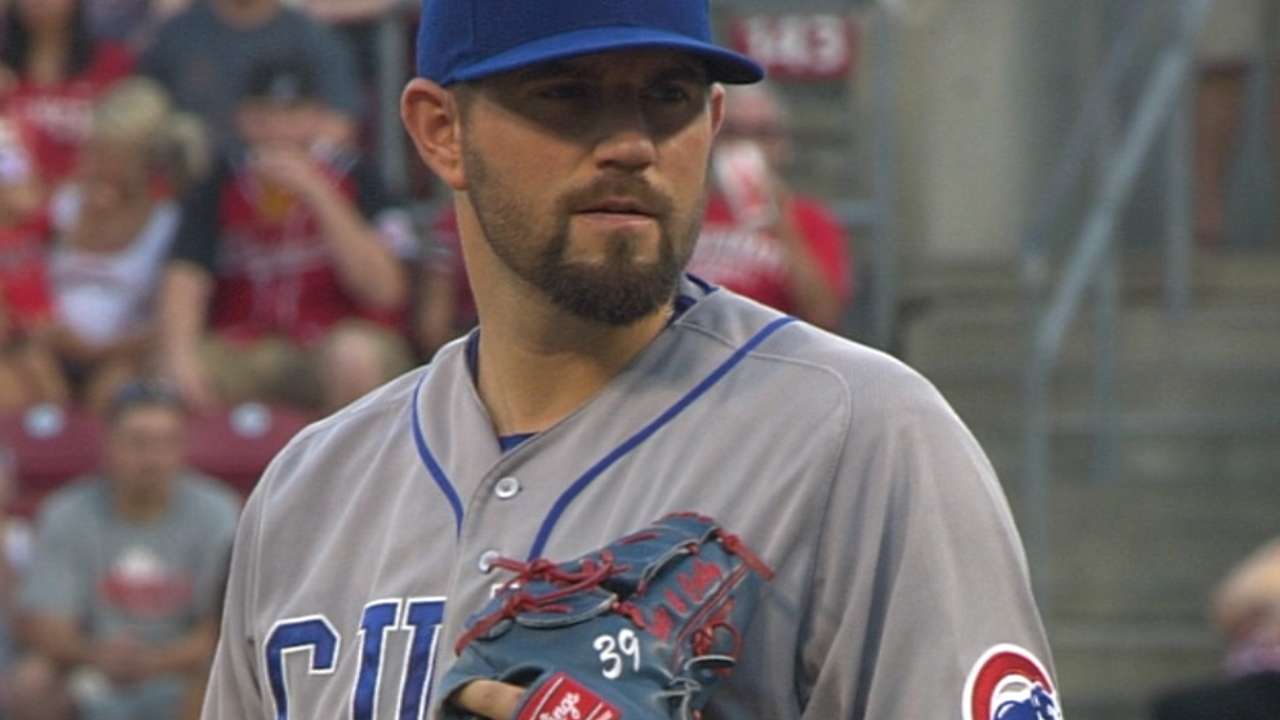 QUOTABLE
"It didn't feel like it was a terrible pitch. I felt like it was down. I guess it was just a lucky swing. He got a hold of it. He put a good swing on it. The kid is hot right now. I'm lost right now. I just have to keep at it. It's been a rough two outings for me, a tough loss for the team. I would have liked to have pull that one out."
-- Adcock, who has allowed homers in each of his last two appearances
SOUND SMART WITH YOUR FRIENDS
When Jay Bruce walked for the second time in the game during the fifth inning, it was his 44th free pass this season. Bruce had 44 walks during the entire 2014 season.
Entering the night, Hoover's 1.31 ERA ranked second in the National League among relievers with at least 41 1/3 innings pitched. He hadn't allowed an earned run since June 30, a span of six innings over six games.
REPLAY REVIEWS
With one out in the top of the sixth, Chris Coghlan tied the game at 2-2 with a homer off Reds starter Raisel Iglesias that didn't technically leave the playing field. The ball hit off the top of the left-field wall and because of fan interference bounced back into play. The play was initially ruled a triple, but a crew-chief review was issued after Price came out to talk it over with home-plate umpire Fieldin Culbreth -- arguing it should have been ruled a double. The replay official definitively determined that the ball would have left the playing field in flight, leading to the play being overturned to a home run, to Price's dismay. More >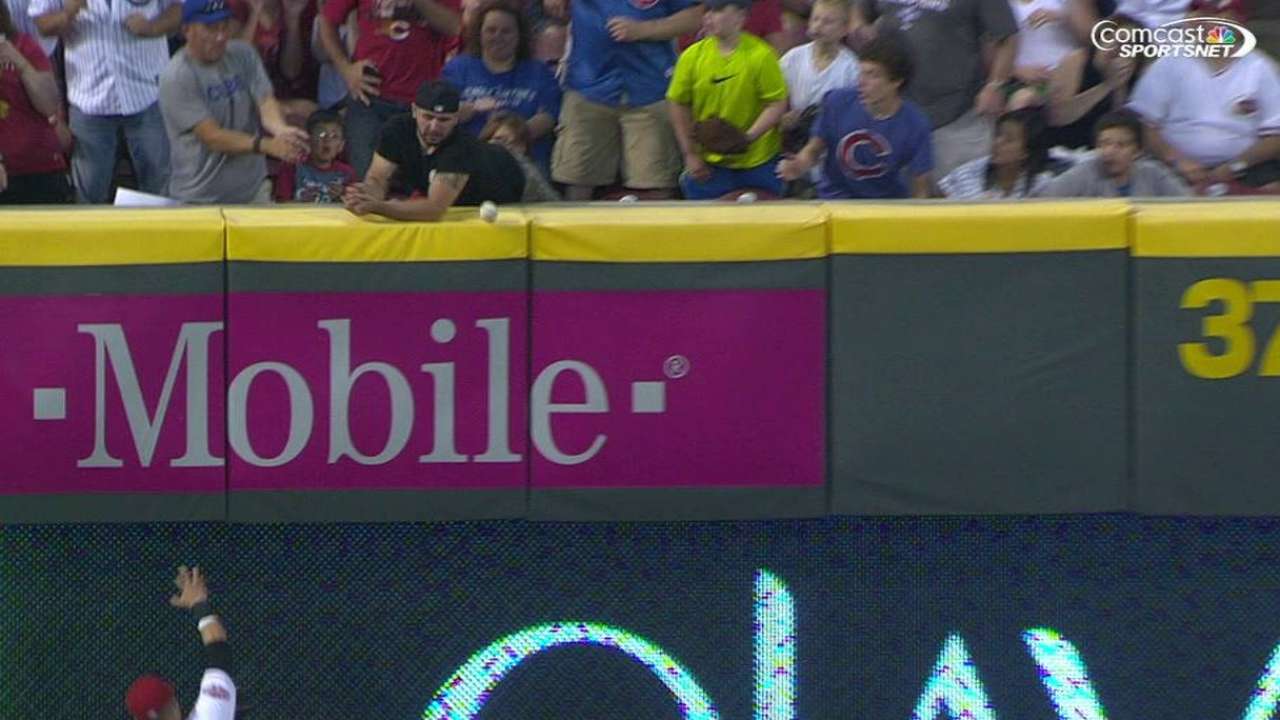 Leading off the Reds' second inning after Marlon Byrd hit a chopper to Addison Russell, the Cubs' second baseman made a pretty barehanded grab and throw to first base. Umpire Jim Reynolds called Byrd out on the close play, but Price challenged and the call was overturned after a review that lasted only 43 seconds.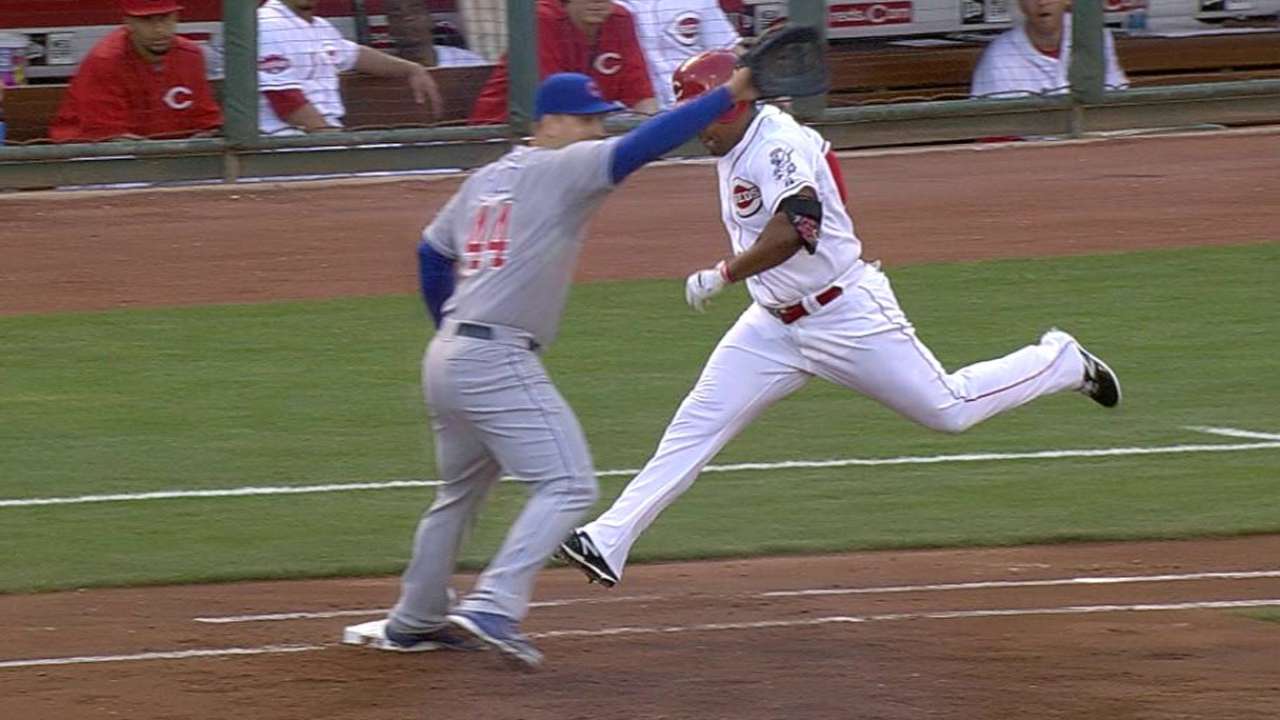 WHAT'S NEXT
Cubs: Kyle Hendricks (4-4, 3.44 ERA) will get the start in Game 1 of Wednesday's doubleheader against the Reds, with first pitch at 11:35 a.m. CT. Dallas Beeler (0-0, 3.60 ERA) will start the nightcap at 5:10 p.m. after being called up from Triple-A Iowa. He made one previous start this season for the Cubs in another doubleheader against the Cardinals on July 7.
Reds: Mike Leake, who is speculated as a likely candidate to be traded before July 31, will start Game 1 of the doubleheader for Cincinnati at 12:35 p.m. ET. Tony Cingrani will come off of the disabled list to start the nightcap at 6:10 p.m. ET, marking his first big league start since June 9, 2014. Cingrani has been on the DL with a strained left shoulder since June 15.
Mark Sheldon is a reporter for MLB.com. Read his blog, Mark My Word, follow him on Twitter @m_sheldon and Facebook and listen to his podcast. Robert Bondy is an associate reporter for MLB.com. This story was not subject to the approval of Major League Baseball or its clubs.