Piscotty debuts in LF, gets first MLB hit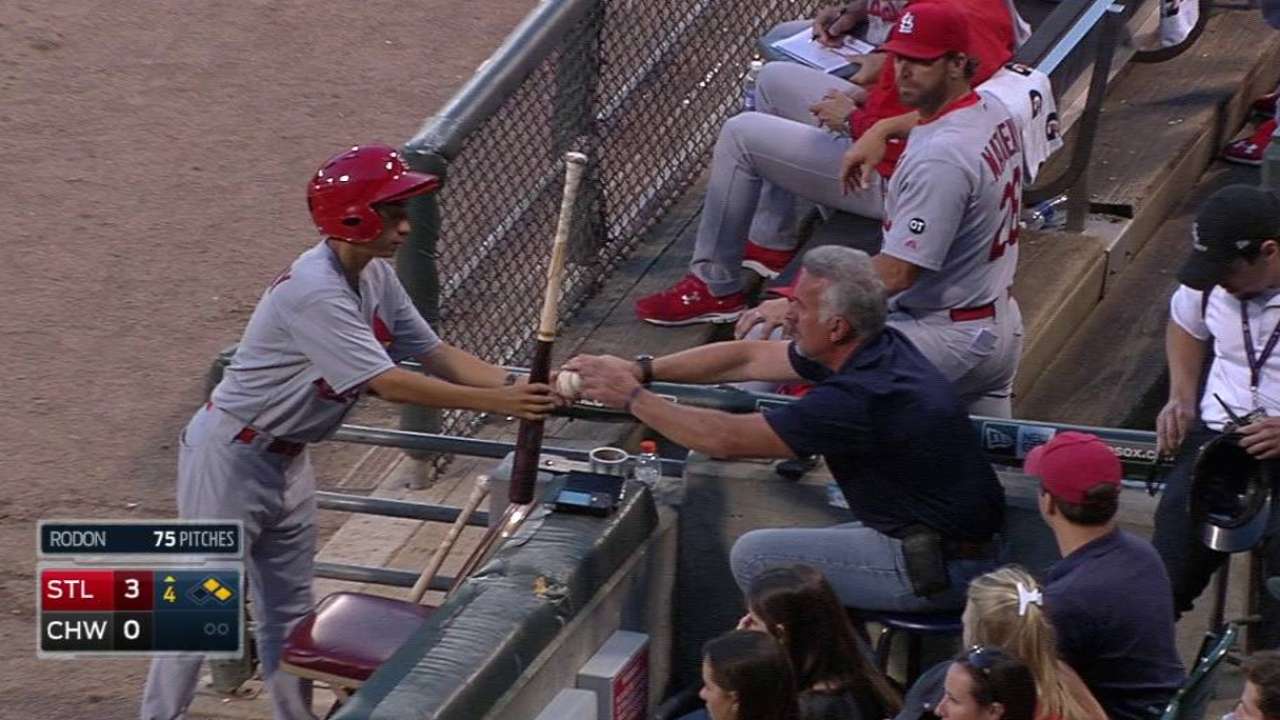 CHICAGO -- After making the bold decision to change his swing mechanics and then jump into crash-course defensive work at first base, Cardinals top prospect Stephen Piscotty arrived at U.S. Cellular Field on Tuesday ready to showcase all that is new in his game.
Piscotty, added to the roster in advance of the team's final Interleague road series of the season, debuted in left field and as the team's nine-hole hitter in an 8-5 win over the White Sox. He recorded his first big league hit in his second at-bat with a sharp single in the fourth inning off third baseman Tyler Saladino.
"When I was able to get the hit and lay off a couple of pitches low and was really able to see it and attack and be in a good hitter's count, after that, I was able to see the ball a lot better," Piscotty said.
A Major League Baseball authenticator was given the ball and the bat Piscotty broke hitting it to log so that Piscotty could take both home as debut mementos. Piscotty will also have the memory of a bizarre first at-bat, one in which he swung through three sliders, the last of which hit his foot and trickled away.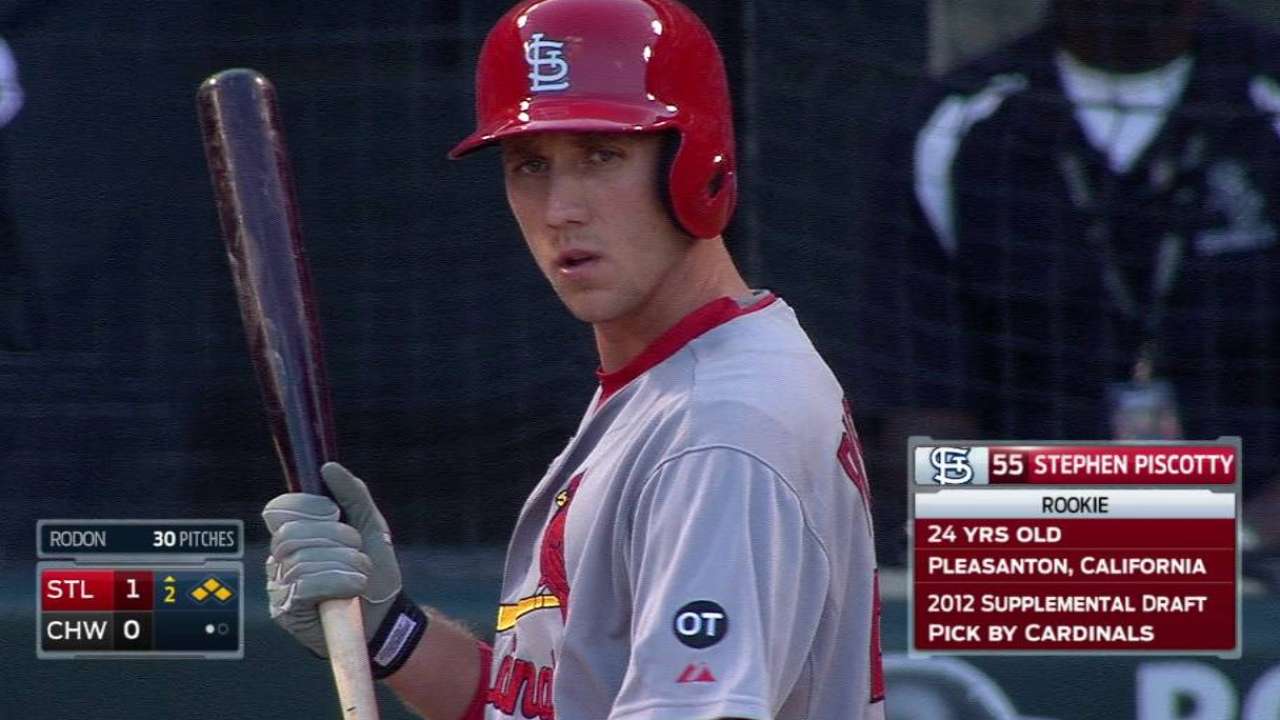 Confused at what was going on, Piscotty ran to first as Jason Heyward, who had been on third, raced home. After the umpires conferred, Heyward was placed back at third and Piscotty was sent to the dugout.
"It was a little comical," said Piscotty, who finished 1-for-4 with two strikeouts. "I got up there and was a little tingly. I wanted to be aggressive, but I missed the pitches. That was an interesting first at-bat."
The timing of Piscotty's callup did relate to the schedule, as the Cardinals saw an opportunity to plug him into an outfield spot for two days by using Matt Holliday as a designated hitter.
Once the Cardinals return home on Thursday, the Cardinals will also work Piscotty into the mix at first base. Getting Piscotty under the tutelage of infield coach Jose Oquendo was also among the motivation to bring the 24-year-old Stanford University graduate north now.
"Right now we don't really know what we're looking at because we still need to see him at first base," manager Mike Matheny said. "So right now, this is a great time to get him acclimated to the big leagues. … It's a good opportunity for a few days to see him and get some work with him and then for us to evaluate where we go from here."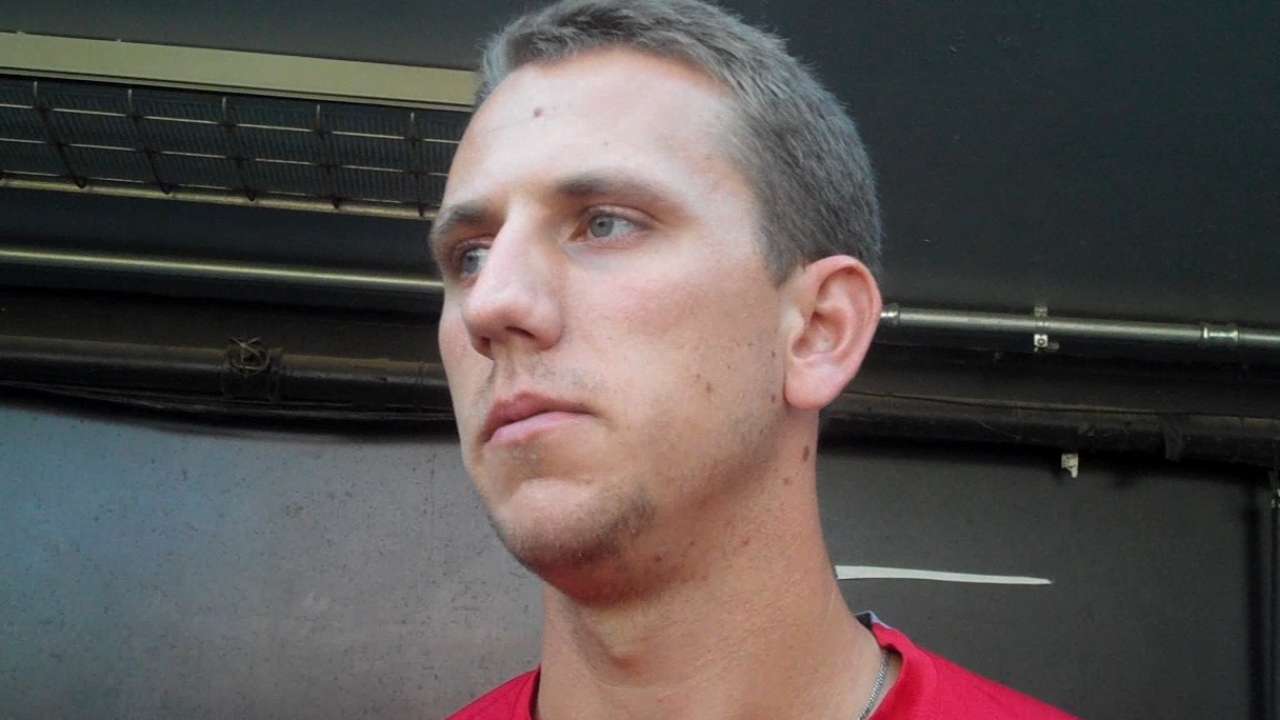 After about four weeks of work at first base -- a position he hadn't played since college -- Piscotty started appearing in games there with Triple-A Memphis on July 10. He made six starts at the position before receiving his first big league summons.
"There's been a lot of learning, but it's been going very well," Piscotty said of the position transition.
Acclimating himself to a new place on the field wasn't the only new endeavor for Piscotty this season. Following winter swing work with a former collegiate coach, Piscotty sought to continue to mold himself into more of a power hitter by creating more extension with his swing. While that led to some bumps in Spring Training and early in the Triple-A season, Piscotty left Memphis batting .272/.366/.475 with 28 doubles, 11 home runs and 41 RBIs. He hit .308 over the last six weeks.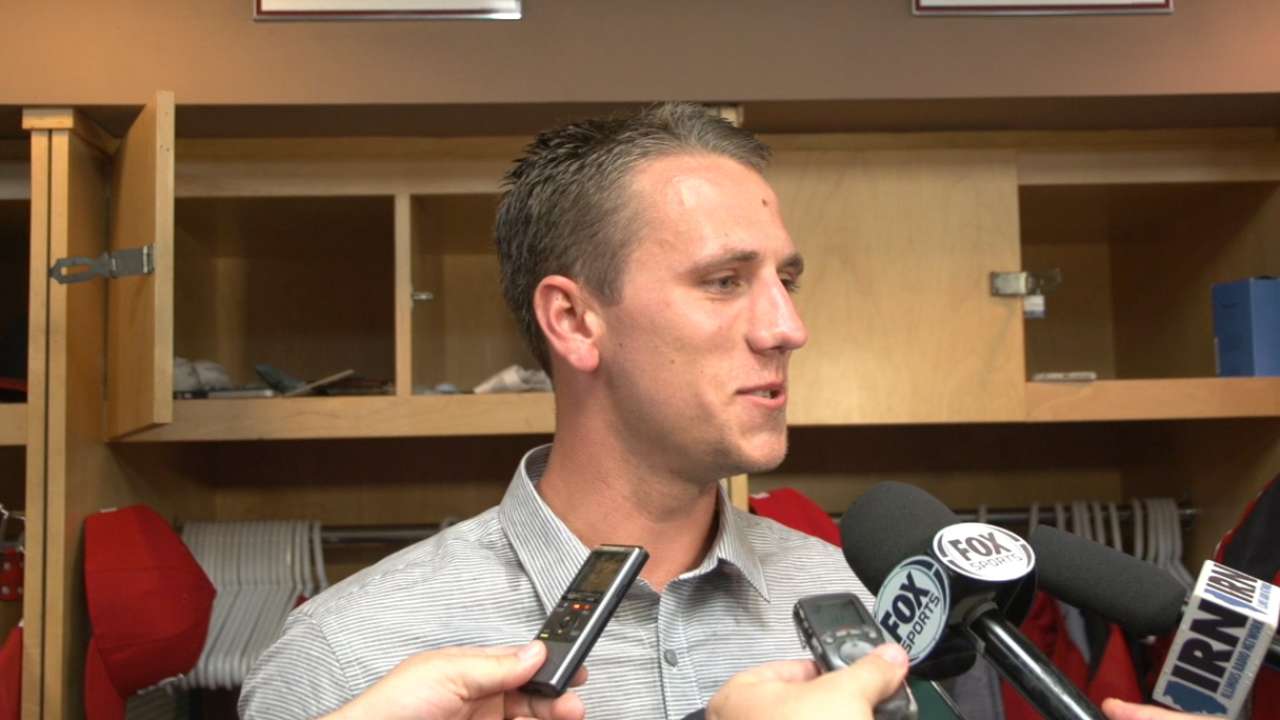 "I really felt that I had some potential that was untapped," Piscotty said of the impetus behind the changes. "I really wanted to see if it was there. I think I used the word experiment for a while, but now I know I can do it and it's a matter of whether I consistently can do it. It was a big risk, no doubt about it. But I'm very pleased that I took the risk."
Last season, Piscotty tallied nine homers and 32 doubles in 136 Triple-A games.
"When I hit a few of the home runs that I did in 2014, I noticed they went pretty far," said Piscotty, the 36th overall pick in the 2012 Draft. "I knew I had that ability. I just wasn't very consistent. If I could get a little bit more consistent with it, I thought that would be huge for my career. I wanted to take that risk and hopefully it would pay off."
In order to create space for Piscotty on the 40-man roster, the Cardinals designated infielder Ty Kelly for assignment. Outfielder Tommy Pham was optioned to Triple-A.
Jenifer Langosch is a reporter for MLB.com. Read her blog, By Gosh, It's Langosch, follow her on Twitter @LangoschMLB, like her Facebook page Jenifer Langosch for Cardinals.com and listen to her podcast. This story was not subject to the approval of Major League Baseball or its clubs.