Pirates run out of luck with opportunity in 9th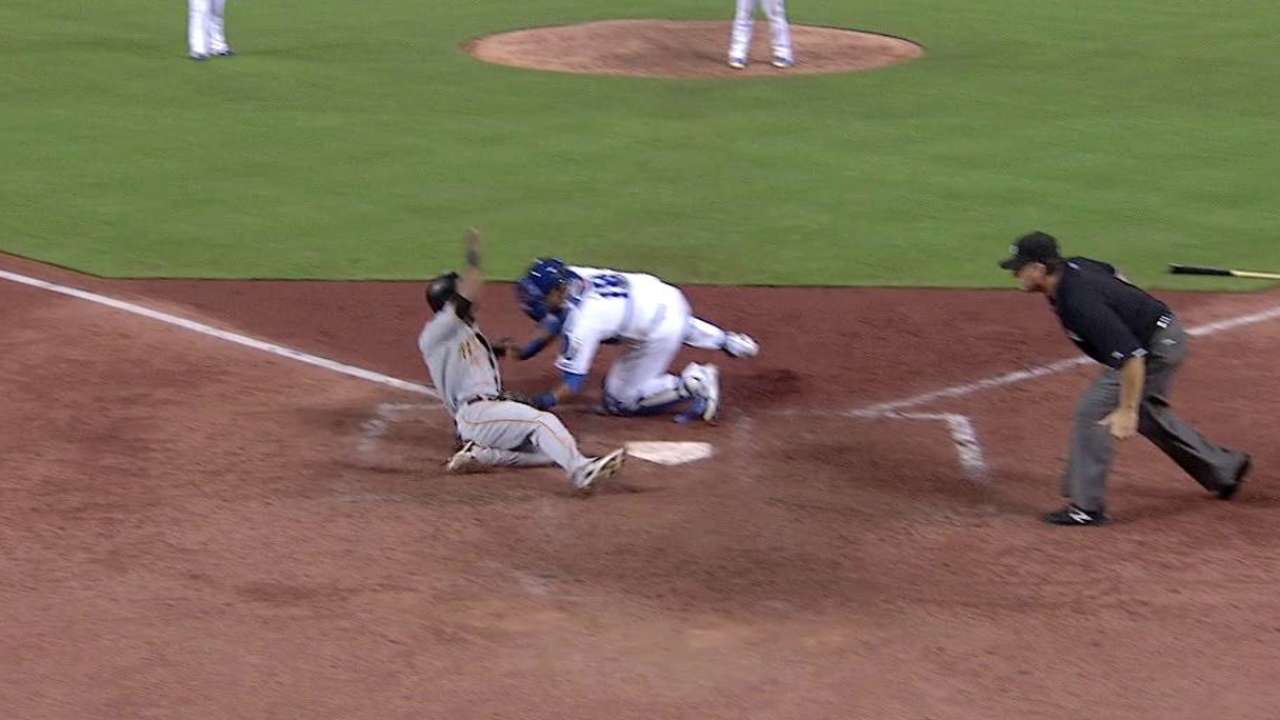 KANSAS CITY -- Baseball games unfold in front of an official scorer, so Gerrit Cole was charged with a loss. Had a baseball judge presided over Tuesday night's 3-1 loss to the Royals, the Pirates would have been charged with an aggravated crime against Cole.
That was certainly the ruling of the one-man jury of manager Clint Hurdle.
In the bottom of the eighth, the Pittsburgh defense mishandled three consecutive plays to help Kansas City break up Cole's scoreless gem in what Hurdle called "as good a game as he has pitched since he's been in a Pirates uniform."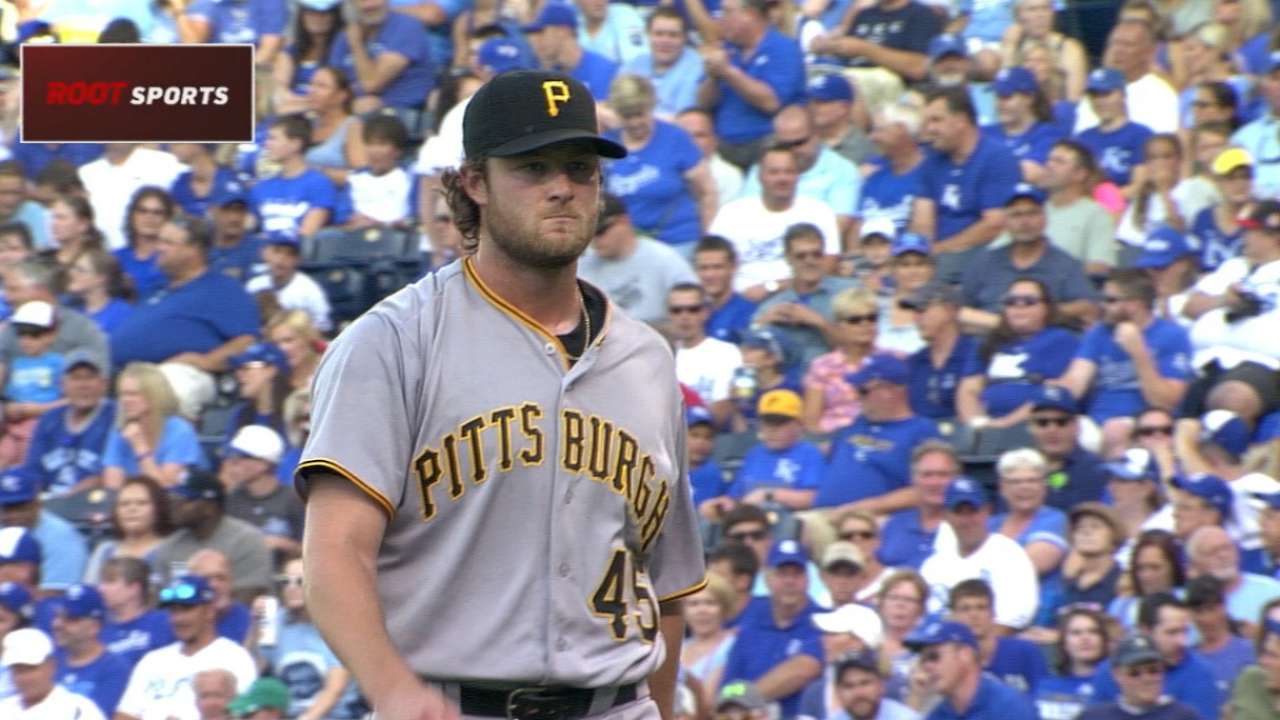 Then, with a ninth-inning chance to remove Cole from the unfair hook, the Bucs ran themselves out of a potential big rally, with the inning's first out registered at the plate as third-base coach Rick Sofield waved home Starling Marte on Jung Ho Kang's double.
"We got in our own way in that situation as well," conceded Hurdle. "And we got in our way on three consecutive plays in the eighth inning. We could've taken better care of the ball, and it would've resulted in a much different situation."
Through 7 1/3, Cole faced only two batters over the minimum of 22. The next, Omar Infante, hit a flat grounder that went through second baseman Neil Walker's legs.
"Don't even go there," Walker said when someone tried to suggest the ball had unexpectedly stayed down on him. "It didn't do anything, just went under my glove. I missed it."
Alex Rios singled Infante to third, and took second when Andrew McCutchen unleashed a throw to midway between the bases. Jarred Dyson dumped a broken-bat flare over the drawn-in infield, bobbled by right fielder Gregory Polanco as both runners scored and Dyson advanced into scoring position on the error -- and soon scored on another single.
Trying to make it all right with another of their patented ambushes of a premier closer, the Bucs had Marte open the ninth with a single off Greg Holland and Kang followed with a smash over center fielder Lorenzo Cain's head.
Cain to Alcides Escobar to Salvador Perez erased Marte.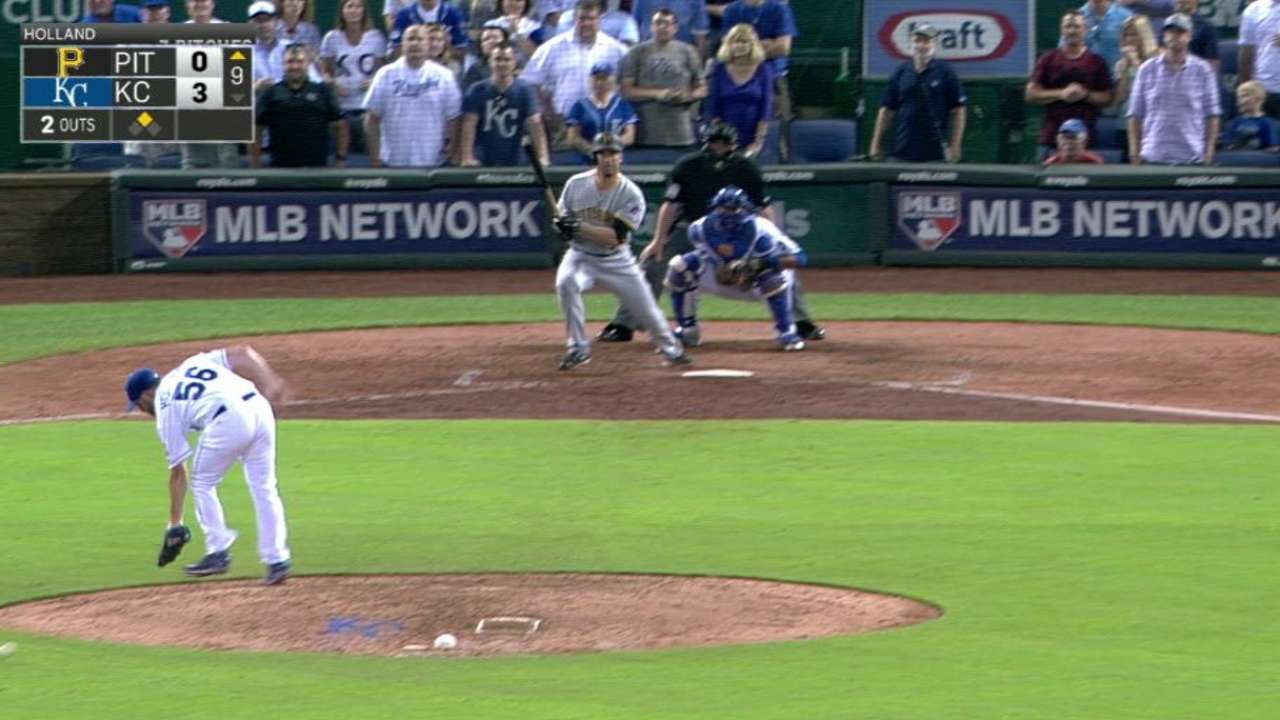 It became a haunting out when Travis Ishikawa delivered a two-out pinch single that drove in only one run, and when the Bucs went on to load the bases on Chris Stewart's walk and Sean Rodriguez's infield single. But they had only one out left, and Polanco used it by striking out.
Hurdle typically attributes losses to "not meeting the demands of the game." On Tuesday night, the Pirates not only did not meet them, but essentially turned their backs to them.
"We've gotten in our own way on a number of occasions," the manager said. "Tonight was another occasion."
As a by-product, a dominant Cole could not get support to win a game which, after Jason Vargas' early departure with pain in his left elbow. became Cole vs. the Royals' bullpen. No ordinary bullpen, to be sure, but, in addition to its fabled back end, Kansas City also had to work through Joe Blanton (4.37 ERA) and Ryan Madson, back pitching in the Majors for the first time since Hurdle was in his first season of managing the Pirates.
Nonetheless, the Pirates scored two runs or fewer for the 36th time in a 93-game season.
Tom Singer is a reporter for MLB.com and writes an MLBlog Change for a Nickel. He can also be found on Twitter @Tom_Singer and on his podcast. This story was not subject to the approval of Major League Baseball or its clubs.