Lowrie to play third base in first rehab game
Astros infielder to work at hot corner and shortstop in Minor Leagues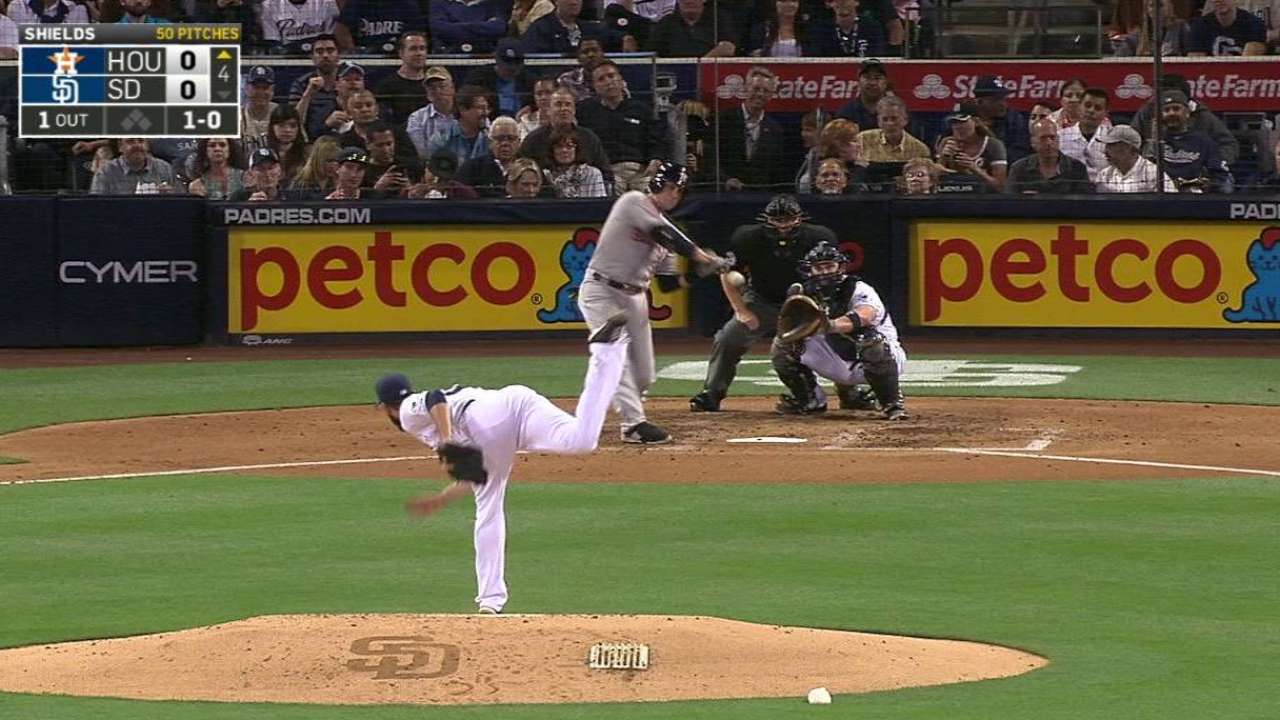 HOUSTON -- After a disabled-list stint of nearly three months, Jed Lowrie is set to begin his rehab assignment at Double-A Corpus Christi on Wednesday, where he'll play third base and hit in the top third of the order, according to Astros manager A.J. Hinch.
Lowrie, who tore a ligament in his right thumb in late April, didn't have a timetable for how long his rehab assignment would last, though he estimated it would be longer than a customary stint -- maybe five or six games.
"I need to get back in shape, see some pitches, get some at-bats," Lowrie said. "It's not going to be a day or two. I think it's going to be hard to say exactly, but that's a good starting point."
"We'll react accordingly," Hinch added. "We'll see how he responds both in his baseball timing and how he feels. Players that have been around the league like him, he'll know, we'll communicate with him on how his rhythm and timing is at the plate, how his defense is coming. I wouldn't expect it to be any less than a week or so."
Though Lowrie said he and Hinch hadn't yet talked about where he'd play once he returned to the club, Hinch said he planned for Lowrie to see time at third base and shortstop while in Corpus Christi.
Lowrie was the Astros' starting shortstop before he was injured sliding into home plate in an April 27 game against the Padres. He's since been replaced by rookie sensation Carlos Correa, who's become one of only two shortstops in the last century to hit eight home runs in his first 35 career games.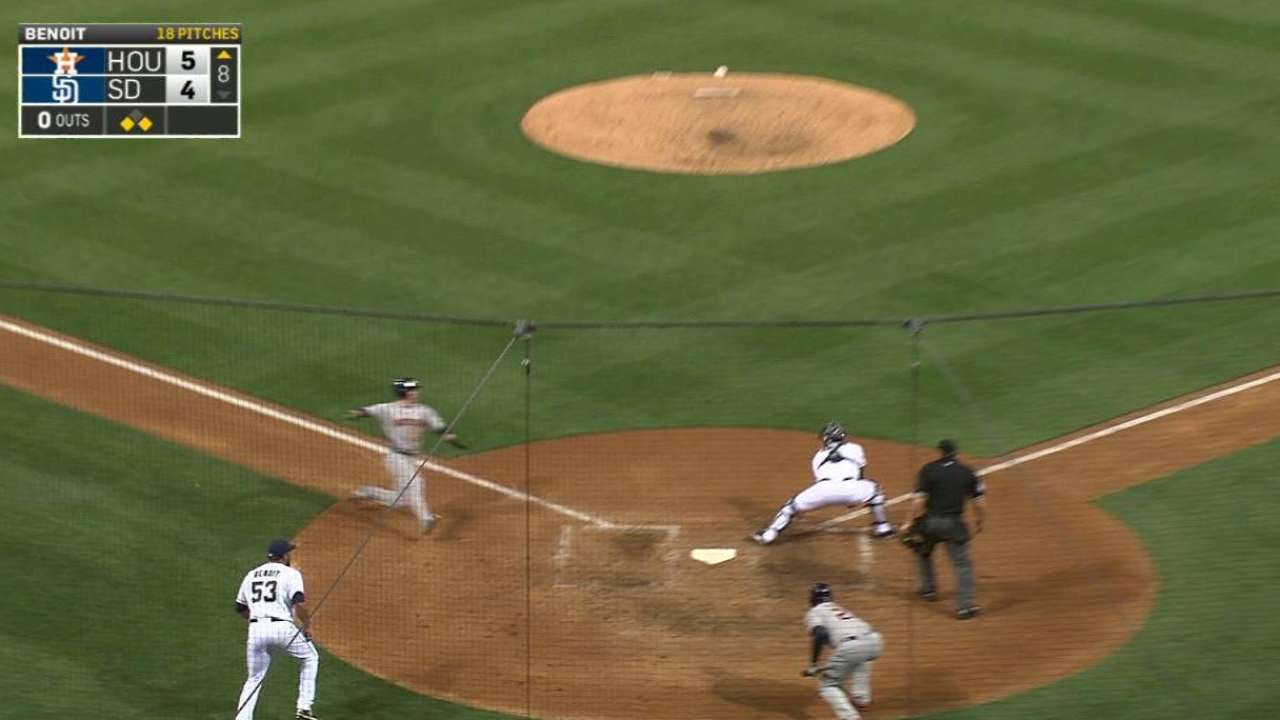 "I want to get him a little exposure at a position he hasn't played in a while, as well as some of the obvious things of the makeup of our team could possibly be," Hinch said of the decision to play Lowrie at third base Wednesday night. "More than anything he needs to get on his feet, stand out on defense for about four, five, six innings tomorrow; he'll get a day off, then do that again Friday while we're in Kansas City. He'll start to slowly but surely get to baseball shape, test his thumb with the at-bats and hopefully get him back here as soon as possible."
Hinch also didn't rule out Lowrie sliding to first base, where the production has slumped of late among Jon Singleton and Chris Carter.
Hinch said Lowrie, who has been fielding grounders at shortstop and third base routinely for the last three weeks, just needs to work back into baseball shape for his defensive fatigue, though his switch-hitting swing may take a bit more time.
"His right-handed bat is going to be a tick behind his left-handed swing," Hinch said. "Just out of comfort, how the bat lays on his thumb and some of the action on the follow-through. I think we're going to have to pay special attention to his right-handed swing."
Carter back in the lineup
Carter's return to the lineup as a designated hitter on Tuesday serves a dual purpose -- to test him without taxing him at first base and to stack the Astros' lineup with right-handed hitters against Red Sox starter Brian Johnson, who was making his Major League debut.
It's a return after he missed two games with a sprained ankle he suffered after jumping to corral a high throw from Jose Altuve in Friday's victory against the Rangers.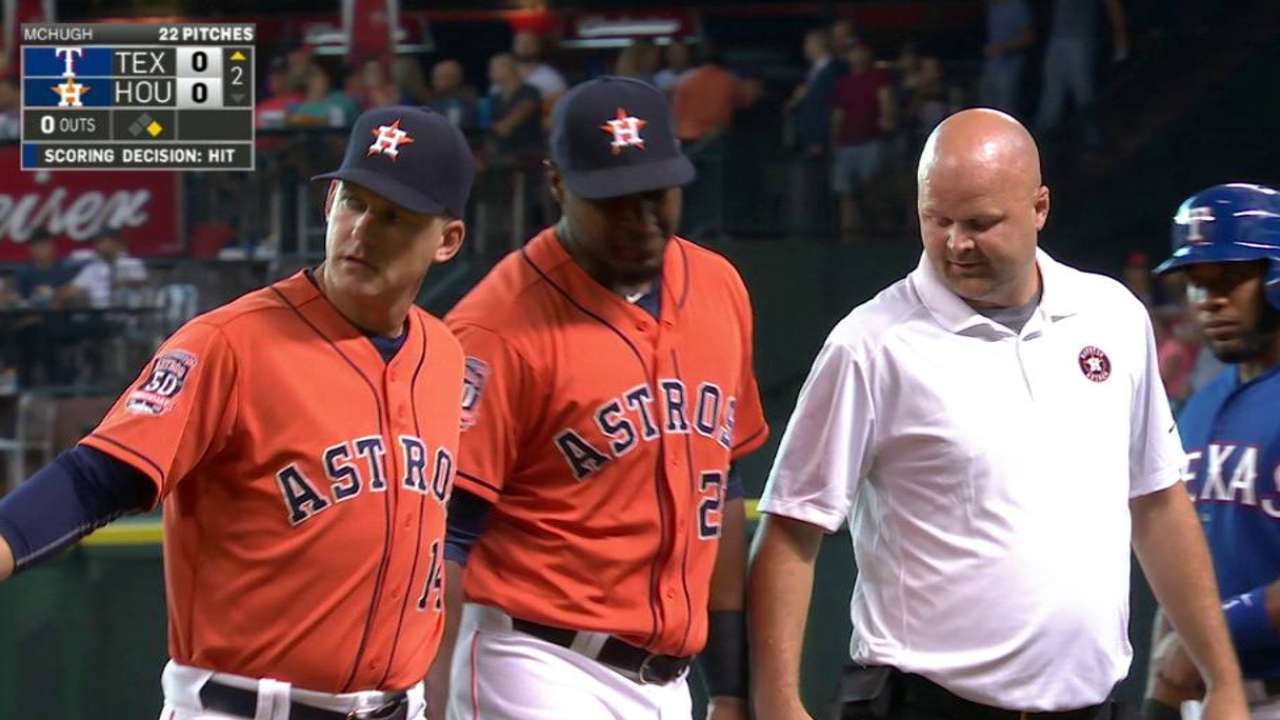 Carter participated in an off-day workout on Monday, hitting the ball off the tee and moving around better than Hinch had seen him in the previous three days.
"I feel a lot better, all the soreness is out," Carter said. "Feel pretty good to play today. Yesterday was the first day I did stuff baseball-wise. They're just taking it easy to see how it feels out there and we'll go from there."
Chandler Rome is an associate reporter for MLB.com. This story was not subject to the approval of Major League Baseball or its clubs.