Bucs frustrated by Marte's overturned homer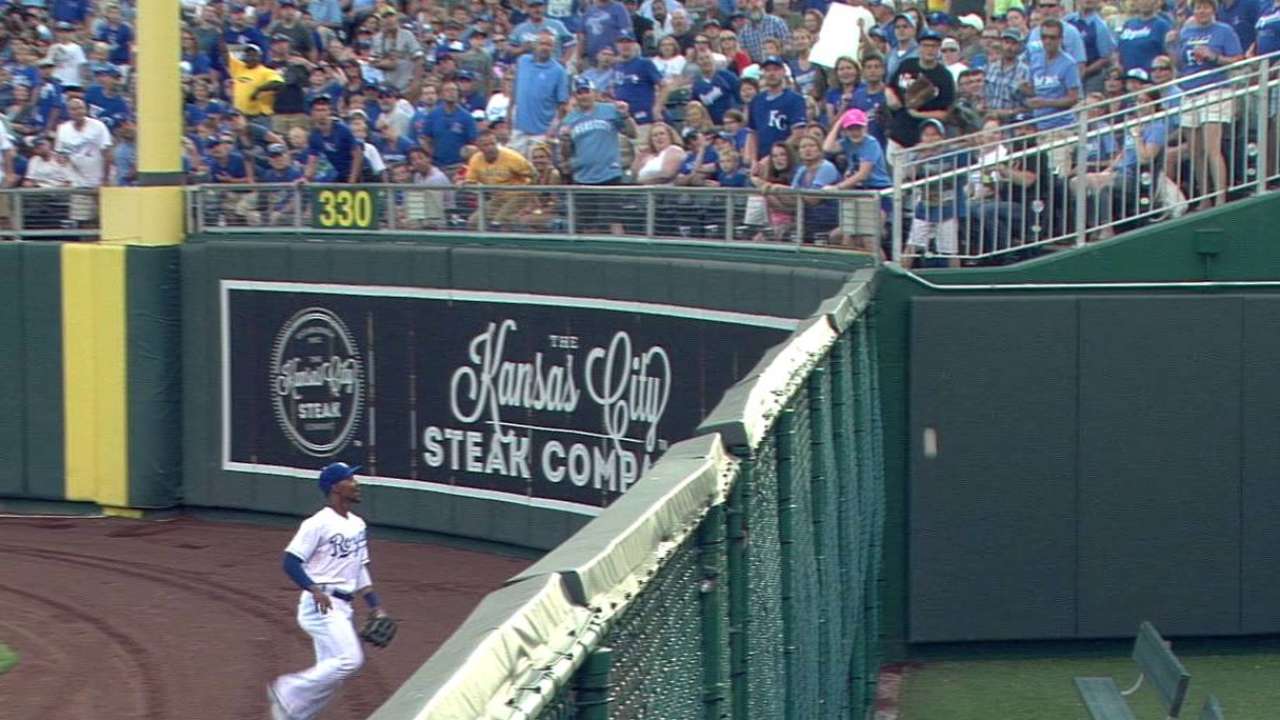 KANSAS CITY -- Pirates manager Clint Hurdle was puzzled. His pitcher, Gerrit Cole, was just irked.
"We got a home run taken away," Cole said after his 3-1 loss to the Royals on Tuesday night. "They make up the rules as we go along."
"I'm really looking forward to hearing the explanation from New York," Hurdle said. "There's still a lot of confusion, at least in my mind. I'm still waiting to get some clarification."
They, and 38,163 fans in Kauffman Stadium, had seen Starling Marte hit a ball out of the park in the second inning, then be told to go back to second base by home-plate umpire Gerry Davis. It took the Bucs seven more innings to finally score.
Marte had led off with a smash into the left-field corner that caromed off the curving wall -- and over the adjoining bullpen fence. Marte was originally waved home but, upon a crew chief review, the call was overturned to a ground-rule double.
There isn't a Kauffman Stadium ground rule to cover the incident.
According to the replay official, after viewing all relevant angles, it was definitively determined that the ball struck below the top of the outfield wall and bounded over another wall. Had the ball struck the top of the outfield wall and bounded over, it would have been ruled a home run.
"All Gerry can tell me is what they told him," Hurdle said. "The ball hit below the fence, then went out, so it was a ground-rule double."
The source of Hurdle's confusion comes from having posed a hypothetical scenario to the umpire: "If the ball hit below the fence, then hit the fielder on top of the head and bounced out, it would be a ground-rule double?"
According to the Bucs' skipper, the response to that was, "No, it would be a home run."
Hypothetical, but not so outrageous: Recall a ball doing precisely that off Jose Canseco's head?
"I can't get into a heated discussion with [Davis]," Hurdle said, shrugging his shoulders. "But I'm concerned about hearing about it. I know I couldn't find it in the rule book. And you can't protest a replay."
All Royals manager New Yost could add was, "The rule is if it hits off the top of the metal fence and bounces over it's a home run. If it hits the padding in front of that and bounces over, it's a ground-rule double."
Veteran Kauffman Stadium watchers had never seen a ball take such a crazy route. And the unusual play hurt the Bucs at the end of an inning bizarre in one other way: Royals starter Jason Vargas had to leave with an apparent elbow injury in the middle of facing Brent Morel.
Between the two of them, Vargas and emergency reliever Joe Blanton struck out the side to keep Marte from scoring.
Tom Singer is a reporter for MLB.com and writes an MLBlog Change for a Nickel. He can also be found on Twitter @Tom_Singer and on his podcast. This story was not subject to the approval of Major League Baseball or its clubs.