Bettis relieved arm woes only inflammation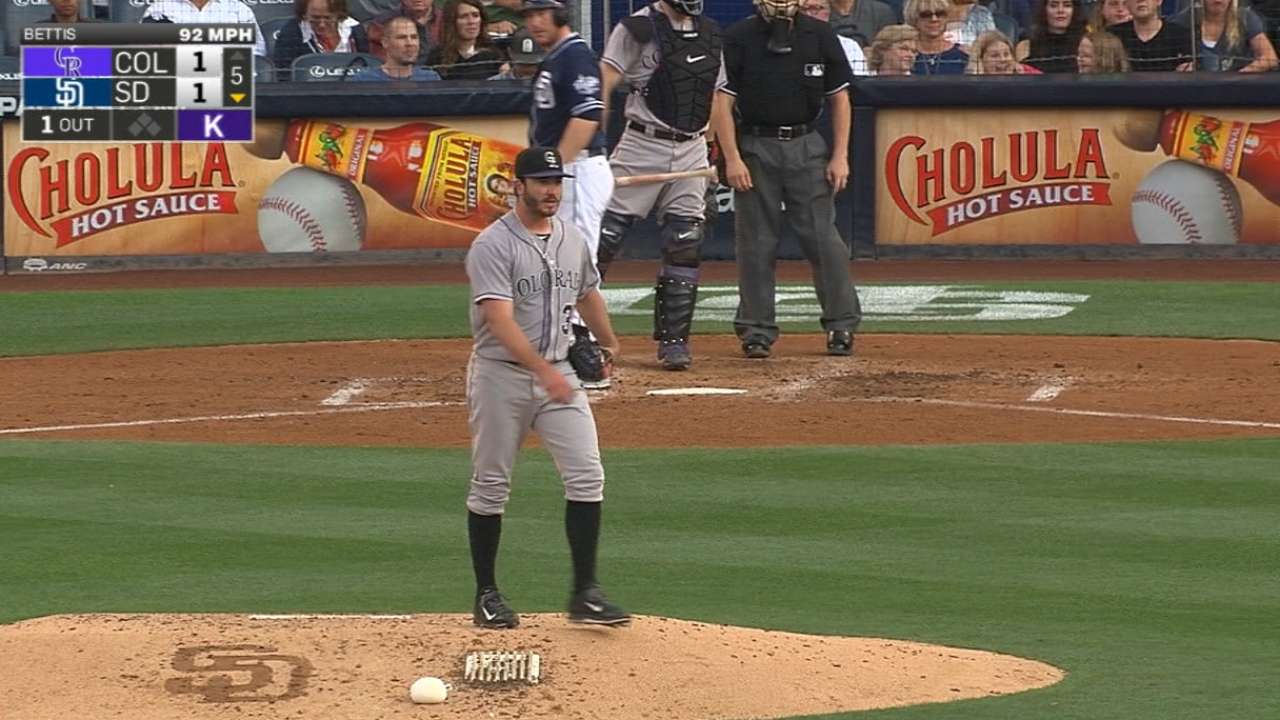 DENVER -- Chad Bettis knew it could be bad. Elbow problems are a pitcher's worst nightmare, and he admitted the unknown had him "a little scared."
But after visiting with doctors on Monday night, the Rockies right-hander can put those uneasy feelings to rest. The meeting reveled no structural damage in Bettis' pitching elbow -- just some manageable inflammation.
"It was a very big sense of relief to know that everything structurally is sound, and it's just elbow inflammation," Bettis said on Tuesday, two days after being placed on the 15-day disabled list. "So we're going to let it calm down here and then get going again."
As for the source of the inflammation, Rockies manager Walt Weiss said a crucial factor is Bettis' increased workload this year. The right-hander spent most of the 2014 season in a relief role, throwing just 80 combined innings between the Minor and Major League level.
That's drastically lower than the 109 2/3 combined innings Bettis has tossed this season while spending the last two months as a vital cog in the Rockies' starting rotation.
"The workload is very different than it's been over the last year and a half," Weiss said. "I think that's probably as much a factor as anything else."
Before going on the disabled list, Bettis' was one of Colorado's most reliable starters. Aside from one poor outing in which he surrendered 10 runs in just 2 1/3 innings, the right-hander is 5-3 with a 3.80 ERA. He's given up three runs or fewer in 10 of his 13 starts.
Even so, the Rockies will have a close eye on Bettis' innings total once he returns.
"We've been having conversations about his workload, specifically for the last few weeks," Weiss said. "We're in tune with it. We'll pay attention to it in the second half.
"He's getting a little bit of a break now, so that'll help. But we'll continue to monitor his innings and his workload."
Worth noting
• Second baseman DJ LeMahieu was named the Rockies' Heart and Hustle Award winner by the Major League Baseball Players Alumni Association. This season has been a year of recognition for LeMahieu, who was also one of Colorado's three All-Stars.
"DJ is a quiet kid and doesn't bring a lot attention to himself -- actually tries to deflect attention, if anything else," Weiss said. "But I think he's starting to be recognized in these circles as a great competitor and an outstanding player. So I'm glad, once again, that he's been recognized."
• Injured first baseman Justin Morneau took grounders and throws before Tuesday's game. Morneau has been out since May with concussion symptoms and a cervical neck strain.
• Kyle Freeland, who was the Rockies' top Draft pick in 2014, will make his season debut on Friday for Rookie-level Grand Junction. The left-handed pitcher had surgery early in the season to remove bone chips in his throwing arm.
Dargan Southard is an associate reporter for MLB.com. This story was not subject to the approval of Major League Baseball or its clubs.