Franco day to day, out of Tuesday's lineup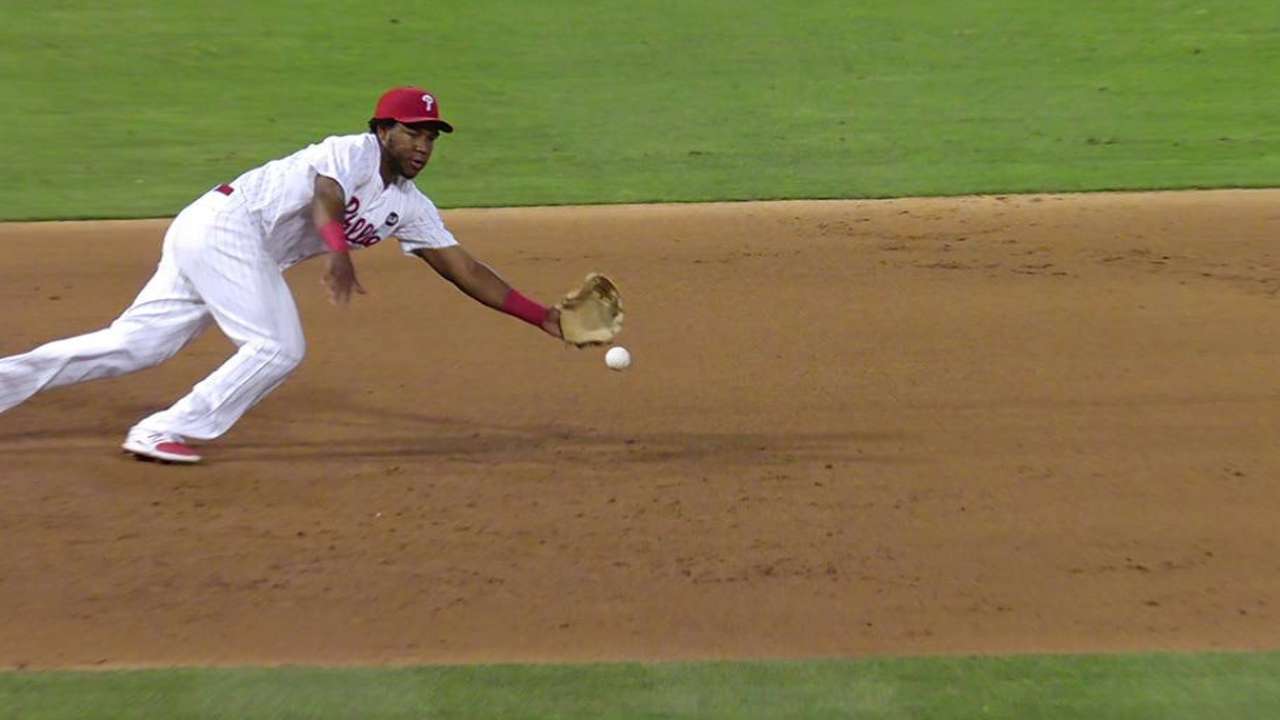 PHILADELPHIA -- For the first time since May 15, Maikel Franco's name was not listed in the Phillies' starting lineup Tuesday.
The rookie third baseman left Monday night's 5-3 win over Tampa Bay with soreness in his right elbow that he said he aggravated on a throw in the sixth inning. Out of precaution, Phillies interim manager Pete Mackanin removed him from the game and decided to give him Tuesday off.
Despite this, Franco said that he thinks he is available to pinch-hit if necessary, and he feels well enough that had Mackanin decided to start him, he thinks he could've played comfortably.
"For me, I'm ready to play," Franco said. "I know it's sore a little bit, but I can play like that. But I just want to take a day off, and we'll see what happens."
As he said he would Monday night, Franco arrived at Citizens Bank Park earlier than usual Tuesday to be evaluated by team trainers. Both Mackanin and Franco confirmed that the 22-year-old didn't undergo an MRI or any other tests. Rather, the trainers merely examined Franco's elbow.
Based off their diagnosis, Mackanin listed Franco as day to day. Andres Blanco, a player Mackanin is glad to find a way to get in the game, started at third Tuesday.
"I had planned to today, tomorrow and the next game have Blanco play a game at third, short and second -- not in that particular order -- to get him some at-bats and keep him sharp," Mackanin said. "I won't say it works out well that [Franco's] hurt, but I think it's just a day to day thing. He'll be fine."
Since his callup from Triple-A Lehigh Valley on May 15, Franco has been a fixture in the Phillies' offense, producing primarily from the third spot in the order. He is batting .283 with an OPS of .818, 10 home runs and 35 RBIs.
Nick Suss is an associate reporter for MLB.com. This story was not subject to the approval of Major League Baseball or its clubs.