Mariners hope to get stars Cruz, Cano aligned
Nellie launches 455-foot homer in Tuesday's win over Tigers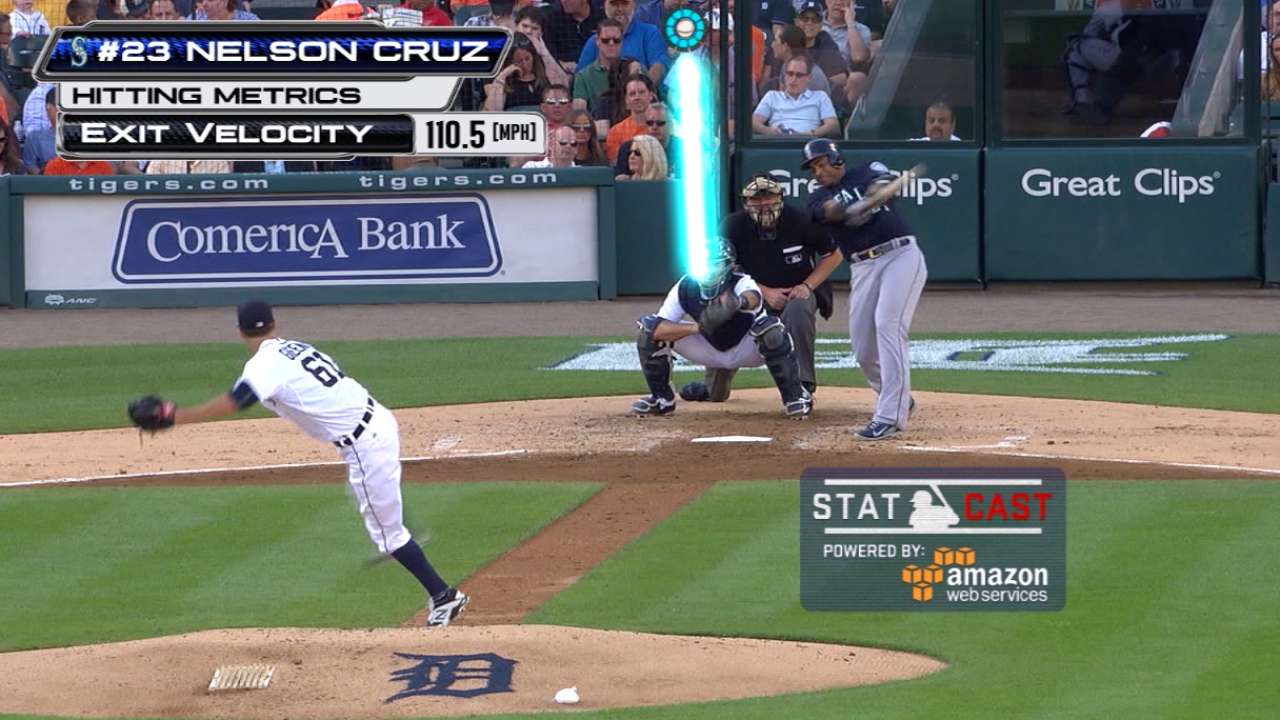 DETROIT -- It seems to be the story of the Mariners' season. Fix one problem and another pops up. Robinson Cano was finally heating up, but Nelson Cruz started tailing off in the power department in recent weeks.
Getting those two stars aligned at the same time figures to be critical to any chance of a Mariners second-half push and Cruz flashed a very strong signal -- a monstrous home run in Tuesday's 11-9 victory over the Tigers -- that the timing finally might be right.
"I know Nellie was coming around," said manager Lloyd McClendon, who added before Tuesday's game he thought Cruz was ready to break out with a bang. "His batting practice was really, really sharp and crisp. And Robbie continues to grind it out and he's getting in that groove."
Cano has hit seven homers in his past 24 games after totaling just two in his first 67 games of the season. He didn't go deep in Tuesday's win, but was 3-for-4 with a double, a walk, a run and two RBIs to continue a hot July that has his average up to .260 after being as low as .237 in June.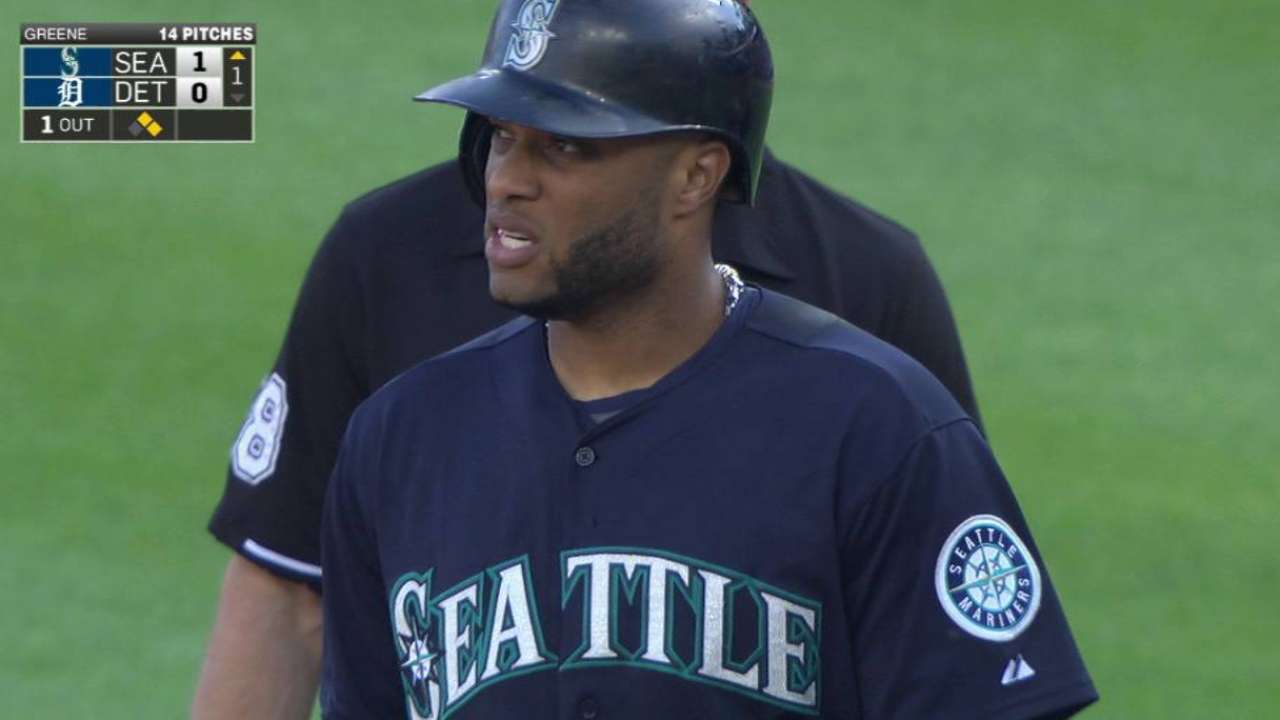 Cruz has been headed the opposite direction, with just four homers and 16 RBIs in his last 48 games after cranking out 18 homers and 38 RBIs in his first 46.
But the 34-year-old slugger got back on track in a big way with a powerful blast to center field leading off the third inning, a shot that was estimated to land 455 feet from home plate by Statcast™.
• Cut 4: Cruz, Martinez turn games into their own HR Derby
According to ESPN Stats, it was the 12th-longest home run of Cruz's career.
"It just barely went out, no?" Cruz deadpanned.
No, it was one of the more impressive shots seen at Comerica Park … until Detroit's J.D. Martinez one-upped him with a two-run shot estimated at 467 feet by Statcast™ in the bottom of the same inning.
"That was a joke," Cruz said. "That was more impressive."
"I liked ours better," said McClendon. "And I liked [Franklin Gutierrez's game-winning grand slam, that measured 367 feet) best of all."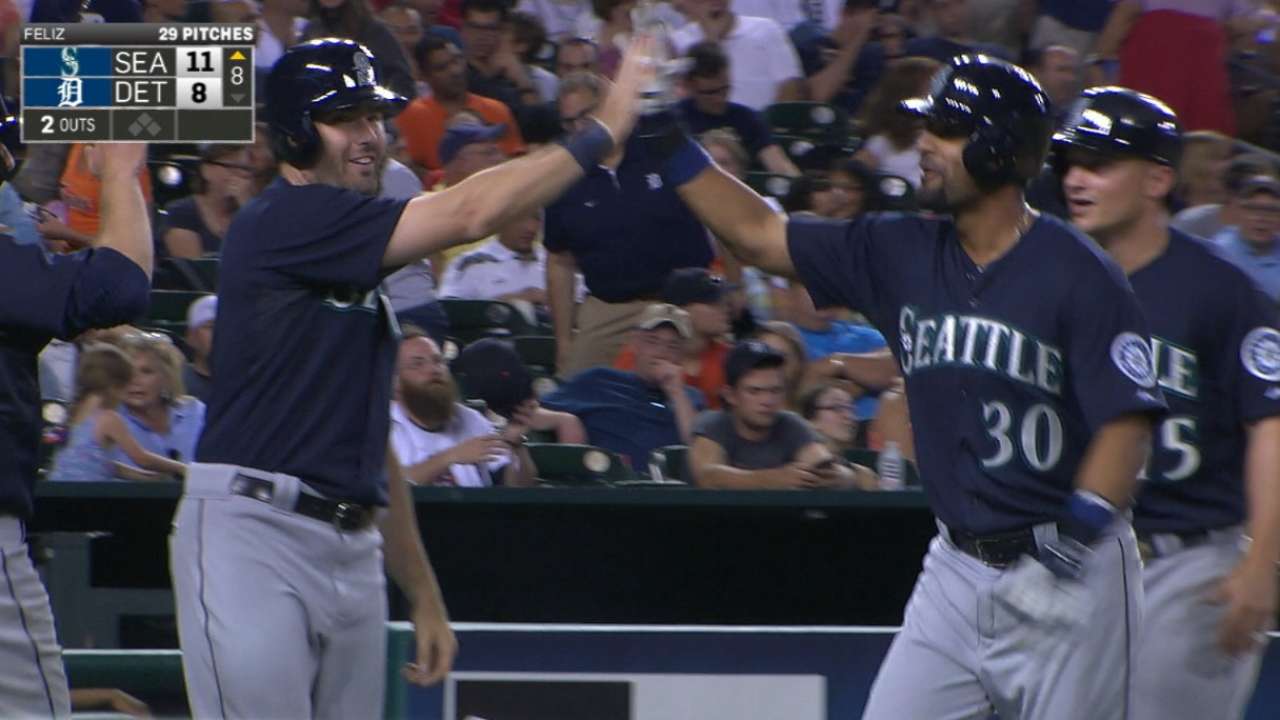 The Mariners need Cruz to finish strong if they're going to revive their chances at 43-51.
"Nellie is no different than most hitters in baseball," McClendon said. "You're going to have streaks where you're a little off. But I think the thing that is unique about Nellie, even when he's in those funks he's still able to get a hit here or there."
Indeed, Cruz leads the Mariners with not only his 22 homers and 54 RBIs, but average as well at .300. But that number also has declined from .341 after 46 games on May 27 to .260 over the past 48 games.
"The season is a grind," McClendon said before Tuesday's game. "He probably got a little fatigued because about 10-12 days ago the hands started to drop. But you see the hands back up again, he's in a good position to hit. I suspect he'll break out of it any day now."
That proved prophetic, as has McClendon's insistence that Cano would eventually return to form. The Mariners second baseman has hit .308 with seven homers and 17 RBIs over his past 30 games after batting .237 with two homers and 19 RBIs in his first 61.
"He's starting to come around and let the ball travel a little more," McClendon said. "He's driving the ball the other way and it's good to see."
Greg Johns is a reporter for MLB.com. Follow him on Twitter @GregJohnsMLB, read his Mariners Musings blog, and listen to his podcast. This story was not subject to the approval of Major League Baseball or its clubs.