Royals option struggling Ventura to Triple-A
Right-hander slated to start on Saturday for Omaha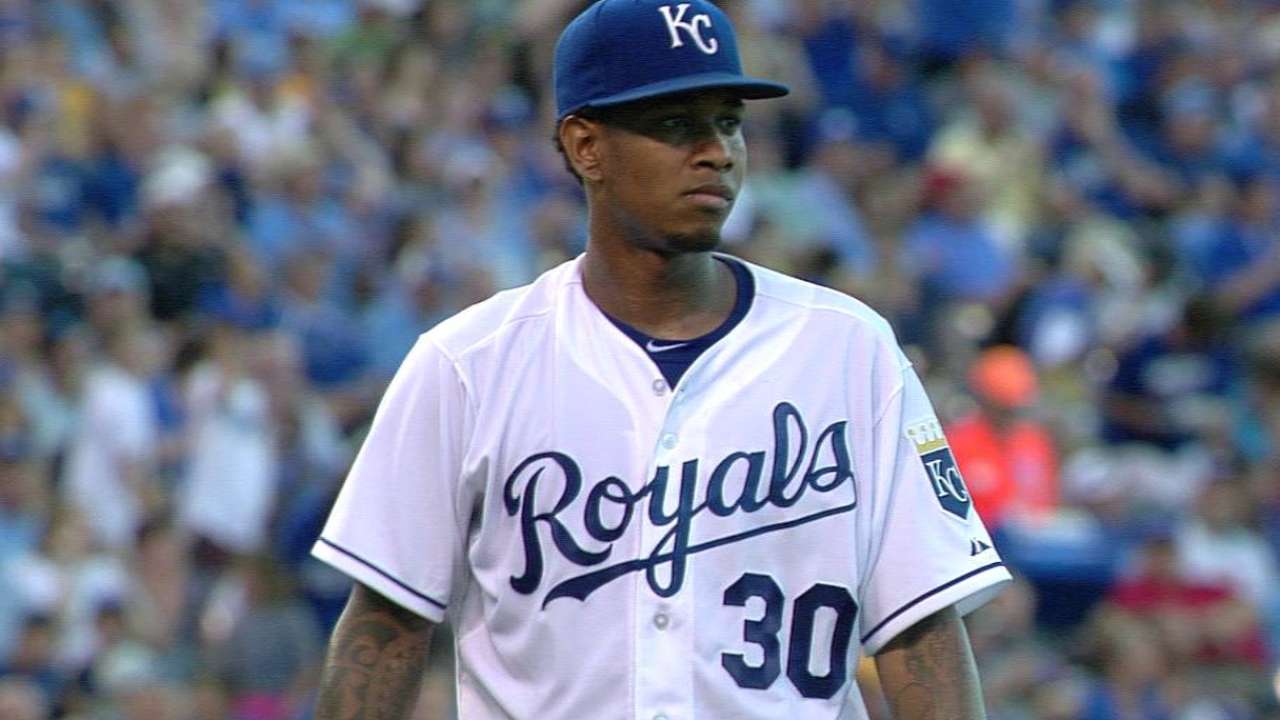 KANSAS CITY -- Yordano Ventura, the Royals' Opening Day starter who signed a $23 million contract just before the season started, will now be pitching in the Minor Leagues after being demoted to Triple-A Omaha.
The Royals announced the stunning move on Tuesday, less than 24 hours after Ventura, who won Game 6 of the 2014 World Series with seven shutout innings, had yet another disappointing outing -- six runs and 10 hits in four innings against Pittsburgh.
Ventura is 4-7 with a 5.19 ERA.
The Royals had to make room on the roster for left-hander Jason Vargas, who was activated from the disabled list to start Tuesday night's matchup with the Pirates. The other potential move could have been to designate Joe Blanton for assignment. Instead, Blanton will keep his job as the long man in the bullpen.
Royals manager Ned Yost said there is no timetable for Ventura's return -- the right-hander will start on Saturday for Omaha.
"Could be a week, could be a month," Yost said.
Ventura was not in the clubhouse when it was open to reporters prior to Tuesday's game against the Pirates.
"He was fine," Yost said. "He understands."
Yost stressed that the Royals still have Ventura included in their plans this season.
"He's going to be a big part of what we're going to accomplish," Yost said.
Yost said he advised Ventura not to take the demotion too hard.
"We did this with Kelvin Herrera two years ago," Yost said. "Eddie Volquez, the same thing happened him when he was younger. It happens to a lot of guys when you're young and you have success, you try to come back and add more.
"The message to him is: You're not the first guy that this has happened to."
Volquez, who lockers next to Ventura and has attempted to be a mentor, said he hadn't had a chance to speak with Ventura.
"I'll just tell him it can be the best thing," Volquez said. "It happened to me in Texas -- got sent all the way down to [Class] A ball. I had to turn everything around. They made me do these 12 rules every day -- had to wear my cap right, my uniform right, had to be first one in the clubhouse, first one on the bus, all kinds of stuff. It straightened me out.
"Then the next year, I won 17 games for Cincinnati. It can help. And he's not nearly as bad as I was."
Third baseman Mike Moustakas was demoted last year. This year, he became an All-Star.
"It stinks at first," Moustakas said. "But you know it's for a reason. We know how great a pitcher he is. We know he'll find it and come back and help us. He's too good not to."
Jeffrey Flanagan is a reporter for MLB.com. Follow him on Twitter at @FlannyMLB. This story was not subject to the approval of Major League Baseball or its clubs.