Smoltz set to take place aside 'mates in Hall
Braves great bringing message with him as he gets ready to join Glavine, Maddux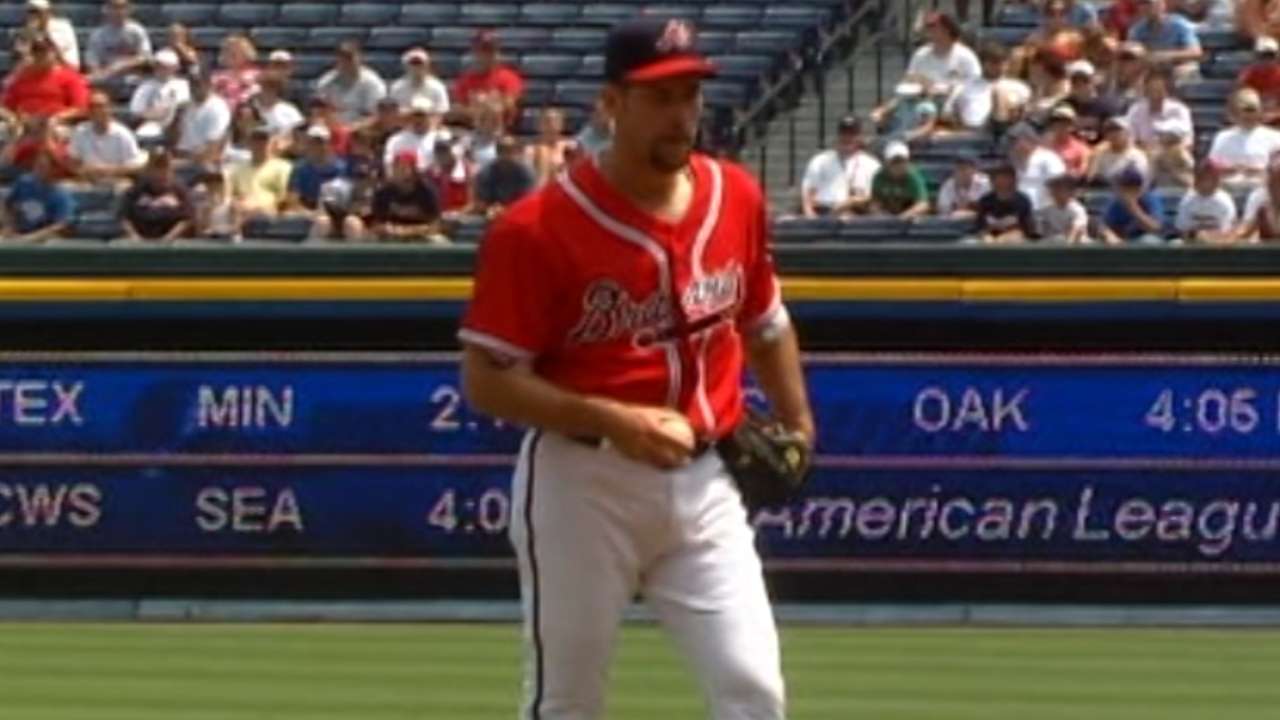 ATLANTA -- When John Smoltz, Tom Glavine and Greg Maddux were paired during this past weekend's American Century Classic celebrity golf tournament at Lake Tahoe, they shared their first round of golf together in more than a decade and reminisced about the days when this act had been a regular ritual.
"It was a round where we all wanted to play great, but it was just pretty neat to be out there together," Smoltz said.
While sharing tee times and spots in some of the most formidable starting rotations assembled in baseball lore, this trio established itself as Atlanta's Big Three. And this weekend, Smoltz will join Glavine and Maddux as enshrined members of Baseball's Hall of Fame.
Smoltz was present last year, when Glavine and Maddux and their former Braves manager Bobby Cox all gained this distinguished honor. But that preview did not necessarily prepare him for what he will experience on Sunday afternoon, when he joins Randy Johnson, Craig Biggio and Pedro Martinez as Cooperstown's latest inductees. Live coverage of Hall of Fame induction day begins at 11 a.m. ET on MLB Network, simulcast live on MLB.com.
"Having that first-row seat last year with [MLB] Network, I got to see firsthand how it operated," Smoltz said. "To a man, everybody has told me how busy it can get and how much you don't really get to see everybody. So you've got to prepare your family and friends for what they will experience."
At the same time, Smoltz has spent countless hours preparing the induction speech that he will deliver in front of the multitude of fans who will attend the induction ceremony or watch it from afar. The accomplished hurler has seldom been at a loss for words, and over the past few years, he has established himself as one of MLB Network's top analysts.
But time constraints have added to the challenge Smoltz has faced while constructing a speech that will express gratitude toward those who aided his journey and also include a message that he hopes will help parents in the attempt to lessen the number of arm injuries that young pitchers have recently experienced.
"I've been grinding on these plane flights, writing and rewriting my speech," said Smoltz, who is the Hall's first electee to return from Tommy John surgery. "I've never written anything like this before. Whenever I have spoken in front of groups before, it has been from the heart and it has been something I've already known and it's been easy.
"But with the time frame we have, you can't really say all the things you want to say, because it will go too long. I'm anxiously looking forward to it, and hopefully I'll have practiced it enough to have it down pat. I won't read my speech. I just want to write it so that I have a game plan for where I am going."
Since being elected to the Hall of Fame in January, Smoltz has remained busy with his endeavors, namely traveling frequently to New York to handle his MLB Network role. Thus, he hasn't necessarily had time to get nervous about a celebration that is now just days away.
"It's flown by, and I guess in a unique way, that's OK because I've been real busy," said Smoltz. "I've been in a situation where with work and baseball, this month has flown by. I just can't even believe it. There are a lot of things I need to do in a short time period. Then we'll get up there [to Cooperstown], kick off the festivities and enjoy it."
Mark Bowman is a reporter for MLB.com. This story was not subject to the approval of Major League Baseball or its clubs.