MLB.com Columnist
Anthony Castrovince
Tigers should be sellers at Trade Deadline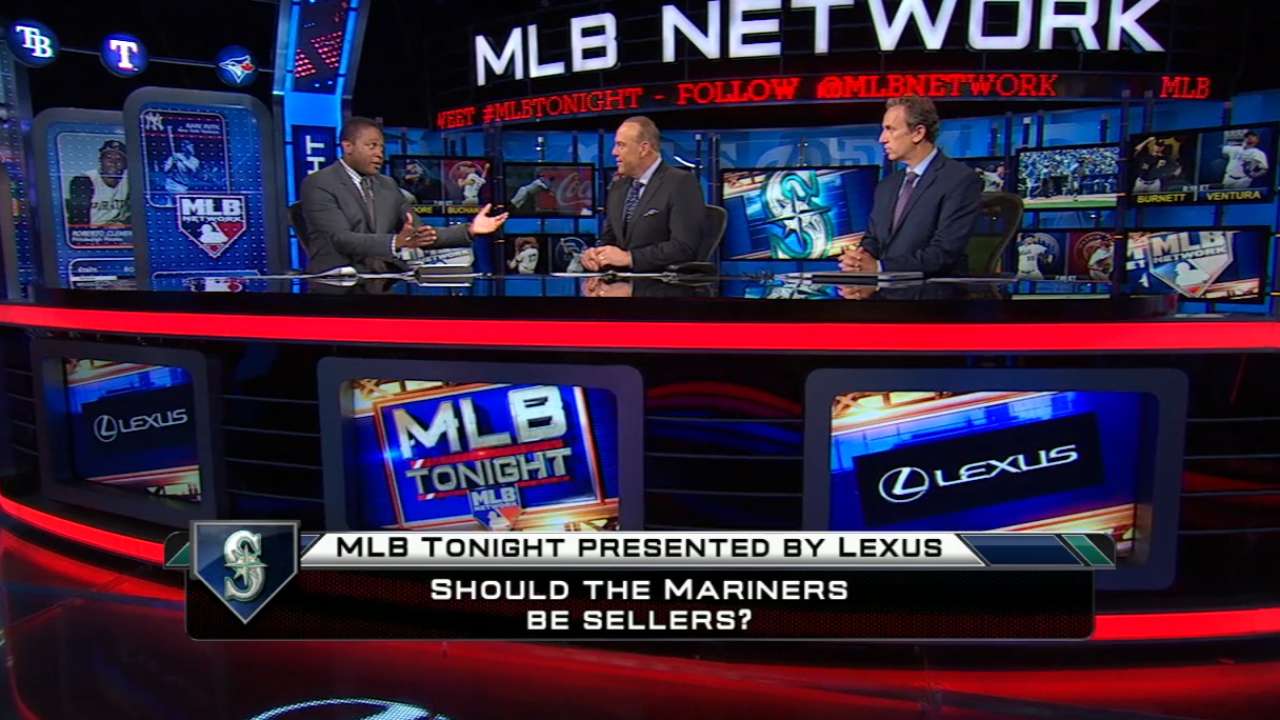 When a win over a last-place team to get to .500 qualifies as one of your better days in recent weeks, when the best hitter on your team (or any team) is on the shelf for another month, when your farm system is light and your payroll is full, when you've got two of the most attractive trade chips in the game nearing free agency, you do what the Tigers appear prepared to do:
Sell.
The tide has been shifting in that direction since that day two and a half weeks ago, when Miguel Cabrera hit the disabled list for the first time in his career with an injured calf. The Tigers had already been playing sub-.500 baseball for more than two months at that point, so yanking the guy at or near the top of the league leaderboard in batting average, on-base percentage and slugging percentage out of the lineup made their situation all but untenable.
Truth is, Detroit can stand pat or maybe even add on at the July 31 non-waiver Trade Deadline and attempt to make a run at a Wild Card spot. The American League is muddled enough to make anything possible.
But the AL Central appears to have gotten away from a Tigers team that was vulnerable from the beginning of its quest to win a fifth straight division title.
With Cabrera and Victor Martinez both coming off surgery, Justin Verlandert enduring a career-first DL trip after the statistical regression of the last two seasons and the overall rotation depth and bullpen viability very much in question, the Tigers simply weren't the overwhelming favorites they once were.
Now they're at a true organizational crossroads, with team president, CEO and general manager Dave Dombrowski's contract expiring Oct. 31, with an aging and expensive roster and with a clear need to infuse some youth and energy into the upper levels of the farm system.
It's possible, with the way teams value their young talent in today's game, that the offers for David Price and Yoenis Cespedes at the Deadline won't be as overwhelming as some might assume. They are, after all, merely two-month rentals, and, for the acquiring team, neither would come equipped with Draft pick compensation should they sign elsewhere.
Yet even for a competitive man like Dombrowski and an owner in Mike Ilitch who has shown a wonderful win-now mindset in outspending his market size, it would be a disservice to the future of this franchise not to aggressively pursue whatever the market will bear for those two talents -- especially Cespedes, whose contract features the unusual clause that he not be eligible for a qualifying offer (and, hence, that he not be tied to Draft pick compensation for the Tigers).
Alfredo Simon, Joakim Soria, Alex Avila and Rajai Davis are all also trade candidates in their final year before free agency, but Price and Cespedes are unquestionably the guys with the greatest value in this group.
With so many long-term investments doled out elsewhere, the possibility of Detroit re-signing one or both of Price and Cespedes this winter seems anywhere from iffy to outright doubtful. Price is routinely labeled the game's next $200 million arm, and the Tigers simply -- and, ultimately, wisely -- weren't willing to go there with Max Scherzer. So it's hard to see them making such a move with Price.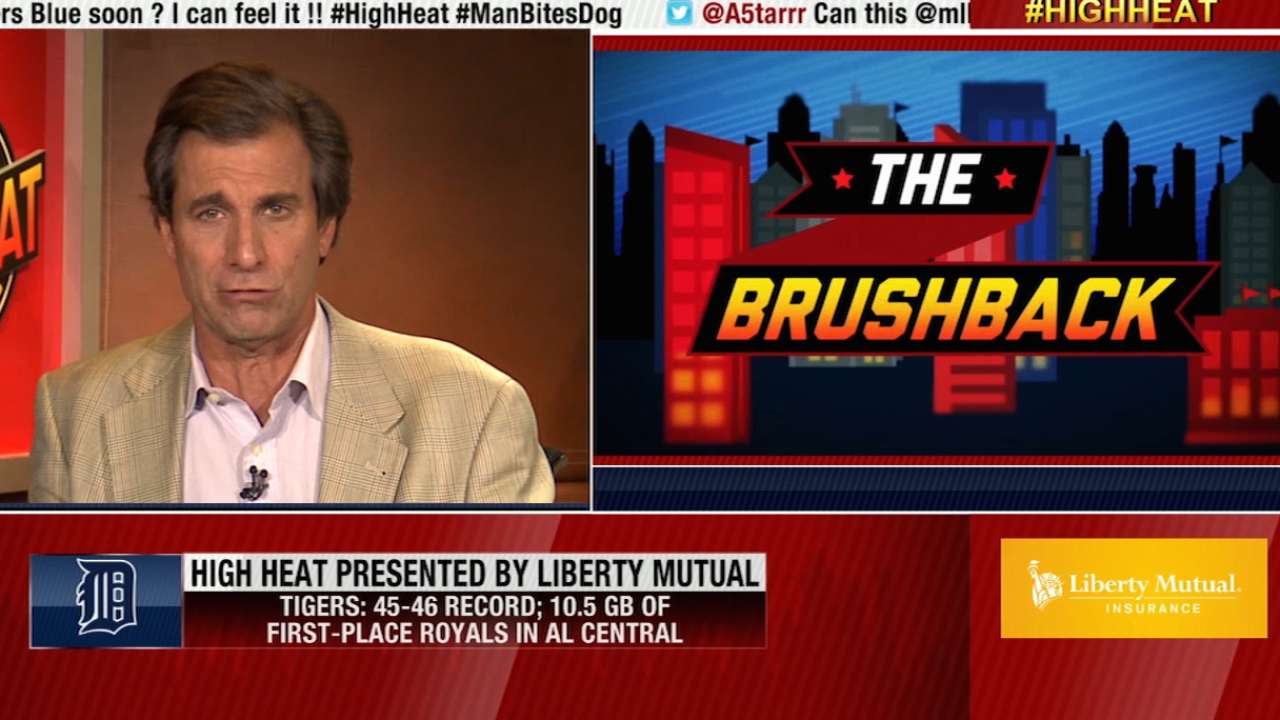 Cespedes is a somewhat more complicated case, given a low career OBP that might scare off some. But a power bat in the corner outfield has tremendous value in today's game, and you'd have to imagine that, for Cespedes (and especially with the compensation pick a non-issue), a contract near the realm of Shin-Soo Choo's seven-year, $130 million deal with the Rangers is not totally out of the question.
Cabrera's eight-year, $240 million extension doesn't even begin until next year, and Detroit has $54 million committed to Victor Martinez from 2016-18, with J.D. Martinez about to get a big salary spike the next two seasons in arbitration. So it's questionable if this organization can accommodate another huge contract for a middle-of-the-order bat.
If you're a Tigers fan, don't blue-sky yourself into thinking that the Tigers could move one or both of these guys and get an enormous, franchise-shaping haul. Rentals are rentals, after all.
But if there is an opportunity with either of these guys to bring back near-Major League-ready talent that better positions the Tigers for 2016, they have to act.
However July plays out -- and whether or not the Tigers will themselves to a Wild Card spot -- this will be a fascinating offseason in Detroit. It's telling that a Dombrowski extension has yet to be ironed out. He would be an extremely valuable free agent in his own right, with the Blue Jays' presidency and the Angels' top front-office spot among the openings available.
Whether it's Dombrowski or somebody else orchestrating roster construction in the Motor City this winter, hard decisions will have to be made about how to sustain what has been one of the great eras in franchise history. The good news is with J.D. Martinez and Jose Iglesias, it's not as if the Tigers are totally devoid of young talent. And it says here that Cabrera has at least a few more elite seasons in him. Still, costs must be cut and young talent must be infused. Maybe there's a conversation to be had about V-Mart's trade value this offseason.
For now, though, the focus is unquestionably on Price, Cespedes and a trade market that the Tigers can use to make the near future more palatable. Dombrowski has always been quick, decisive and cunning in his ability to make the moves needed to keep Detroit's title hopes alive in recent years. He needs to apply that same ability as a seller this summer.
Anthony Castrovince is a reporter for MLB.com. Read his columns and follow him on Twitter at @Castrovince. This story was not subject to the approval of Major League Baseball or its clubs.