MLB.com Columnist
Roger Schlueter
Stats of the Day: Angels take 2 on Albert's 3
Pujols now 15th on all-time homer list after trio in doubleheader gives him 549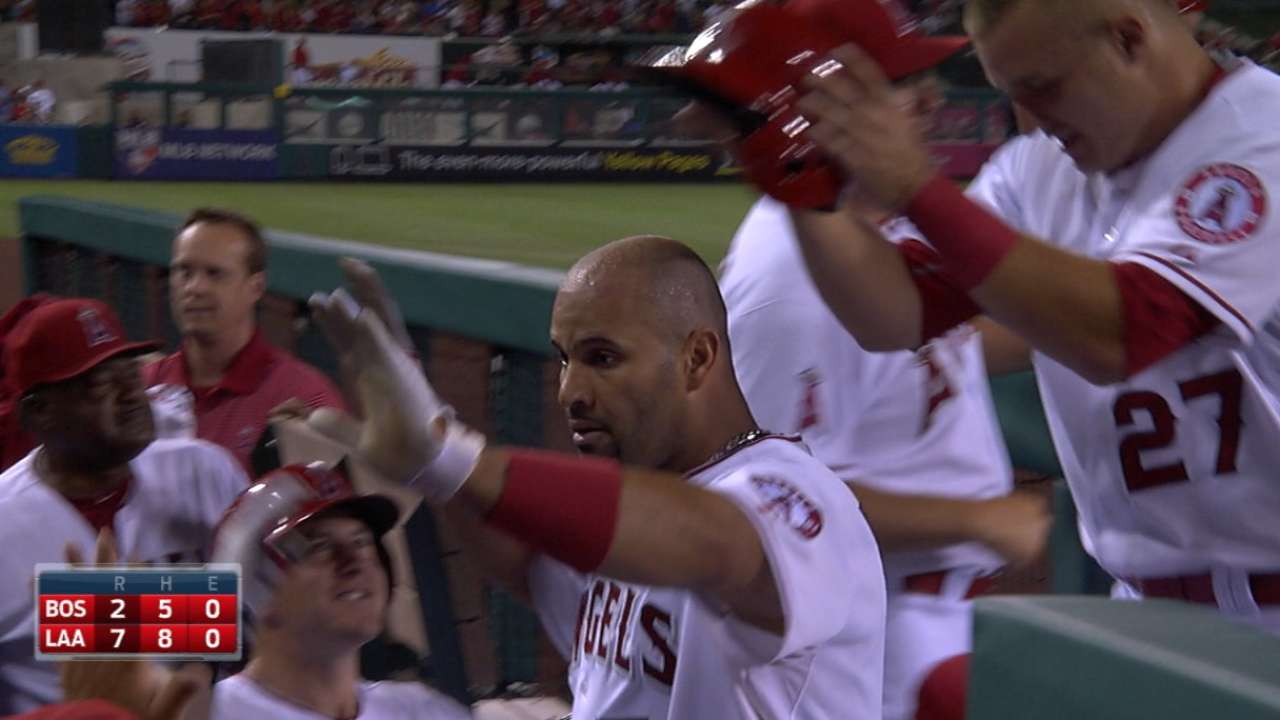 Four interesting items from around the big leagues on Monday ...
• The Angels swept a doubleheader against the Red Sox to complete a four-game series sweep against Boston. The Angels have won five straight and 23 of their last 33. Since June 11, they own the best record in the Majors and have jumped from third place in the American League West (four games back of first place) to first (two games up). Albert Pujols hit three home runs in the doubleheader sweep, going yard once in the opener before producing his 51st career multihomer game in the nightcap. In the second game, Pujols tied and then surpassed Mike Schmidt on the all-time home run list. Now with 549 homers, Pujols has sole possession of 15th place and is six homers behind Manny Ramirez.
• In the Rockies' win over the Rangers, Troy Tulowitzki homered and singled to surpass 2,000 total bases in his career. He is the 26th player to have at least 2,000 through his first 10 seasons while having at least half of his games come at shortstop. The top five in this collection are: Alex Rodriguez (2,899), Ernie Banks (2,884), Miguel Tejada (2,658), Jimmy Rollins (2,607) and Cal Ripken, Jr. (2,577). The multihit game extended Tulowitzki's streak of reaching safely to 41 games -- the second-longest single-season streak in Rockies history. Michael Cuddyer reached safely in 46 straight in 2013.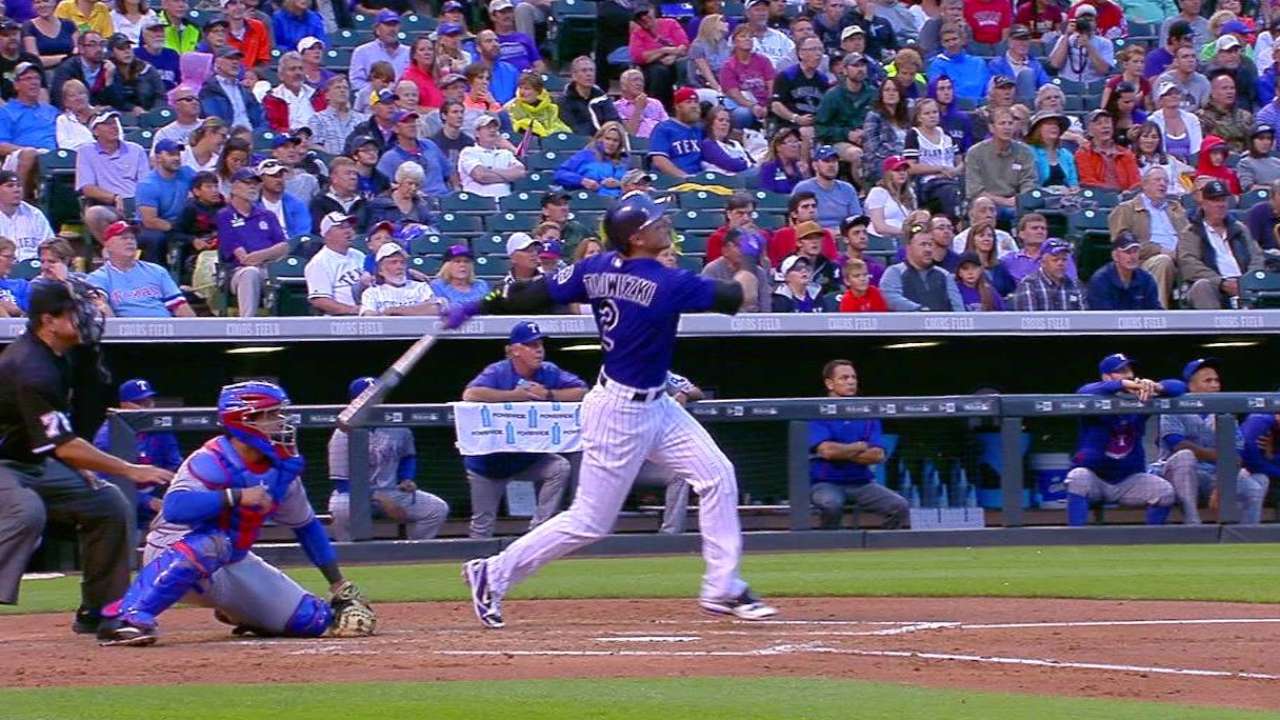 • The Phillies improved to 4-0 since the All-Star break as they defeated the Rays, 5-3. In the victory, Jonathan Papelbon worked a flawless ninth (fanning two) for his 341st career save. Papelbon is now tied with Rollie Fingers for 12th on the all-time list. In 201 of his saves, Fingers recorded at least four outs. Papelbon has 37 saves requiring at least four outs.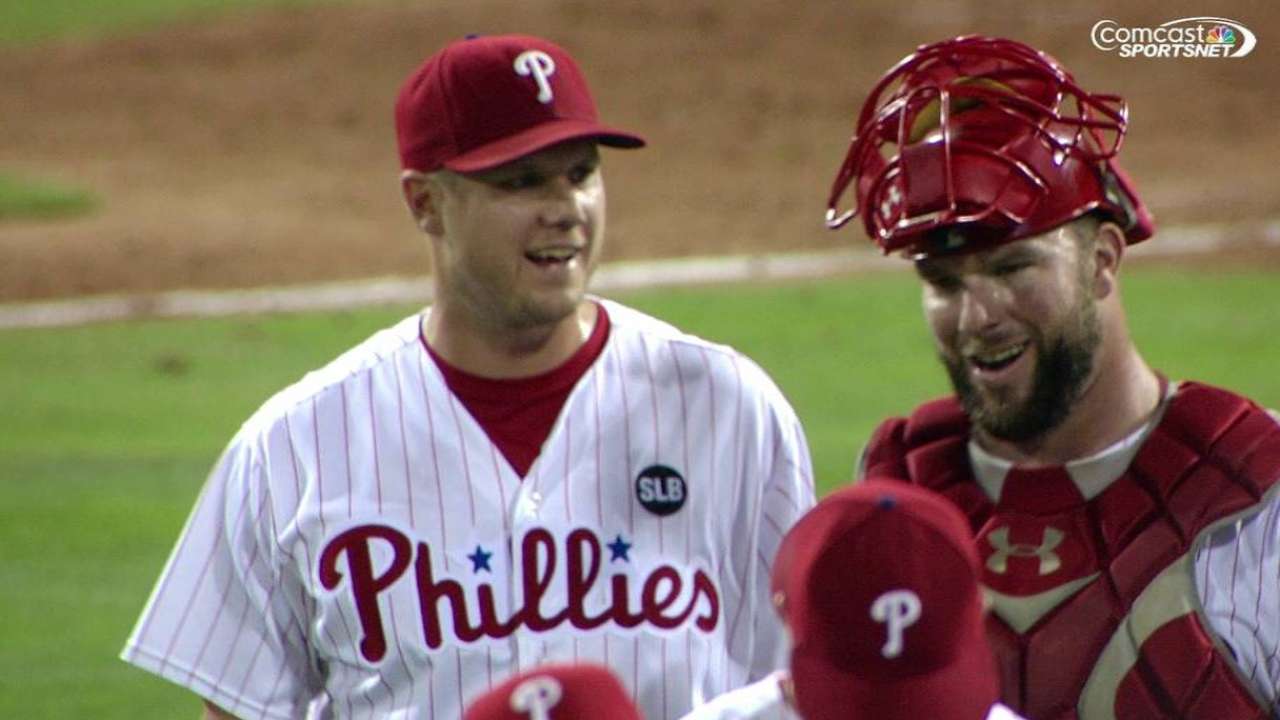 • The Pirates defeated the Royals, 10-7, and considering the offensive output from KC, the result is notable. The last time the Royals had dropped a contest when scoring seven-plus runs was on Aug. 23, 2013, when they lost an 11-10 game to the Nationals. The Royals had won 57 straight games when scoring seven or more, easily the longest such streak in franchise history (the previous longest had been 46 games, produced in 1978-79). The longest such streak in the live-ball era for any team comes in at 95 straight, and that is claimed by the Big Red Machine (1973-75).
Milestone watch for Tuesday
• Huston Street needs one save to become the 27th pitcher with 300. The milestone save will tie Street with Bruce Sutter and Jason Isringhausen.
• Jose Bautista needs one home run to tie Vernon Wells (223) for the second most in Blue Jays history. Carlos Delgado leads, with 336.
Roger Schlueter is a contributor to MLB.com. This story was not subject to the approval of Major League Baseball or its clubs.