Improving De La Rosa forces Fish to play his game
Righty keeps ball low in the zone, works out of jams with double plays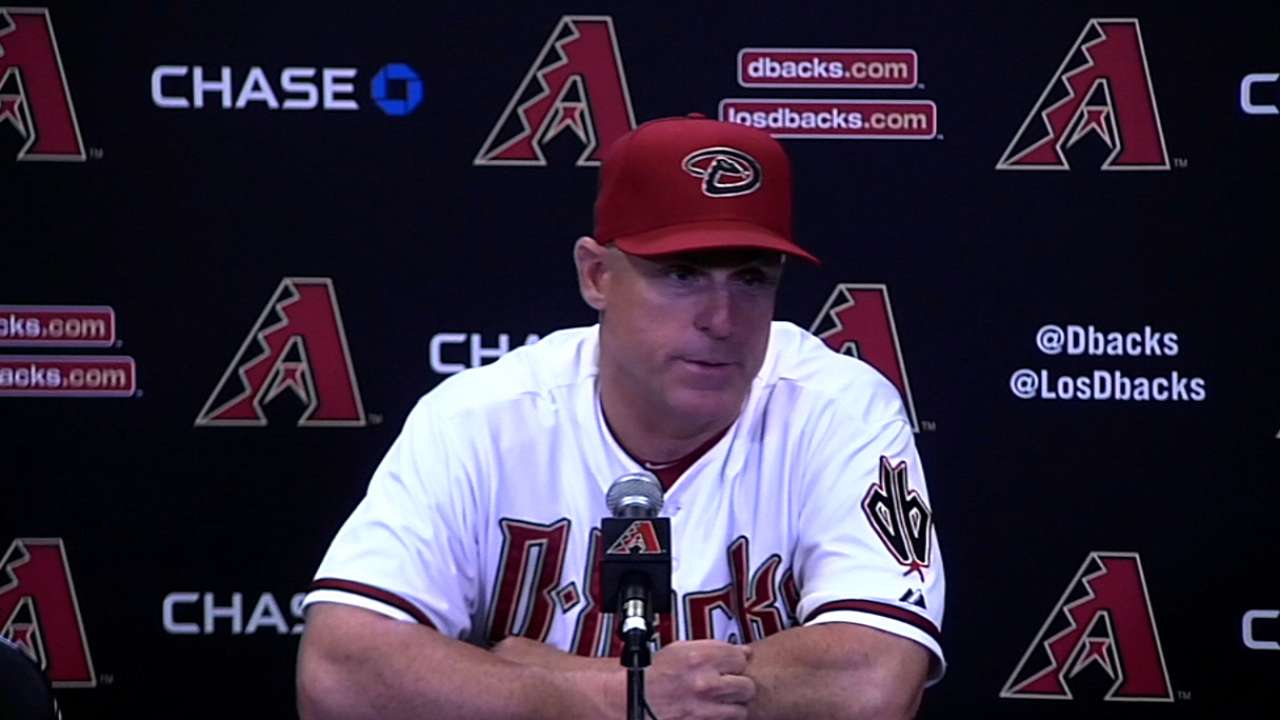 PHOENIX -- Arizona starter Rubby De La Rosa wasn't perfect Monday night, but when he needed to make a pitch and escape a jam, he did just that.
The right-hander twirled seven innings of one-run ball as the D-backs topped the Marlins, 3-1, at Chase Field to end a season-long six-game losing streak.
"It meant a lot for us, the team, to get a 'W,'" De La Rosa said.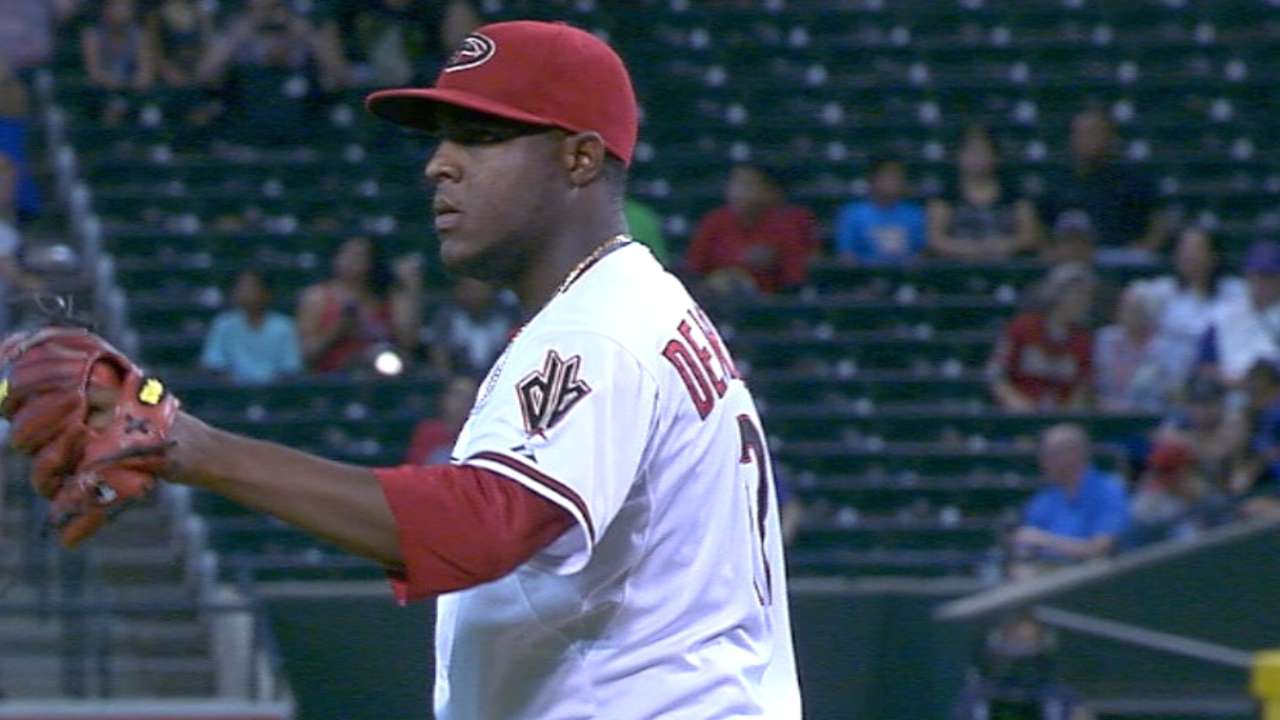 And if it weren't for De La Rosa's ability to pitch out of trouble, the game likely would have had a different outcome.
De La Rosa was clutch from the very beginning. The Marlins loaded the bases with just one out in the top of the first, but De La Rosa was able to get Adeiny Hechavarria to ground into a 6-4-3 double play.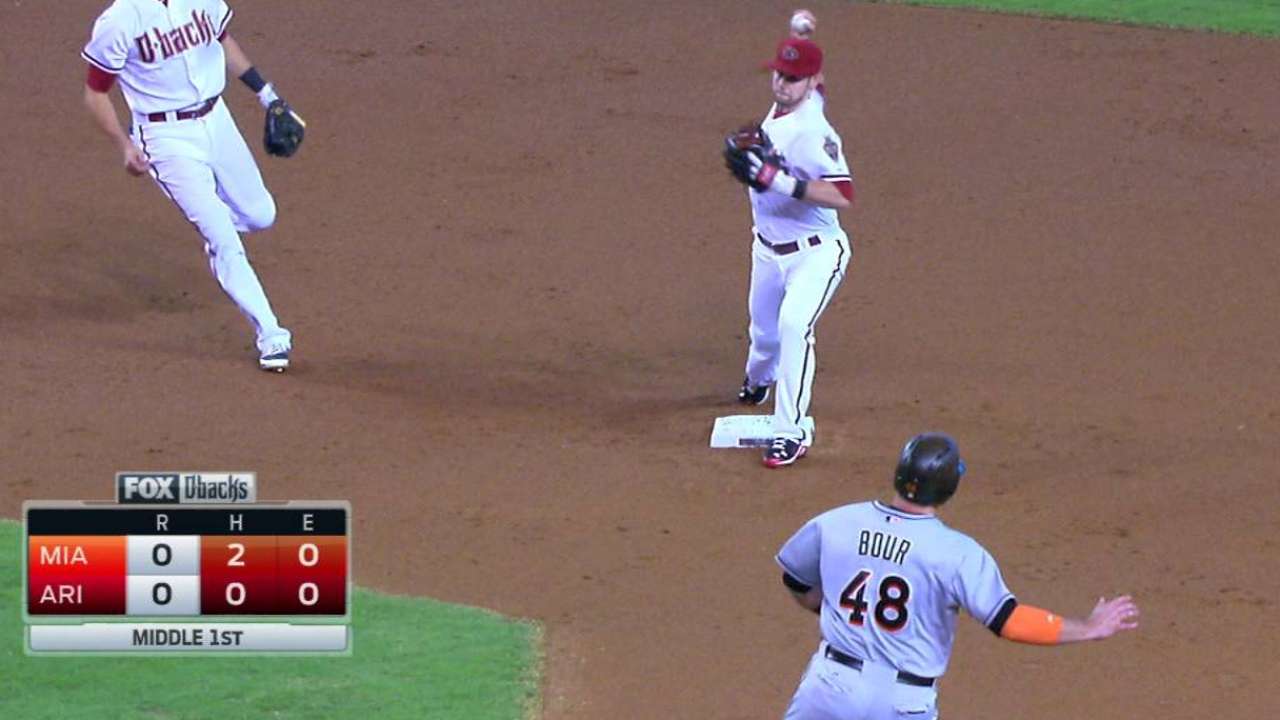 By the end of the seventh, the Marlins had grounded into four double plays and stranded five runners.
"He got double play balls; those were huge," D-backs manager Chip Hale said. "Pitching down ... when he pitches down he gets those ground balls. When we can get those ground balls and let those infielders work, we're a much better team."
De La Rosa, who moved to 5-1 in home starts this season, also acknowledged that keeping the ball low in the zone was a focal point after he's had some inconsistent starts this season.
"It's good today. I kept my pitches down to get double plays," De La Rosa said. "The defense was really good today."
While De La Rosa has been inconsistent -- just nine out of 19 starts have been quality starts -- he seems to have figured out the Marlins' lineup.
On May 18 in Miami, De La Rosa allowed two runs over nine innings in Arizona's 13-inning win.
The three runs allowed in 16 total innings against the Marlins this season are an example of how good De La Rosa can be. The team is just waiting for him to be that guy every five days.
"His stuff is electric stuff, but those are the things he's learning and maturing," Hale said. "Some pitchers take longer."
The D-backs hope De La Rosa's learning curve is a quick one, but for now, he gave them just what they needed Monday.
"I was working to keep the ball down, tried to make quality pitches and hit my spots," De La Rosa said. "That was the key today."
And to top it all off, De La Rosa drove in a run on a bloop fielders' choice to right field.
"Tried to hit the ball, tried to put it in play," he said.
William Boor is a reporter for MLB.com. Follow him on Twitter at @wboor. This story was not subject to the approval of Major League Baseball or its clubs.