Heaney staying in rotation after latest gem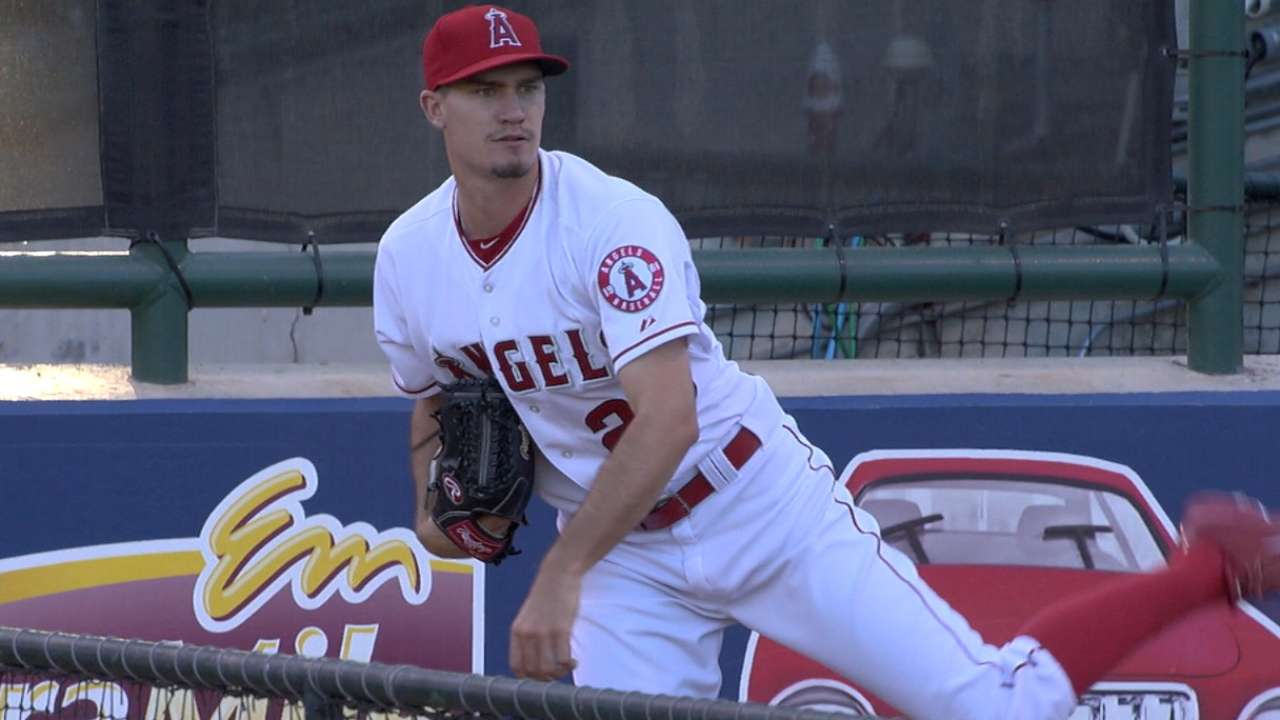 ANAHEIM -- Andrew Heaney's callup to the Angels came out of nowhere, announced early in the morning on June 24, before a start Matt Shoemaker had been expected to make. But Shoemaker needed a couple of extra days to work out a mechanical kink, and Heaney was summoned to make his first start with the team, uncertain if he'd even get another.
It's almost a month later now, and Heaney isn't going anywhere. In the nightcap of the Angels' doubleheader against the Red Sox on Monday, a 7-3 win, he turned in his latest gem -- seven innings, two runs, no walks and four strikeouts -- as the Angels finished off a four-game sweep of Boston. The 24-year-old left-hander, acquired in a December trade from the Dodgers via the Marlins, has made five starts for the Angels, and he's 4-0 with a 1.57 ERA.
• Angels rout Red Sox in twin-bill opener
"He's staying in our rotation," manager Mike Scioscia said after Heaney's win over Boston.
Monday night's outing was Heaney's fifth straight of six-plus innings with two or fewer runs allowed to open his Angels career. The only other pitcher to have an equivalent run to start this season is Astros ace Dallas Keuchel, who started for the American League in the All-Star Game.
"I got an opportunity to come here and fill a spot for the time being -- just to help the team win is always good," Heaney said.
Heaney's been impressively efficient, lasting seven innings in four of five starts despite not yet reaching the 100-pitch mark in any start this season. In 34 1/3 innings on the year, he's walked just four batters.
"He's been able to make pitches and get in the zone early, and he hasn't gotten into the deep counts where it's led to walks," Scioscia said. "He's not just going out there saying, 'I'm not going to walk anybody. I'm going to throw the ball down the middle.' He's gonna hit some bats if he does that. He's making pitches. That's what's exciting about what Andrew is, and the strides he made from the end of Spring Training to where he is now: He has command."
He's not striking out the world -- Heaney has 27 strikeouts in his 34 1/3 innings -- but he doesn't need to; that's not his strength. So even when he gives up some hard hit balls -- the Red Sox had a few on Monday, including a two-run homer by David Ortiz -- Heaney thinks he can absorb them.
"I think that's part of pitching to contact -- you have to be willing to give up some hard-hit balls, and 70 percent of the time it's gonna work out for you," Heaney said.
Starts like the one against Boston -- lasting deep into a game, staying pitch-efficient, with some strikeouts mixed in -- are maybe reflective of the type of pitcher Heaney is. That has been, and could continue to be, a highly effective one.
"I think his strength is gonna be strike one, hitting spots, getting contact on his terms, and getting outs," Scioscia said. "I think that's what Andrew is eventually gonna settle into.
"[Against the Red Sox,] I think it was just commanding counts and making pitches. If Andrew keeps doing that, he's gonna put up a lot of wins."
David Adler is an associate reporter for MLB.com. Follow him on Twitter @_dadler. This story was not subject to the approval of Major League Baseball or its clubs.