Markakis focused on win, not notable HR
Veteran ends homerless drought amid challenging season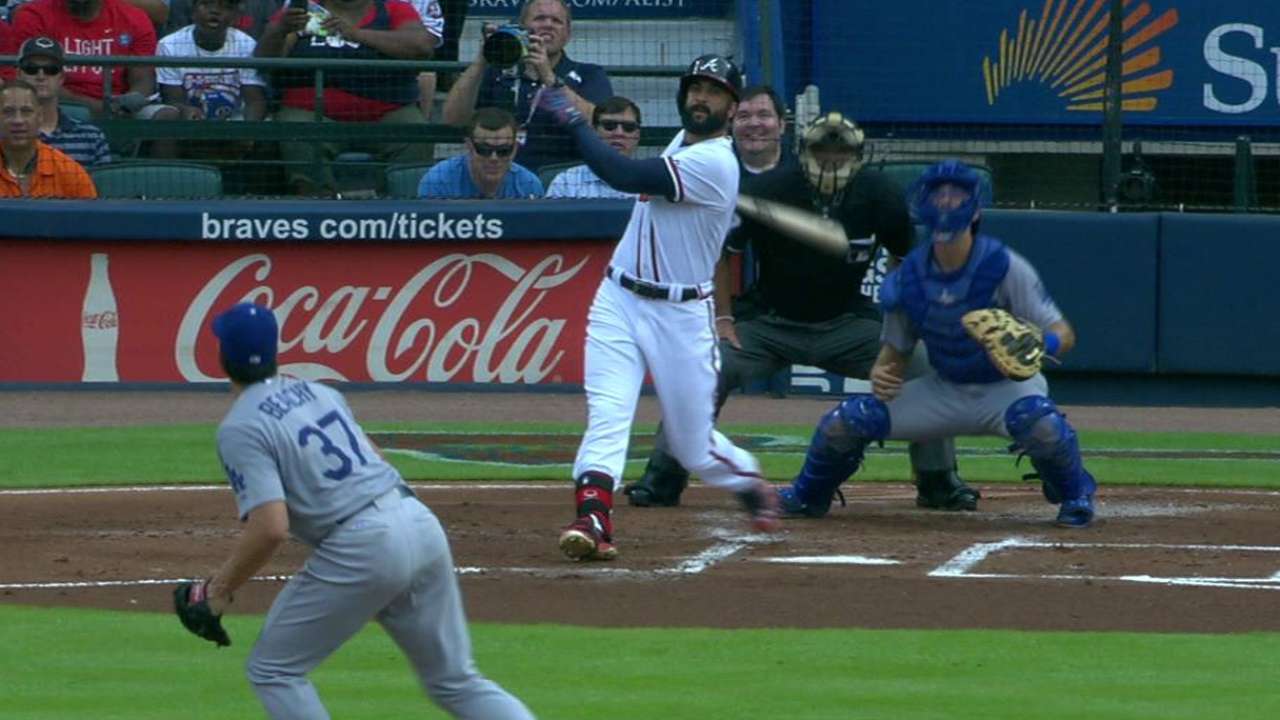 ATLANTA -- When Nick Markakis signed with the Braves in December, there was not much reason to believe that a home run in the first inning of a late July game would garner much attention. But as the veteran outfielder has battled back from offseason neck surgery, he has been forced to remain patient.
Markakis' two-run shot off Brandon Beachy in the Braves' 7-5 win over the Dodgers on Monday night was his first home run since Sept. 25, a span of 356 at-bats. Though the Braves right fielder was aware of why the event was significant, he was more satisfied with the outcome it helped produce.
"We won a ballgame, that's the main thing," said Markakis, who signed a four-year, $44 million contract with Atlanta. "I'm just up there trying to get on base and take hits however they come, whether it's singles, doubles, triples or home runs, I really don't care. I'm just trying to get my hits and help win a ballgame."
Markakis' homer to straightaway center field sparked what was just his second two-hit game this month. Despite hitting just .200 through his first 15 games this month, the 31-year-old has batted .289 with a .736 OPS over the course of a season that has been much more challenging than he might have expected.
"I don't care if he has no home runs, one home run or 30 home runs," Braves manager Fredi Gonzalez said. "He always gives you great at-bats and comes up big. He gets on base and makes people work. He's a great, pure hitter for us."
Nick Markakis tonight: 2-3 with a homer, a double, a walk, 2 runs scored, and 2 RBI. pic.twitter.com/wNLzswiy83

— Atlanta Braves (@Braves) July 21, 2015
Along with getting used to not being a part of the Orioles' organization for the first time in his professional career, Markakis has dealt with physical challenges coming back from a neck surgery similar to the one that altered Peyton Manning's career in the National Football League.
Still, Markakis has quietly gone about his business while showing that same determination and competitive spirit that made him one of Orioles manager Buck Showalter's favorite players. Despite his limitations, he has started 92 of the Braves' 93 games this year and accepted the circumstances that have forced him to spend time at each of the lineup's first four spots.
"That's the biggest thing, being out there," Markakis said. "You can't contribute when you are on the bench. It's tough to play every day. You look across baseball and you don't see many guys do it, but I take a lot of pride in it and I know a lot of guys do. It's one thing going out there to play every other day, but to be out there every day, facing whoever is out there, it's a grind. It's tough and I like the challenge."
Mark Bowman is a reporter for MLB.com. This story was not subject to the approval of Major League Baseball or its clubs.