MLB.com Columnist
Alyson Footer
Springer hosts fundraiser for kids who stutter
At bowling benefit, Astros right fielder encourages children to 'enjoy life and have fun'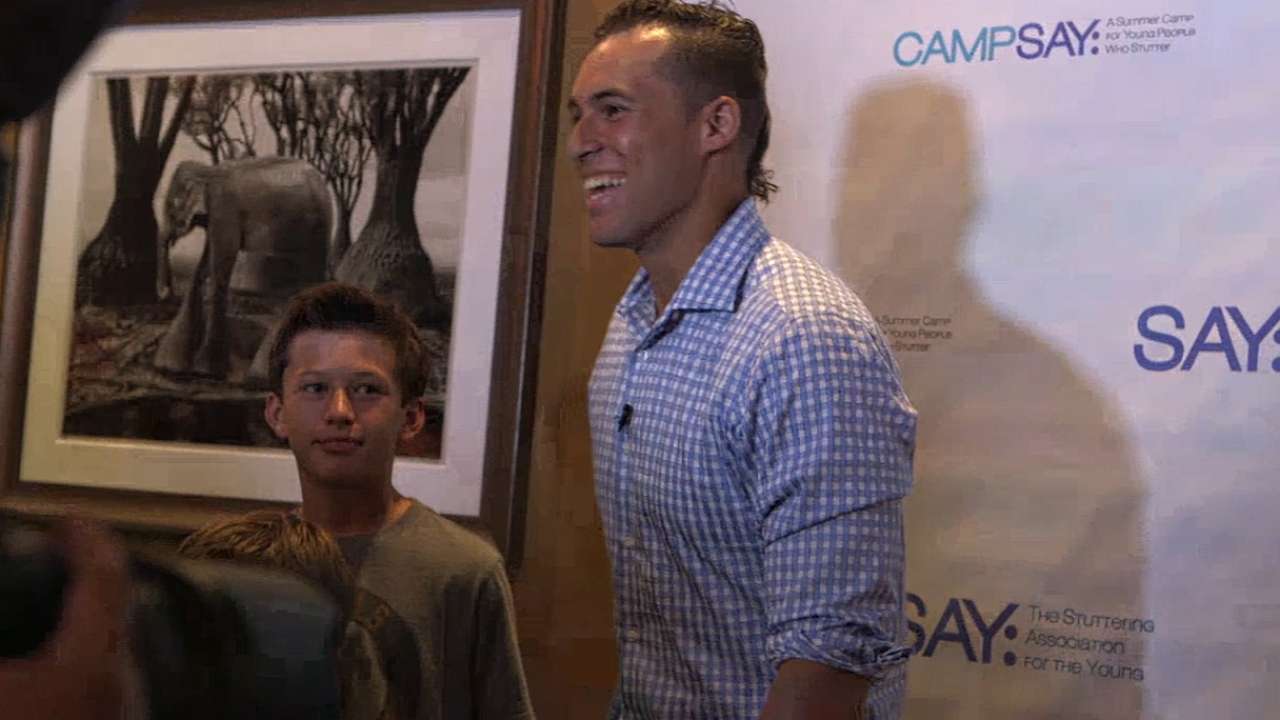 HOUSTON -- George Springer isn't looking for a "cure" for stuttering or some magic potion that can miraculously make it go away. Rather, he has one simple motivation as spokesman for Camp SAY, a camp for kids who stutter: He wants kids to understand that it's OK to stutter, and it should never take away from living a full, quality life.
Springer, who has had a stutter all of his life, held an All-Star bowling benefit Monday at Lucky Strike in downtown Houston to raise funds for kids who want to attend the camp. Many of those kids were at the event, and they listened intently as the Astros right fielder passed along his words of wisdom: Don't let something you can't control dictate how you live your life.
"It's OK to be who you are," Springer said to the kids. "Don't let that stop you. Enjoy life and have fun. Don't let anyone tell you you can't do it, because you can. I'm proof. You're here. I'm here.
"You're an individual, you're going to grow up, you're going to enjoy your life. Don't let anything you can't control stop you."
The benefit, in conjunction with the George Springer Kids Fund, will help children in need attend Camp SAY. No child who qualifies and wants to attend the camp will be turned away, regardless of financial needs.
According to SAY (Stuttering Association for the Young), more than 70 million people stutter, including five percent of all young children, and approximately one in every 100 adults.
In Springer, the kids have an ally, someone who has been where they are, and who happens to also be a gifted athlete whose popularity in Houston has skyrocketed since joining the Astros early in 2014.
"It's special to know that I understand from first-hand what these kids are experiencing and what they're feeling and how they feel every day," Springer said. "I understand that."
The evening began with a cocktail hour in a receptions room at Lucky Strike, where Springer addressed the kids and the crowd of more than 100 patrons supporting the event.
Several Astros figures attended the benefit, including players Carlos Correa, Lance McCullers, Vincent Velasquez and Preston Tucker, manager A.J. Hinch, president of business operations Reid Ryan and owner Jim Crane. Several members of Springer's family were there as well, including his parents and his girlfriend, Charlise Castro.
Springer, who is still in a cast after suffering a fractured right wrist during a game against the Royals a few weeks ago, didn't bowl, but he played the perfect host, mingling with the guests and showering the kids with plenty of extra attention.
"What's cool about this is you can tell this is something George is passionate about," Ryan said. "I applaud George for tackling this early in his career and then saying, 'I want to help kids, I want to show people that there's folks like me out there.'"
Springer, who now lives in Houston year-round, cited the popular and philanthropic J.J. Watt of the NFL's Houston Texans as the kind of community-minded athlete he aspires to be.
"That's your job," Springer said. "We wouldn't be here without the support of everybody else. There are guys in Houston right now like Watt -- he's an icon here. When you're in the spotlight and people know who you are, you need to give back. You need to do things for the community first. Obviously your job is a sport, but also you have a responsibility to give back to kids and the whole community."
Alyson Footer is a national correspondent for MLB.com. Follow her on Twitter @alysonfooter. This story was not subject to the approval of Major League Baseball or its clubs.