Franco feels elbow soreness after diving stop
Third baseman expects to avoid disabled list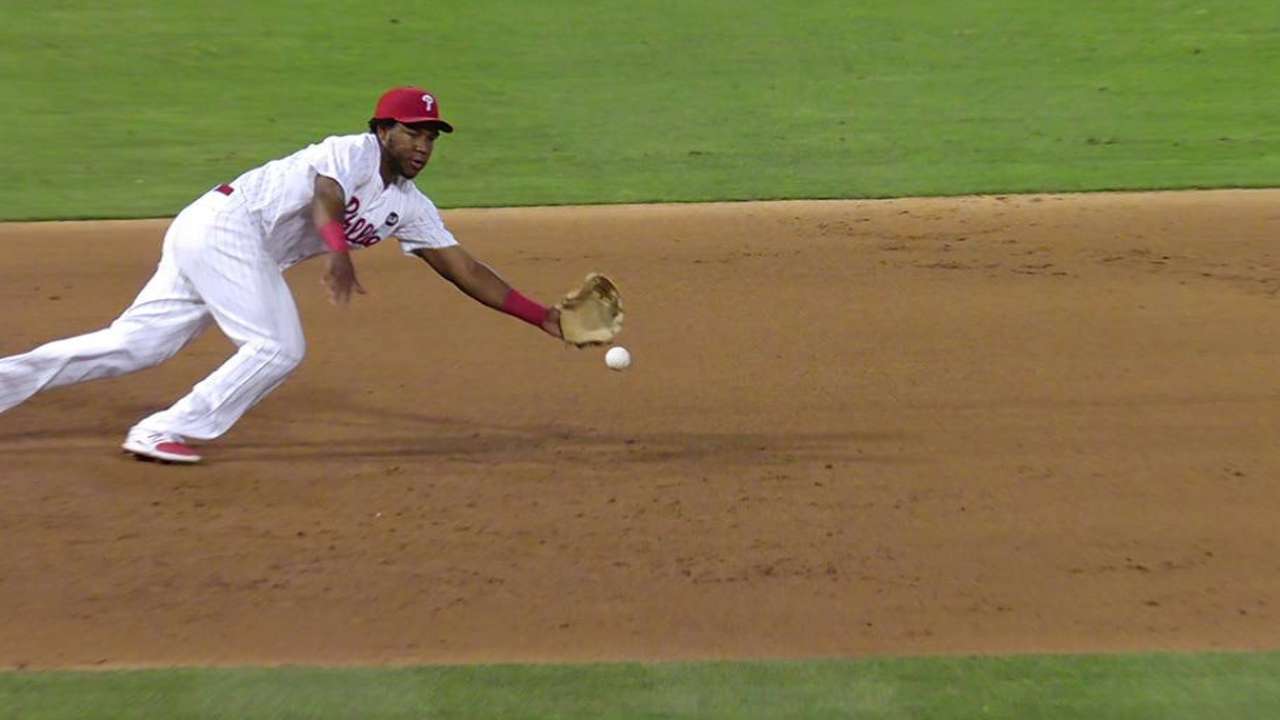 PHILADELPHIA -- Maikel Franco hasn't taken a day off since he was called up to the Majors on May 15. He hasn't needed to. Now, maybe he has a reason.
Franco was double-switched out of the game after the eighth inning of the Phillies' 5-3 win over the Rays Monday night. What seemed at the time to be an innocuous move to bring in the closer turned out to be a little more, as interim manager Pete Mackanin said after the game that Franco was experiencing soreness in his right elbow.
Franco said that the injury happened in the sixth inning when he made a diving stop on a ball hit sharply by Tim Beckham and jumped back up to throw to first. The injury was sustained on the throw. Franco said that prior to the throw, he hadn't felt any soreness, but Mackanin said Franco told him that the injury had been nagging him for "a couple of days."
"At this point, I'm not that concerned," Mackanin said. "It wasn't good news to hear, but we'll wait and see tomorrow what the trainers say."
The rookie third baseman said he expects to avoid the disabled list and isn't sure if he will undergo an MRI. He said that the team's trainers took a look at him and that they told him to come in early Tuesday for another check-up.
Having played in almost 60 consecutive games, Franco might deserve a day off. That being said, he indicated that he doesn't believe the injury is at all tied to overwork.
"Not really, because that's what I do every single day at Minor Leagues too," Franco said. "I take a lot of early work, and it's not going to happen in the [Major] Leagues."
If Franco is unable to go Tuesday, Andres Blanco would be the logical option to replace Franco at the hot corner. Blanco spelled Franco in the ninth Monday night, and counting Monday, he has appeared at third base eight times this season.
Nick Suss is an associate reporter for MLB.com. This story was not subject to the approval of Major League Baseball or its clubs.