Moore continues to battle, looks to improve
Lefty allows four runs in 4 2/3 innings in fourth start back from Tommy John surgery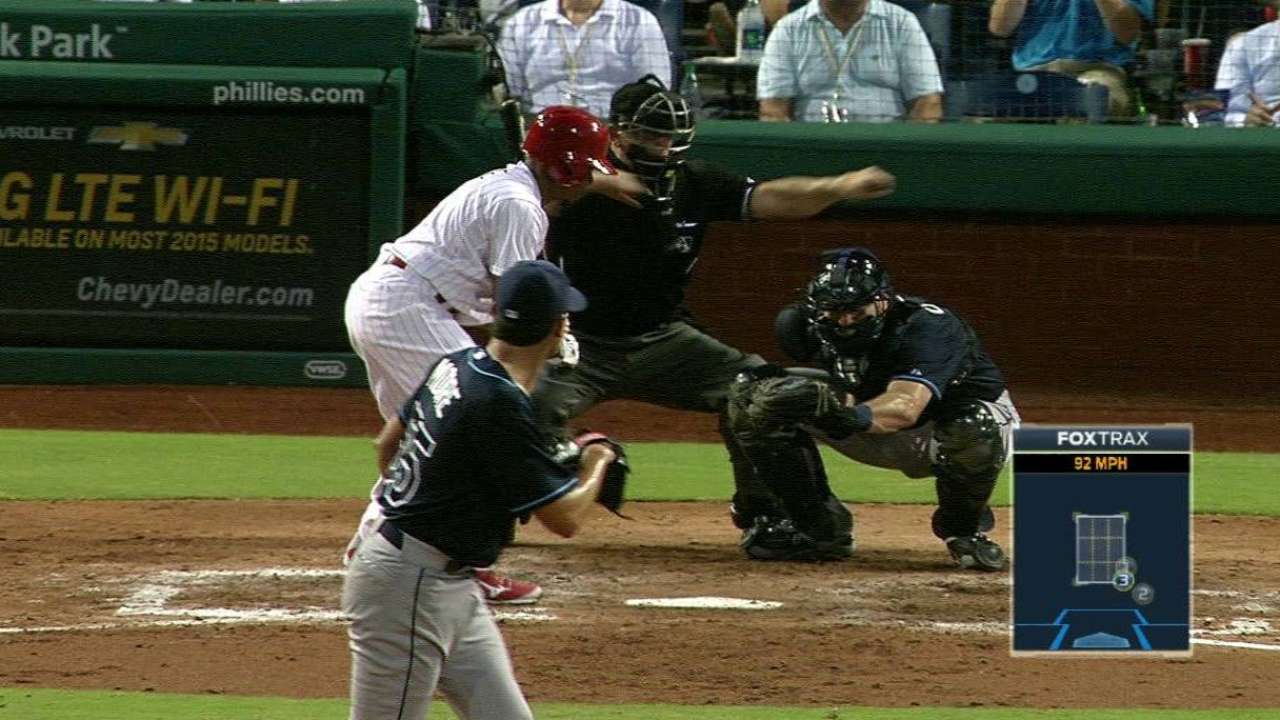 PHILADELPHIA -- Matt Moore's struggles continued Monday night at Citizens Bank Park, where the Phillies defeated the Rays, 5-3, in the opening game of a three-game series.
"Matt continues to compete and battle," Rays manager Kevin Cash said. "It's not quite there totally in sync consistently. He shows some glimpses, but then he'll have some hiccups along the way."
Command issues have haunted the Rays' left-hander in his four starts since returning from Tommy John surgery, which is to be expected. Cash believes Moore's velocity will improve with every outing, as will his command.
"I think as he stays committed with the fastball, the velocity will come back quick," Cash said. "I do agree that ultimately the most important thing is locating those pitches. It takes a little time to fine-tune being able to hit that spot that you want to hit over and over."
The Rays staked Moore to a 2-0 lead after their second turn at bat, only to see the Phillies erase that lead with a three-run second. Issuing a walk to Phillies starter David Buchanan could be counted as one of Moore's second-inning sins.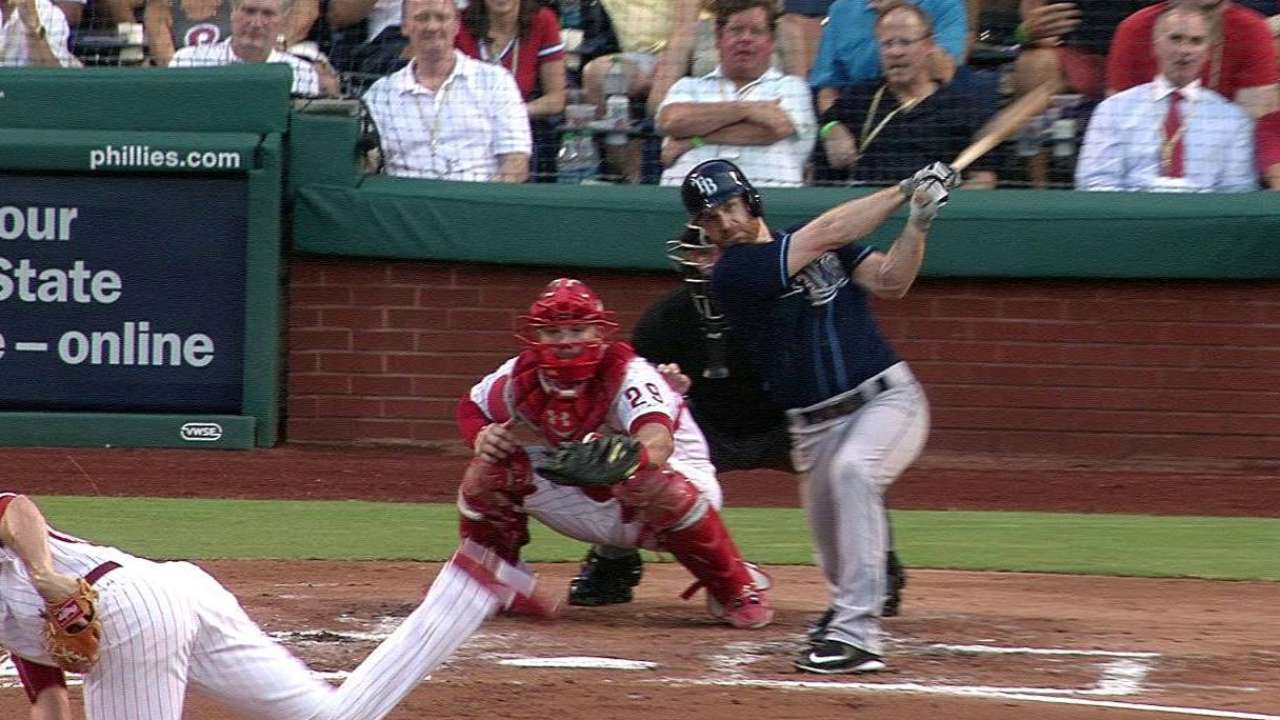 "You have to be able to finish that off, and we did not," Cash said. "We expect that that will get better. But there was no secret, he definitely ran into a little glitch with his mechanics. I'm not exactly sure what it was, but he couldn't quite command the baseball the way he wanted to."
By the time Moore returned to the dugout after pitching the second, he had thrown 54 pitches, of which just 28 were strikes.
"I think he was just struggling a little bit with the timing between his arm and his body," Rays catcher Curt Casali said. "We had some conversations on the bench, what I saw and what Hick saw. But I was happy with the way he battled."
After posting scoreless frames in the third and fourth innings, Moore allowed a one-out triple to Cesar Hernandez in the fifth. He pitched to one more batter, striking out Ben Revere looking before Alex Colome took over.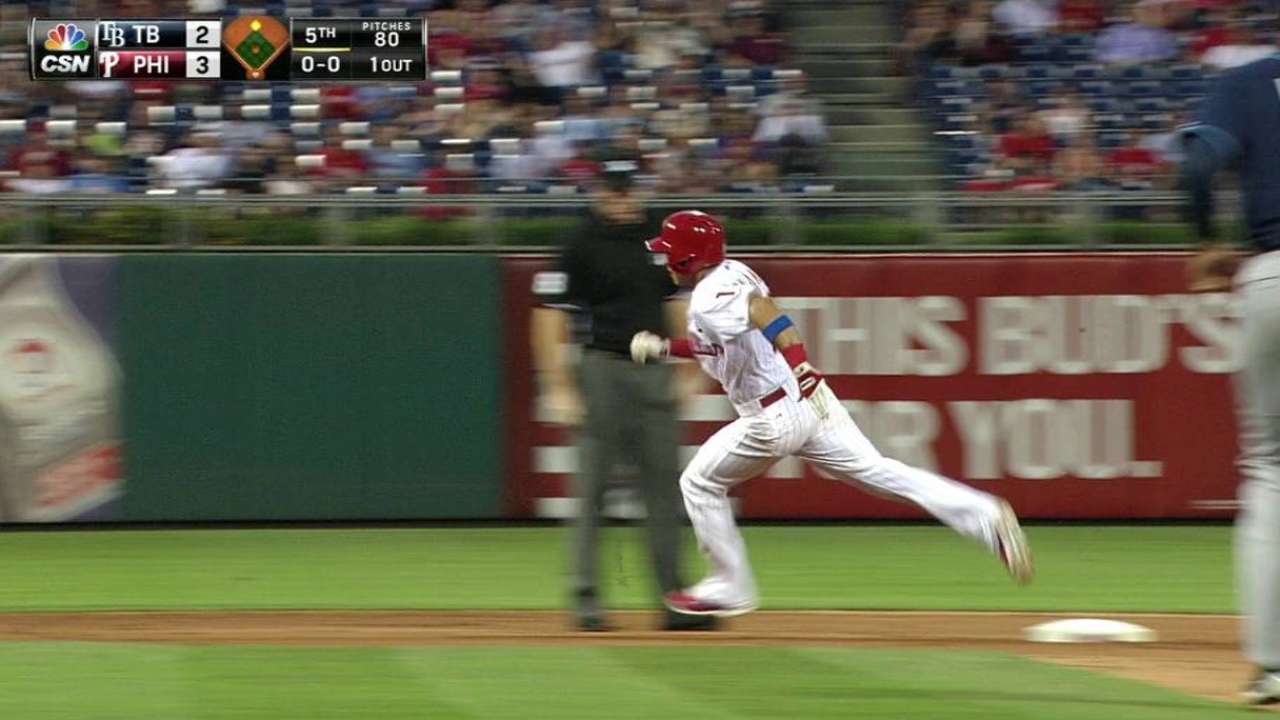 "I would assume it was something like [a release point problem], but the way I'm working out there is more of a feel, going after the hitter and just competing," Moore said. "Not really thinking too much about what I'm doing. ... I think some time in about the fourth inning, I started to feel myself in a good spot. And that's too late. I have to be able to figure that out in the second inning out there. Keep them off the board."
Moore's final line showed four runs on five hits, three walks and three strikeouts with one wild pitch. In the process, his ERA went from 7.07 to 7.23.
When told that his catcher and manager both complimented the way he battled, Moore allowed that that was a positive from his outing.
"I wouldn't feel very good about it if I was timid out there and things like that," Moore said. "Even with the walks, I was attacking. The ball just wasn't going where I was aiming. So there's some things that we need to clean up.
"Kind of had a stretch like this in the past when I go five innings, give up three or four, and it's the one inning that kind of gets you. And I just have to be better in that inning, shutting it down."
Moore has now lost leads five times in his four games back with the team.
Bill Chastain is a reporter for MLB.com. This story was not subject to the approval of Major League Baseball or its clubs.