Mets let opportunity to advance get away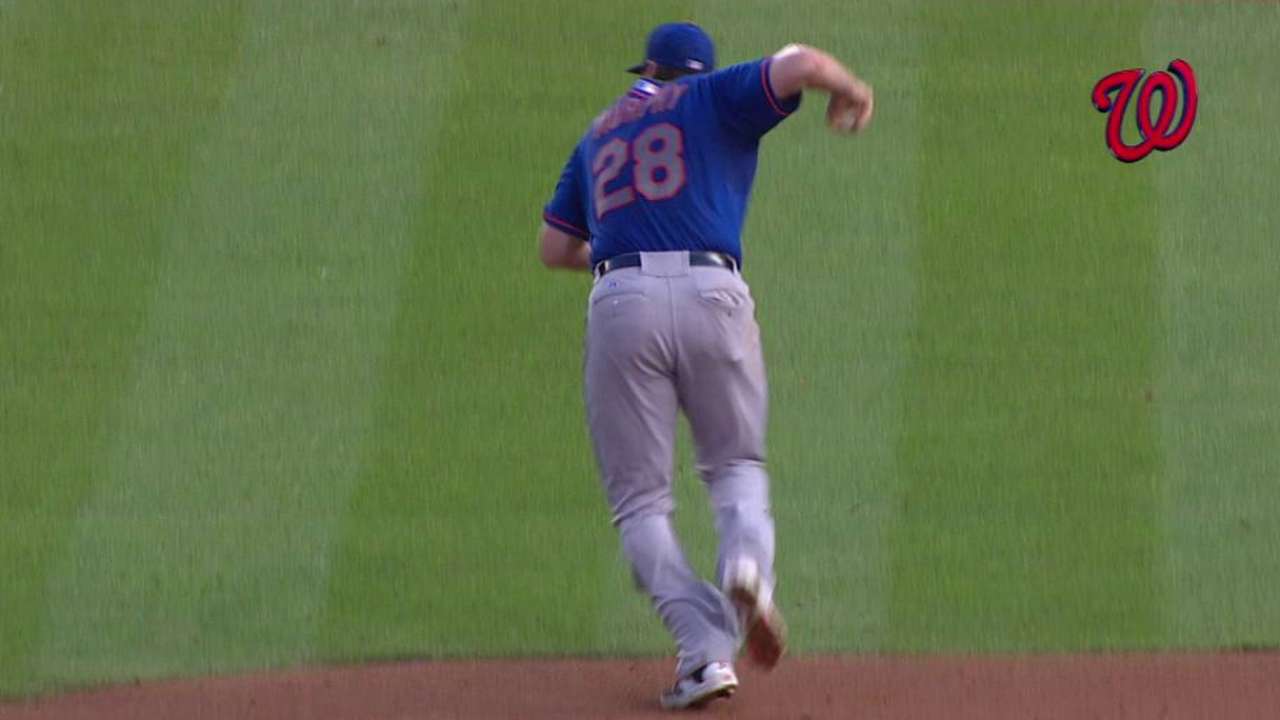 WASHINGTON -- Entering this week, a sweep of the Nationals would have given the Mets sole possession of first place in the National League East for the first time since mid-June -- reason for optimism, certainly, for a roster dealing with lingering injuries and offensive issues. Yet those grand designs have already dimmed thanks to a 7-2 loss to a Nationals team that on Monday showcased the types of defensive aptitude and timely hitting that have eluded the Mets all season.
Matt Harvey's four walks at Nationals Park created plenty of trouble, but his inability to field Danny Espinosa's bunt in the first inning didn't help. Nor did Daniel Murphy's two errors, one of them on a looping liner directly to him at third base. Nor did the Mets' troubles hitting Gio Gonzalez, a pitcher they have beaten plenty of times in the past; only Harvey, with his two-run bloop single in the fourth inning, did any damage at the plate.
With all that as a backdrop, the Mets found themselves with five-run deficits in the fifth and the ninth and another loss to the Nationals, who have beaten them 20 times in 27 games since the start of last season. More than that, they found themselves staring at what they could be. The Nats made several outstanding defensive plays and few mistakes, parlaying Gonzalez's quality start into a victory.
For a Mets team hoping to keep pace, it was a tough loss.
"That's why they're there," manager Terry Collins said of the Nationals. "That's why they sit where they sit."
Harvey said his issue was finding a rhythm in his first start since July 11. Unable to do so early, he instead was "spraying [pitches] all over the place," in his words, twice walking Bryce Harper to advance rallies in the first and third innings.
The Mets never recovered. By the end of the third inning, Harvey's issues and Murphy's second error had thrust them into a five-run hole. That proved insurmountable; the offense now has nine total runs in four games since the break.
"We're frustrated, obviously," said first baseman Eric Campbell, who was part of a rundown that lingered long enough to let Harper zoom around uncontested with Washington's second run in the first inning. "It is getting a little bit old."
The Mets refused to blame any residual effect from the 18-inning game they played on Sunday. They refused to look to who's not here -- David Wright and Travis d'Arnaud and even No. 3 prospect Michael Conforto, who remains in Double-A Binghamton.
But they know they let an opportunity pass. Admitting that this series was critical, the Mets held back Harvey and Jacob deGrom until after the break, lining them up for the first two games here.
Harvey underscored all that after Monday's loss, saying, "I think we all noticed that [importance] coming here."
With one loss in the books, all the Mets can do now is focus on the rest of their time in the District.
"We've got to go score some runs," Collins said. "That's how you win games. We like our pitching. We think we'll stay in games. But we've got to put some points up, too."
Anthony DiComo is a reporter for MLB.com. Follow him on Twitter @AnthonyDiComo and Facebook, and listen to his podcast. This story was not subject to the approval of Major League Baseball or its clubs.