deGrom has transformed into bona fide ace
Mets All-Star's velocity has increased across the board as pitch arsenal evolves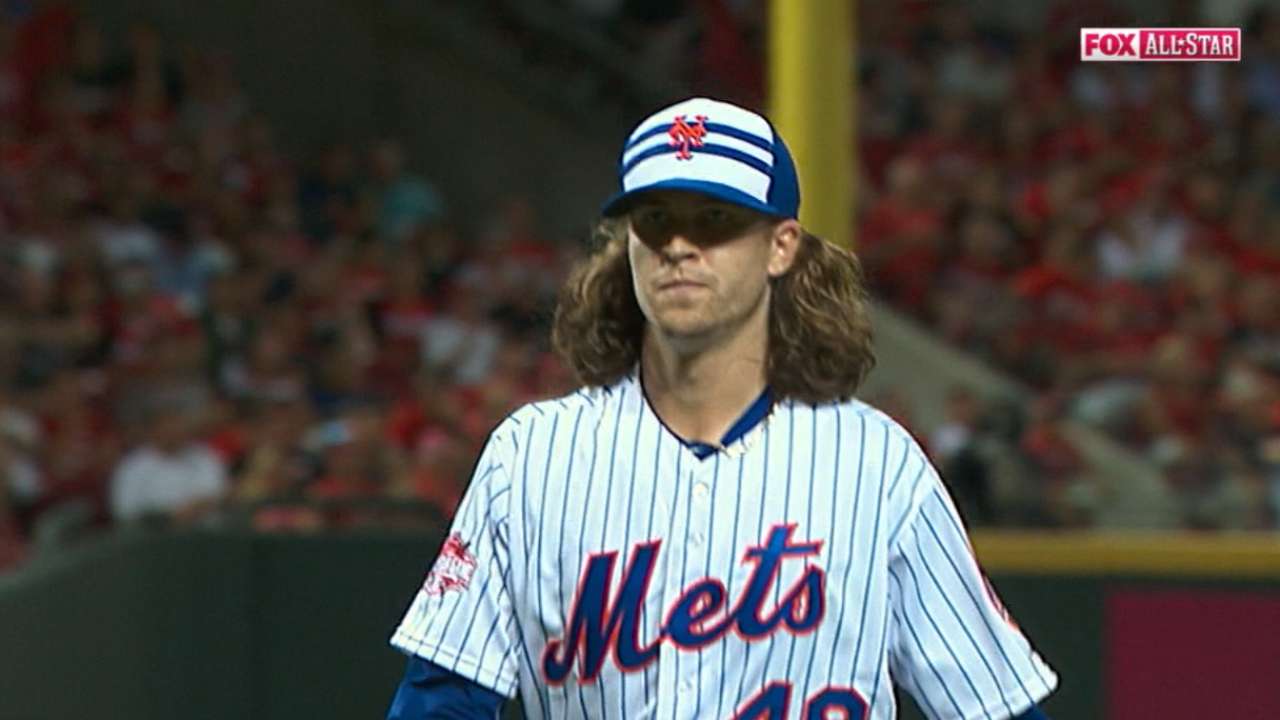 With long, flowing locks and upper-90s heat, Jacob deGrom mowed down his All-Star Game opposition last Tuesday with three strikeouts on just 10 pitches. It's not a surprise given his performance since being called up on May 15 of last season -- 18-12 with a 2.44 ERA and 9.1 strikeouts per nine in 254 innings -- but considering where he came from, not too many expected this as he was making his way through the Mets' Minor League system.
After all, here was a ninth-round pick in 2010 who began his college career at Stetson as a shortstop and was only 26 innings into his professional career before he missed all of 2011 after undergoing Tommy John surgery. deGrom also never reached the top of the Mets' prospect lists, ranking 19th, per MLB Pipeline, at the end of 2013.
And yet, here we are, with deGrom building off of his 2014 National League Rookie of the Year Award-winning campaign and putting up numbers that not many have pulled off before. In the expansion era, just four pitchers have thrown at least 250 innings in their first two seasons with a better ERA. (The Mets are well represented on that list with Dwight Gooden and Jerry Koosman ranking in front of deGrom and Tom Seaver just behind him.) If you prefer slightly more advanced measures, deGrom's FIP is third best and his ERA+ is seventh.
But this year's dominance comes from a slightly different pitcher. Never a soft tosser, deGrom's velocity has improved in almost every month of his Major League career. Starting with an average velocity of just over 94 mph when he was first called up, deGrom's fastball has averaged over 96 since the start of June.
deGrom's heater isn't the only thing that has jumped up. His changeup and curve have each increased two mph and, most strikingly, his slider has gone from 85 mph when he broke into the league to an average of 89.7 this year. While it's the fourth-fastest slider in the Majors according to Statcast™, it has the second-highest perceived velocity (90.3), ranking just behind the Pirates' hard-throwing reliever Arquimedes Caminero (minimum 100 sliders thrown).
Interestingly, velocity isn't the only change. While deGrom's fastball has actually picked up over an inch of arm-side tail, according to Pitch-f/x, his slider has lost about an inch of movement. However, his slider, two-seamer and four-seamer are all so similar in terms of velocity and spin rate that, according to Statcast™, that it would seem impossible to tell them apart coming out of his hand.
Perceived velo (Spin rate)
Slider: 90.4 (2,272)
2-seam: 95.4 (2,149)
4-seam: 95.5 (2,241)
It's almost as if deGrom has three fastballs that move in three directions.
Last year, deGrom's worst pitch was his slider, with batters hitting .274 off the pitch with a .381 slugging percentage. This year, those numbers are .224 and, wait for it, .224. That's right, of the 53 sliders that have been hit into play, none have gone for an extra-base hit.
And that may not even be deGrom's best pitch. After all, his changeup is holding batters to a .208 slugging percentage and he's getting whiffs on just under 20 percent of them that he's thrown.
With Matt Harvey and Noah Syndergaard dealing as well and Zack Wheeler and Steven Matz on the mend, the Mets are in a position to have one of the most fearsome rotations in baseball for years to come. And thanks to an ever-evolving arsenal and approach, it's the unexpected deGrom who is fronting it.
Michael Clair is a reporter for MLB.com. Follow @clairbearattack on Twitter. This story was not subject to the approval of Major League Baseball or its clubs.