Pujols passes Schmidt with 3-homer day
Angels' slugger overtakes Phillies' Hall of Famer for 15th all-time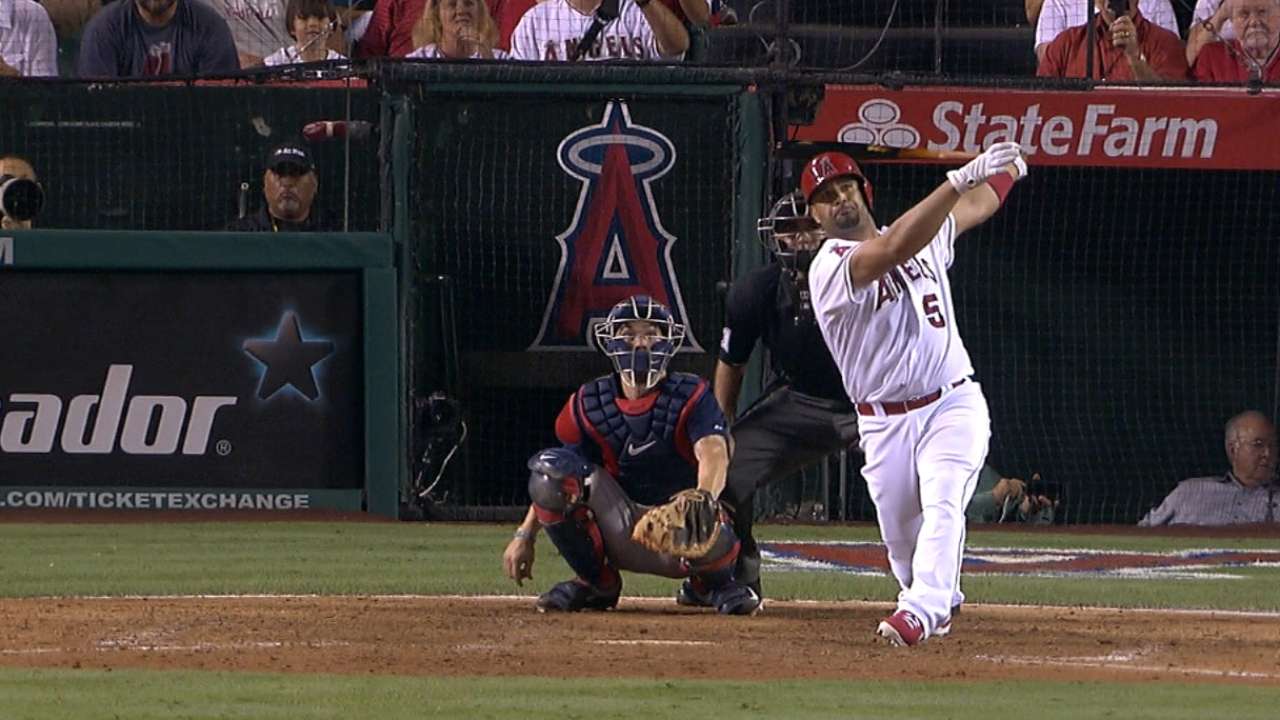 ANAHEIM -- Albert Pujols passed Mike Schmidt on Monday, with three home runs in one doubleheader. Pujols remembers Schmidt as the Phillies legend who showed up at the Cardinals' Spring Training facility in 2002, to speak with the team about how to prepare for the grind and act like a professional.
Pujols was only 22 then, entering his second season and still wondering what he was going to do, who he was going to be, in this game. And if somebody would've told that Pujols about someday hitting 549 home runs, moving into 15th place on the all-time list and passing the Hall of Fame third baseman, well ...
"I would've asked, 'What are you [thinking]?'" Pujols said, a big smile after the Angels' doubleheader sweep.
But there he was Monday, 13 years later and still, somehow, leading the Major Leagues in home runs.
Pujols turned on an Eduardo Rodriguez slider in the second inning of the Angels' 11-1 win in Game 1, then pounced on a knuckleball from Steven Wright in the second and unloaded on an Alexi Ogando changeup in the seventh inning of the Angels' 7-3 win in Game 2. Three solo homers, giving him 29 on the year and adding Schmidt to the list of players Pujols has passed on the home run leaderboard this year.
The others: Ted Williams, Jimmie Foxx, Willie McCovey, Frank Thomas.
The list is getting more distinguished, the names more renowned.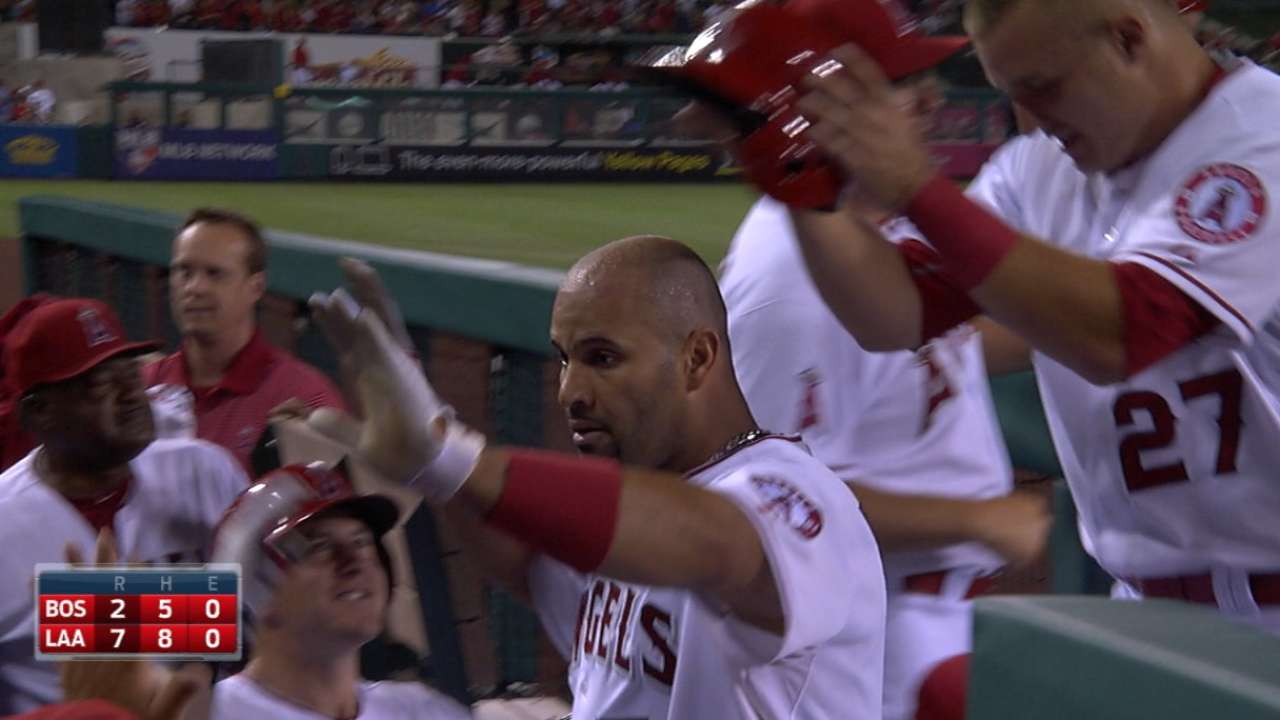 "At the end of my career -- and I'm going to continue saying this until the last time I wear a uniform -- I'm going to have time to think about it," Pujols said. "It's hard for me to think about it, who I'm passing, who's in front of me, because that's not my main focus. Arte [Moreno, the Angels' owner] brought me here, to the Angels organization, for one thing only, and that's to accomplish a championship for our fans. I'm going to try to do my best."
Pujols and Mike Trout have now combined for 57 home runs this season, the same total amassed by the entire Atlanta Braves team.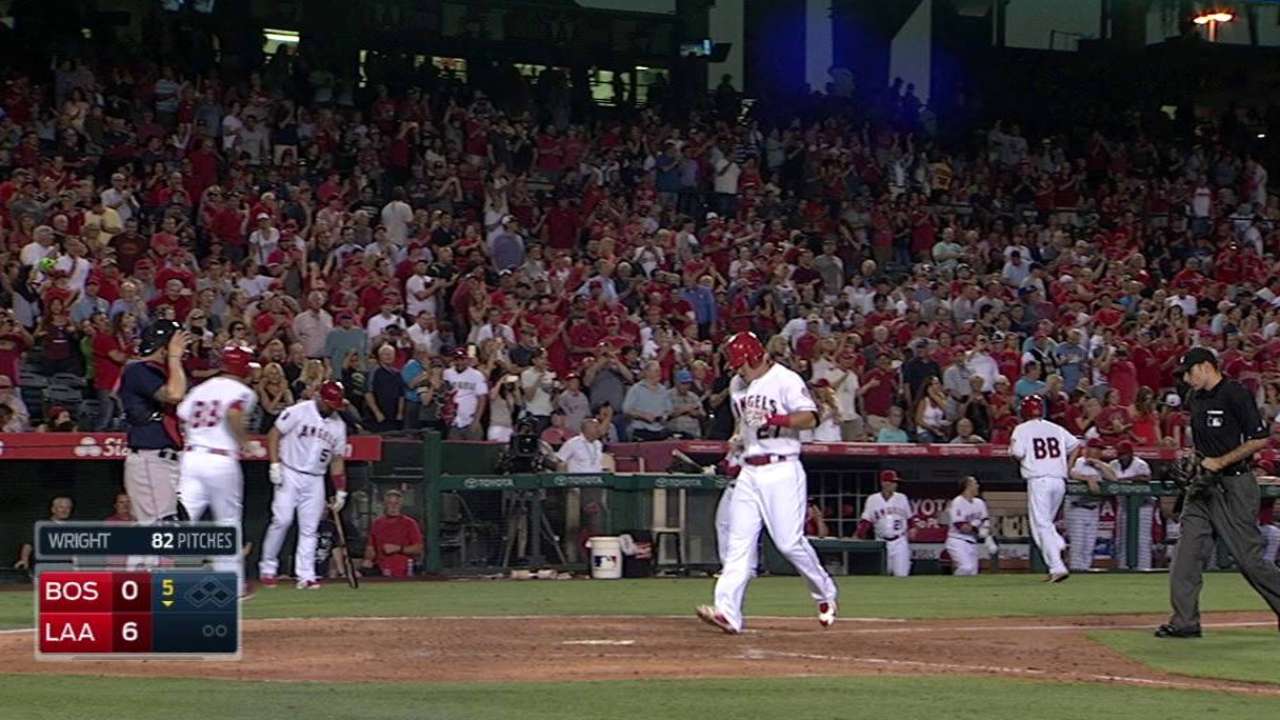 Trout belted his 28th home run of the season -- and his seventh in the last nine games -- in the fifth inning, tying Pujols for the Major League lead. Then Pujols came back with his 21st since May 28, taking sole possession once again. They've been back and forth like that for a while now, hitting an inordinate amount of home runs in a pitcher-friendly ballpark and at a time when offense is way down throughout the game.
Pujols is on pace for 51 home runs, which would be a career high.
Trout is on pace for 49, which would top his previous career high by 13.
They could become the sixth pair of teammates to finish with 45-plus home runs and just the second -- along with Roger Maris and Mickey Mantle in that record-breaking 1961 season -- to reach 50.
"Both those guys are having incredible seasons," Angels manager Mike Scioscia said. "I think when it's all said and done, there's no doubt you're looking at two guys who are going to get MVP consideration if they keep doing what they're doing. But they're not about that. They're about us winning. And that's why it's fun to be around these guys."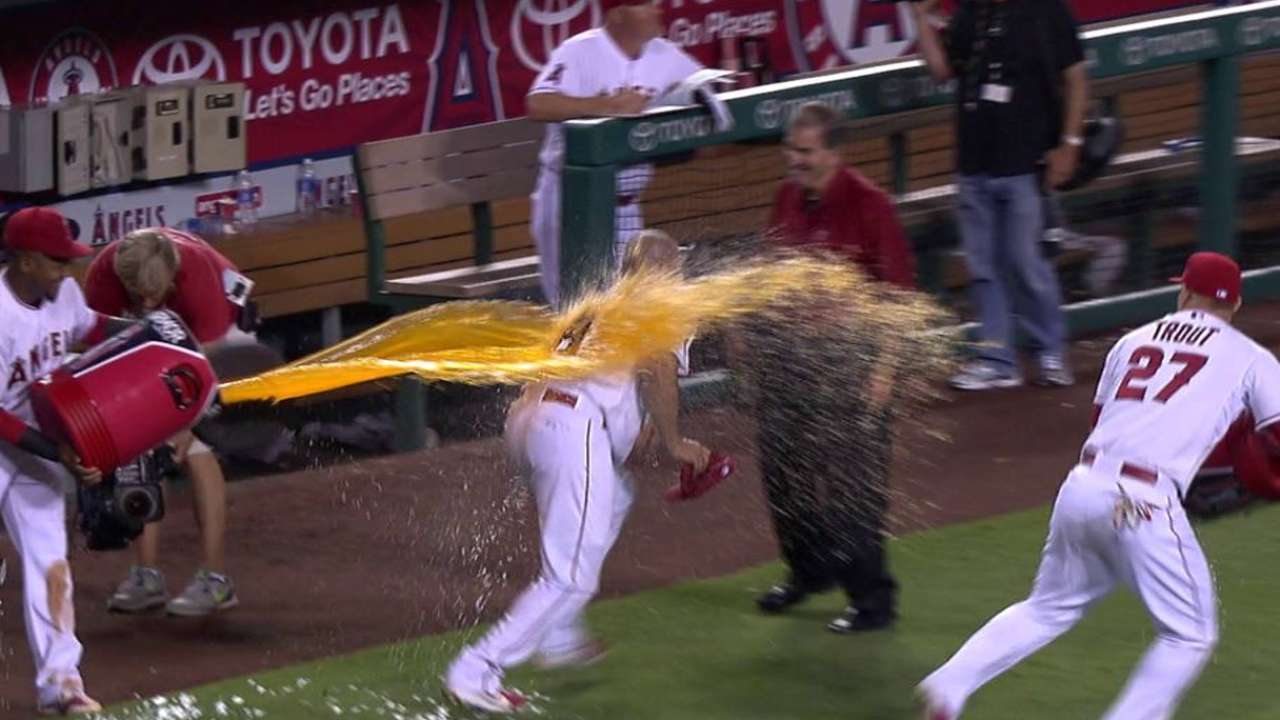 Alden Gonzalez is a reporter for MLB.com. Read his blog, Gonzo and "The Show", follow him on Twitter @Alden_Gonzalez and listen to his podcast. This story was not subject to the approval of Major League Baseball or its clubs.