Toussaint tosses six no-hit innings for Class A Rome
Braves No. 4 prospect lowers his ERA to 3.20 after five starts for the Braves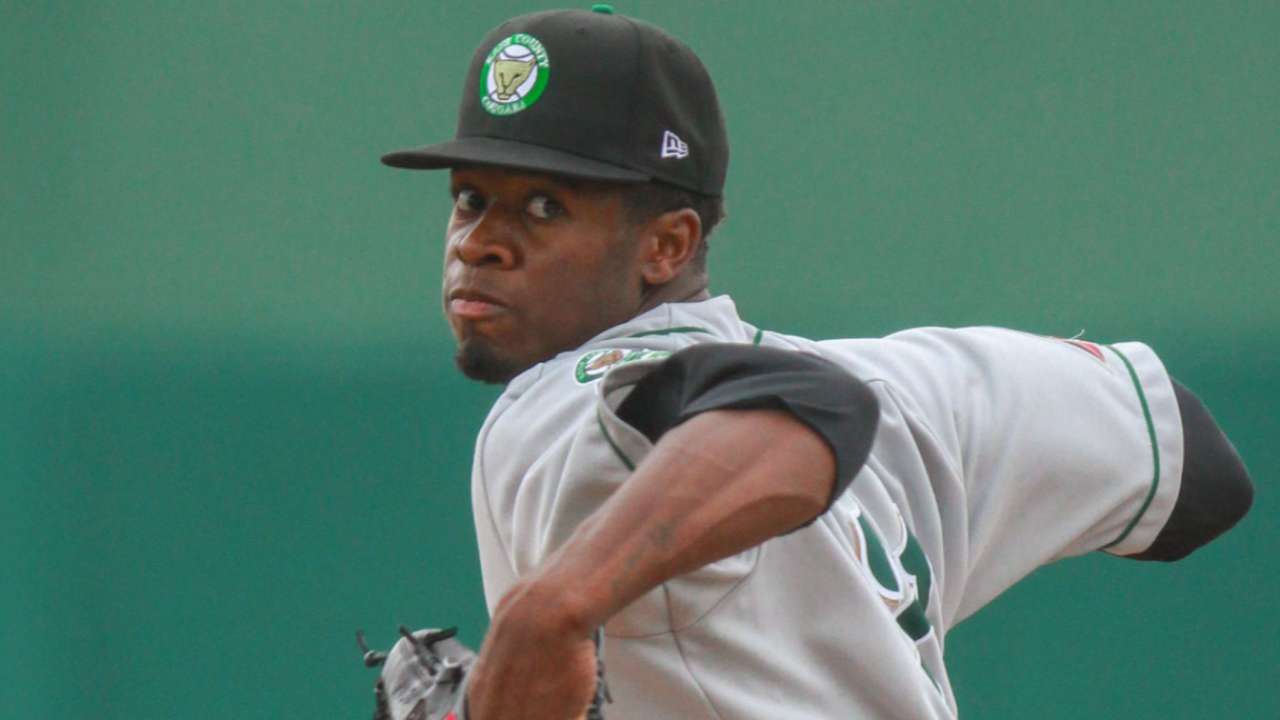 Monday night, Braves No. 4 prospect Touki Toussaint was unhittable.
The 19-year-old allowed four walks while striking out eight over six innings during Class A Rome's extra-innings game against Lakewood. Toussaint needed 85 pitches, tossing 48 for strikes. Blue Claws hitter Cord Sandberg -- the Phillies' No. 13 prospect -- singled off Daniel Cordero in the seventh inning to break up the team no-no.
"I just stuck with the game plan, I didn't do anything differently," Toussaint said to MiLB.com. "I trusted my stuff, everything we've been working on, and just let it roll."
While Toussaint, baseball's No. 78 overall prospect, did not earn a decision in the team's 4-0 11-inning loss, he is 2-1 and cut his ERA from 4.19 to 3.20 in five starts for Rome. The strong stretch follows a June 21 trade in which the Diamondbacks sent Toussaint and Bronson Arroyo to the Braves for Phil Gosselin in a money-saving move.
"It doesn't feel like a month, it feel like two weeks ago I got traded," the right-hander told MiLB.com. "But I'm with a great bunch of guys trying to make a playoff run, I can't even tell you what it feels like."
Toussaint was picked by the D-backs in the first round last summer and he turned in a 2-4 campaign that included an 8.48 ERA across two levels. But he settled down this season, improving his ERA to 3.69 while going 2-2 in seven starts for Class A Kane County before the trade.
Alex M. Smith is a reporter for MLB.com. This story was not subject to the approval of Major League Baseball or its clubs.