Top pick Swanson shows off character, not swing
No. 1 overall selection in Draft visits Chase Field, says he'll wait for chance to earn BP with big club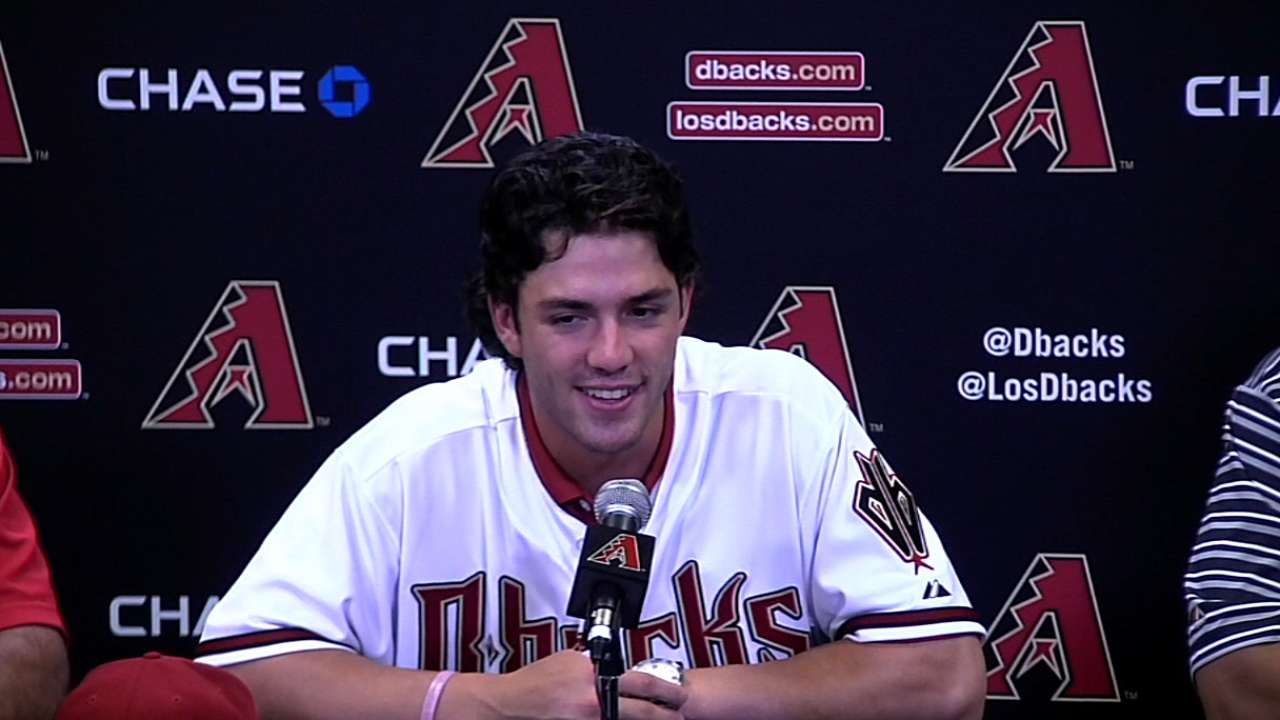 PHOENIX -- Dansby Swanson has accomplished a lot on a baseball field, but the No. 1 overall pick in last month's Draft still feels he has something to prove.
First-round picks typically take batting practice on the field, but on Monday, Swanson's first full day in Arizona, he declined.
"Whenever I get the chance to earn it, that's when I'll be doing that," Swanson said.
•
Swanson signs contract
Swanson's formal introduction to the D-backs came on Sunday night when he and his family had dinner with manager Chip Hale, general manager Dave Stewart, chief baseball officer Tony La Russa and other members of the organization.
"Wonderful kid, very confident, but he knows where he is and what he has to do to get here -- to the big leagues," Hale said.
Hale was impressed with Swanson's character and feels the 21-year old will be a valuable asset in the clubhouse as well as on the field.
"He's a leader, and those type of guys are hard to find these days," Hale said. "We have a few of those guys in our clubhouse, and I know wherever he goes, he's going to be a leader of whatever club he goes to, and hopefully that's how he develops."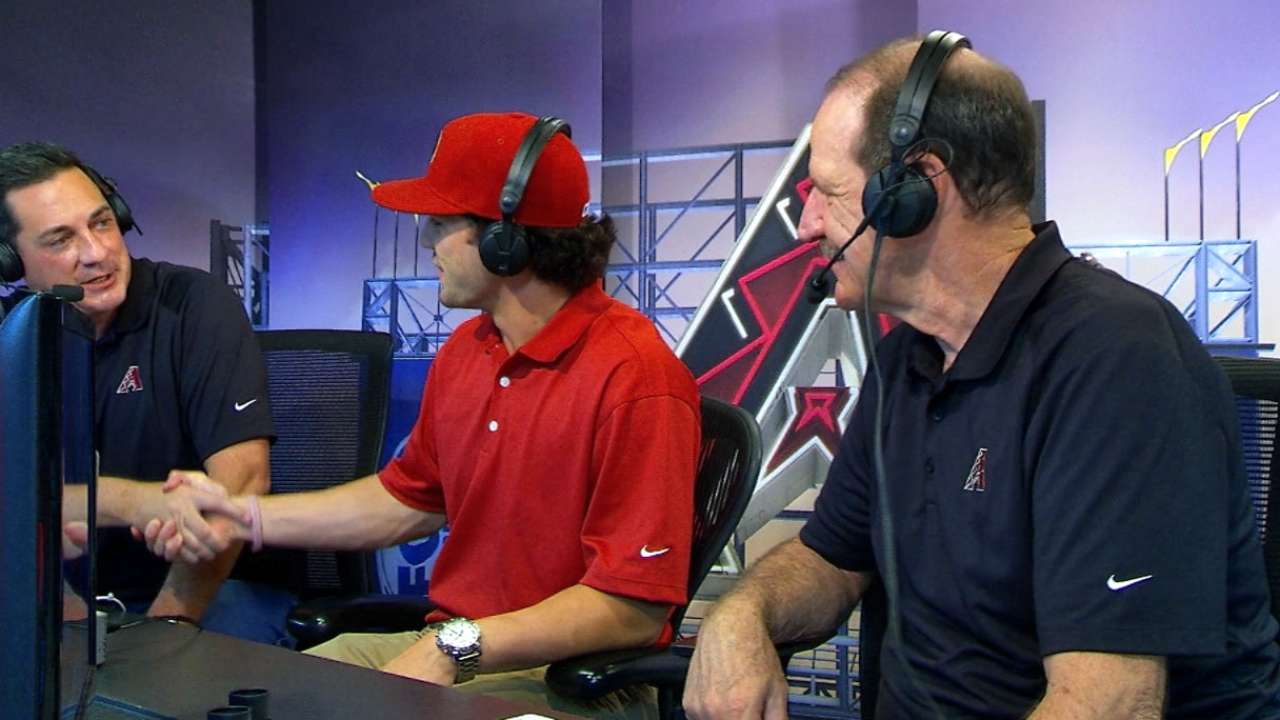 The shortstop will begin his journey with a brief stint in the Arizona League and will then report to Class A Advanced Visalia.
"My goal obviously since I was little is just to be the best I can," Swanson said. "I have a lot of belief in myself that one day I can be one of the better players in this league. But right now I'm just taking it day by day and taking each moment as it comes."
Just like every other prospect, Swanson hopes to reach the Majors as soon as possible, and his exceptional collegiate career could eventually play a big part in expediting that process.
Swanson hit .335 with 45 extra-base hits during his junior season at Vanderbilt, but it was the coaching he received and the culture he was a part of that really impressed Hale.
Swanson also acknowledged that Vanderbilt was a special place and that he learned a lot during his three seasons there.
"Coach [Tim] Corbin, being able to learn from him and some of the other guys that would come back -- David Price, Sonny Gray, Mikey Myers, Pedro Alvarez," Swanson said. "When they are able to come back and share their knowledge with you, it's pretty cool because you're able to implement some of that and what you're good at and put it together."
Swanson has been able to put together all he's learned so far, and if he continues to do so through various levels of the Minor Leagues, he'll eventually be doing much more at Chase Field than just taking batting practice.
WORTH NOTING
What's unclear is whether Josh Collmenter will start Thursday's game, but what is clear is that the D-backs want to get the right-hander more work.
"He's done whatever we've needed, he just hasn't gotten enough use," Hale said. "We're always saving him. Patrick [Corbin] may only give us four [innings] so we need length, or we're waiting, we're tight at the end of a game, so we might need him in extra innings. We would like to give him more work."
That work may come in Thursday's game against the Brewers, as the D-backs need to fill Chase Anderson's spot in the rotation.
However, if Collmenter is chosen to start Thursday, the bullpen will have one less arm. To combat that, Arizona may opt to bring someone up from the Minor Leagues instead.
William Boor is a reporter for MLB.com. Follow him on Twitter at @wboor. This story was not subject to the approval of Major League Baseball or its clubs.