Phillips dazzles with behind-the-back flip
Inning-ending play stops Cubs' seventh-inning threat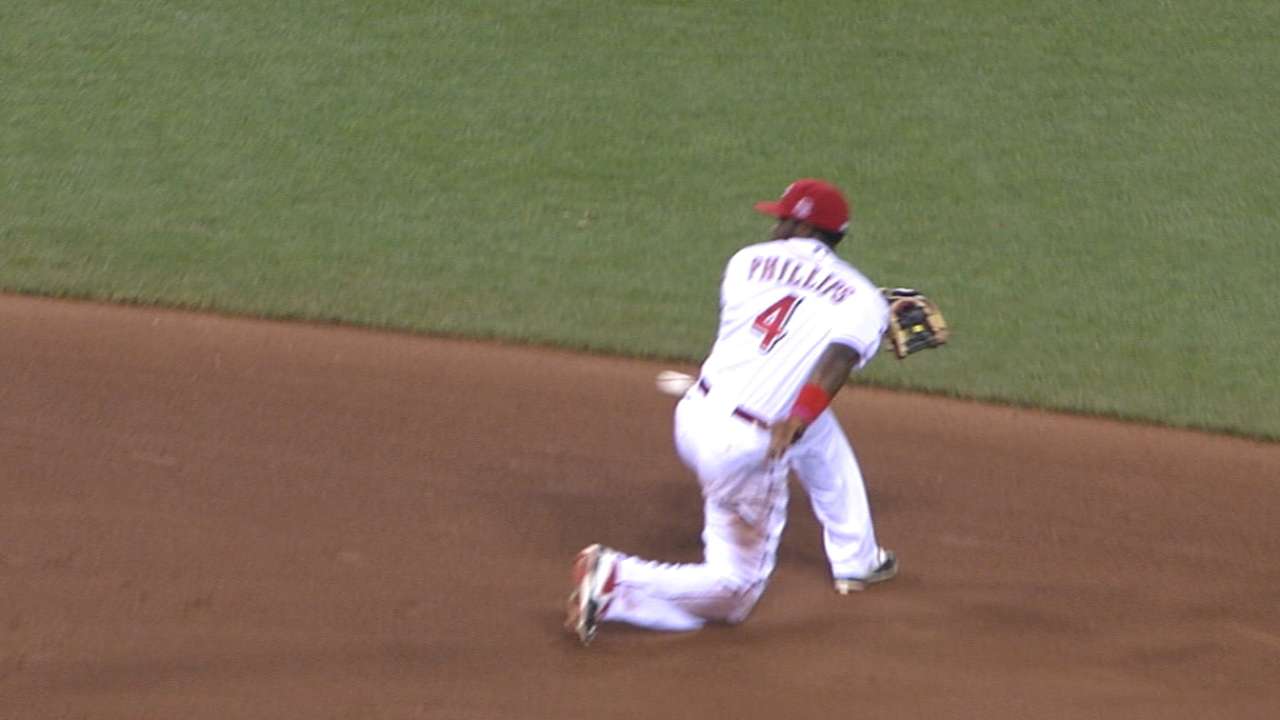 CINCINNATI -- Brandon Phillips has made himself a nice living foiling opponents with defensive gems at second base for the Reds. The resume reel of wow-inducing plays expanded by one Monday night in a 5-4 victory over the Cubs.
It was a key one, too. With the Reds clinging to their one-run lead in the top of the seventh inning, the Cubs put the tying run on second base and the go-ahead run on first base when reliever Burke Badenhop walked Anthony Rizzo with two outs. Jorge Soler followed with a sharp grounder up the middle that zoomed past Badenhop's glove.
Badenhop was fortunate to have Phillips, who made a sliding stop on his knees behind second base. He then made a no-look flip to an on-the-run shortstop Eugenio Suarez, who caught it bare-handed and beat a sliding Rizzo for the inning-ending force play that likely kept the tying run from scoring.
"Anyone appreciates defense, and if you don't, you're missing a good show here in Cincinnati for the last several years because our guys take a lot of pride in our defense -- no one more than Brandon," Reds manager Bryan Price said. "It's nice because he doesn't want to make only the flashy play. He makes that play because it's the only way that play can be executed. It's the only way."
Reds third baseman Todd Frazier had a great view of the important stop.
"It's unbelievable," Frazier said. "I got so excited, my arms got caught in between. I looked pretty weird doing it. I was juiced. It was so exciting. One of the best plays I've seen from Brandon. That's got to be the top one or two on his list for sure. And then Suarez reaching out like he's on the finish line was pretty cool."
Phillips is a four-time National League Gold Glove winner but has been without one since 2013.
"His court vision, what you might call it, and knowledge and feel for where second base is all the time, no matter where he is on the field, is something I've never ever seen before," Reds right fielder Jay Bruce said. "Suarez made a good heads-up play there as well. As many times as you see Brandon do it, it's sad because you kind of get used to it, but it's still why he's one of the best, if not the best, second basemen out there."
Mark Sheldon is a reporter for MLB.com. Read his blog, Mark My Word, follow him on Twitter @m_sheldon and Facebook and listen to his podcast. This story was not subject to the approval of Major League Baseball or its clubs.