Red-hot Cano finding more success with fewer grounders
Seven of nine home runs have come in past month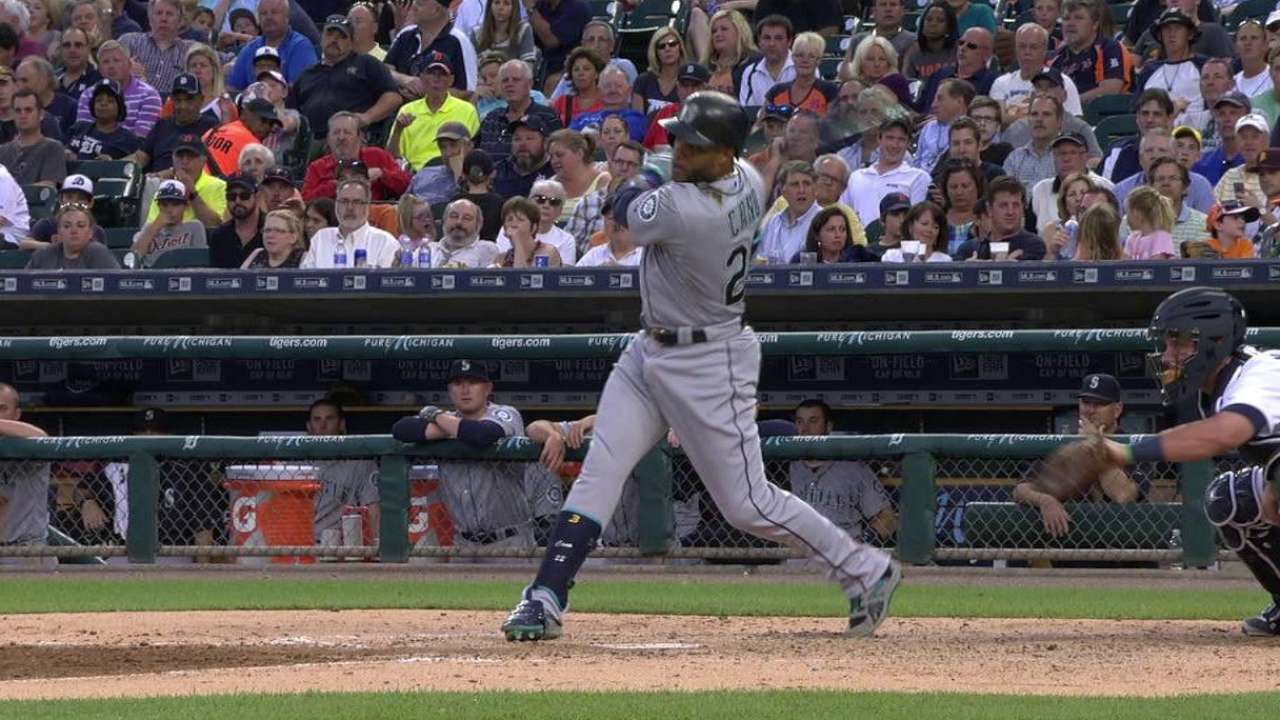 Robinson Cano hit an opposite-field homer on Monday in Seattle's 5-4 loss to Detroit, but for most of the season, "What's wrong with Cano?" was the only question worth asking around the Mariners. Cano's lack of productivity wasn't the only reason the Mariners got off to such a disappointing start -- an injury to Hisashi Iwakuma and subpar offense from everyone outside of Nelson Cruz, Kyle Seager and Seth Smith saw to that -- but Cano's career-worst start was the primary cause of concern, in no small part due to the fact that he's in only the second year of a massive 10-year deal.
Yet while some of the reasons behind Cano's struggles were clear (he'd been walking less and striking out more), his slump was all the more frustrating due to the fact that he was still hitting the ball hard. In this first season of Statcast™, we've learned that exit velocity is a pretty good proxy for hitting productivity, and through the first three months of the season, no one, not even the mighty Giancarlo Stanton, had a higher percentage of batted balls leave the bat at more than 100 mph than Cano's 6.167 percent.
That's the kind of solid contact that ought to lead to production, but confoundingly for Cano, it didn't. But over the past 30 days, Cano has looked like the star we saw in New York. You might expect that he has been hitting the ball harder, and indeed he has. But perhaps just as important, Cano has changed his average launch angle. That is, he's stopped pounding the ball into the ground, or pumping out low and easily-caught liners, and managed some elevation behind those hard-hit balls.
April 6 through June 19
.245/.284/.337 2 home runs
Average exit velocity: 88.74 mph
Average launch angle: 6.79 degrees
June 20 through July 20
.280/.318/.540 7 home runs
Average exit velocity: 91.54 mph
Average launch angle: 9.14 degrees
What's "launch angle," you ask? It sounds complicated, but it's not. It's simply measuring the angle that the ball comes off the bat. A negative exit angle means a grounder or a very low liner; a positive one is higher in the air. A launch angle of zero degrees would be directly back at the spot where the pitcher released the ball.
That's important because for the first few months, Cano was hitting grounders like he'd never done before, which is part of why that solid contact wasn't leading to extra-base hits. Excessive grounders may work well for low-power speed demons like Billy Hamilton or Dee Gordon, but for Cano, it just meant that he was depriving himself of his highest-value hits. Let's go back to that same date range, this time showing his splits between liners, grounders, and fly balls.
April 6 through June 19
Line drive %: 23.6
Grounder %: 52.8
Fly ball %: 23.6
June 20 through July 20
Line drive %: 23.5
Grounder %: 43.2
Fly ball %: 33.3
As you can see, the line-drive rate didn't change, but Cano has dropped 10 percentage points from his ground-ball rate and put that toward his fly-ball rate, confirming what launch angle is showing. Since Cano is hitting just .182 on grounders, this look suits him much better.
Now, why are we using June 19 as the split point? Partially because it allows us to easily say "the past month," but also because that was the final day before the Mariners made a change, replacing hitting coach Howard Johnson with club legend Edgar Martinez. Now, it's far too easy -- and often misleading -- to simply attribute this kind of change to a hitting coach, particularly when a month of play isn't nearly enough of a sample size. Still, let's go back to those dates once more and realize what's driving this, which is greatly improved plate discipline:
April 6 through June 19:
Contact on pitches outside strike zone: 71.6 percent
Contact on pitches inside strike zone: 89.4 percent
June 20 through July 20:
Contact on pitches outside strike zone: 55.4 percent
Contact on pitches inside strike zone: 95.0 percent
Cano's overall swing rate hasn't changed all season, hovering at around 51 percent. But the difference in what he's swinging at is stunning. When a ball is thrown outside the strike zone, it's often better to make less contact, because it's difficult to make good contact. The new Cano looks a lot more like the old Cano. As the Mariners try to revive a lost season, it's the best possible sign.
Mike Petriello (@mike_petriello) is an analyst for MLB.com. This story was not subject to the approval of Major League Baseball or its clubs.