MLB.com Columnist
Lyle Spencer
Angels' strong staff could soon receive boost
Weaver feeling good following left hip issue, hoping to return to ace-like form
ANAHEIM -- A pitching staff that has fueled the Angels' drive back to the top of the American League West could be getting an upgrade before the non-waiver Trade Deadline -- without the necessity of sacrificing talent in a swap.
Jered Weaver, longtime ace, is close to rejoining the rotation. It could happen this weekend at Angel Stadium against the Rangers, perhaps next week on the road. His left hip no longer inflamed, he just needs to get through a second simulated game without issues and get all the moving parts in his complex delivery in sync.
"Weave in the second half [of 2014] and in the playoffs [Game 1 of the American League Division Series against the Royals] was really good," Angels manager Mike Scioscia said. "It's in him to get back to that level -- no doubt.
"It might take a little time, for sure. But it's in him to be the pitcher we've seen him be for a long time."
Scioscia knows Weaver better than anyone outside his family knows the 6-foot-7 right-hander from Simi Valley, north of the Los Angeles sprawl. The big man in the dugout understands what makes the big man on the mound tick -- and click.
They have been together for 10 years. The manager admires the pitcher's temperament -- "as competitive as anyone I've managed" -- and his ability to lift his performance when it matters most. There is trust built on a decade of proven value.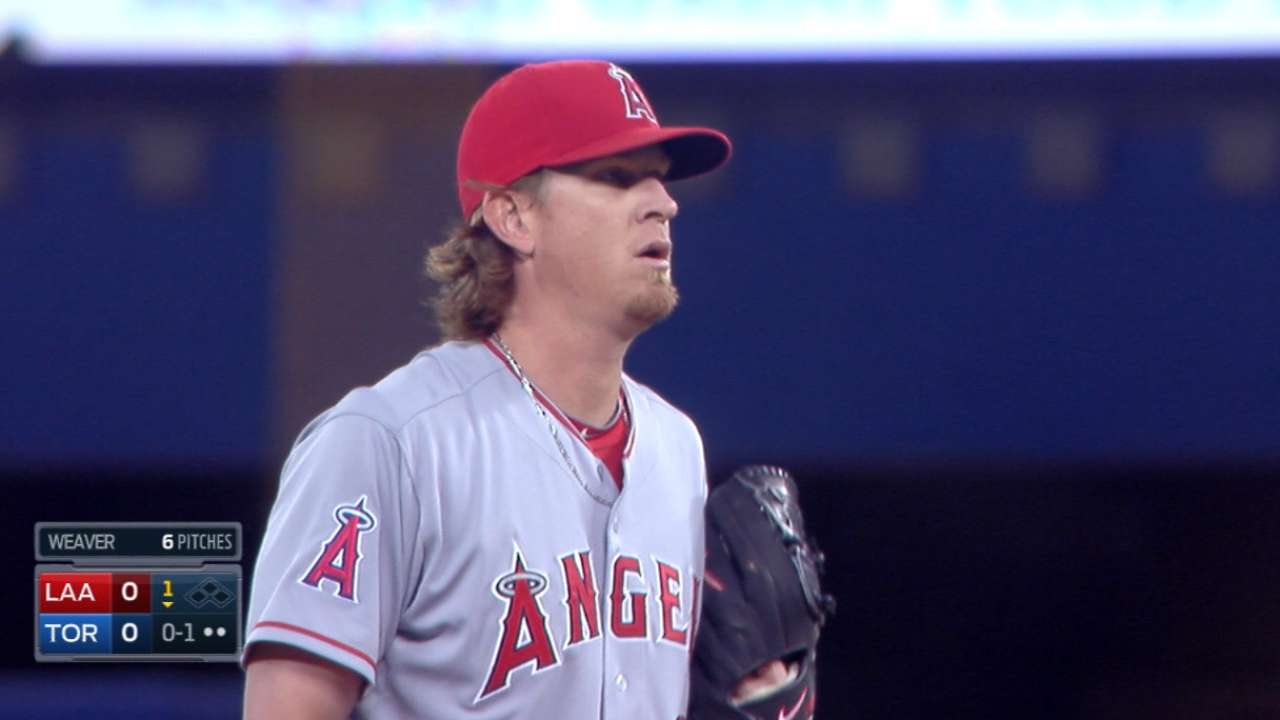 This has not been a season like 2014, when Weaver was an 18-game winner forging a 3.59 ERA in 213 1/3 innings.
Certainly it hasn't been anything like the three consecutive seasons (2010-12) when the cross-firing artist finished in the top five in the AL Cy Young Award balloting by the Baseball Writers' Association of America.
It took Justin Verlander's magnificent 2011 season to deny Weaver, who finished third in '12 after leading the AL in wins (20) and WHIP (1.018). He has started an All-Star Game, thrown a no-hitter and led the league in strikeouts.
Weaver sits at 4-8 with a 4.53 ERA, averaging 6.4 innings in 15 starts. It has been a struggle, physically and technically. His velocity, always more of an issue to others than to Scisocia, has been down. More concerning, too many of Weaver's pitches have been up.
"His delivery is complicated," Scioscia said. "It adds deception, but it's high maintenance. Small [defects] in your delivery add up to big things. Your arm might be dropping a little, and that leaves the ball up."
Malfunctions can be corrected. Weaver and pitching coach Mike Butcher know this process well. When you don't throw in the mid-90s and your performance hinges on precision of command, missing by inches can lead to nightmares.
Weaver hasn't been a flamethrower since his college days at Long Beach State. Shoulder issues stemming in part from a baserunning misadventure forced him early in his career to become a pitcher.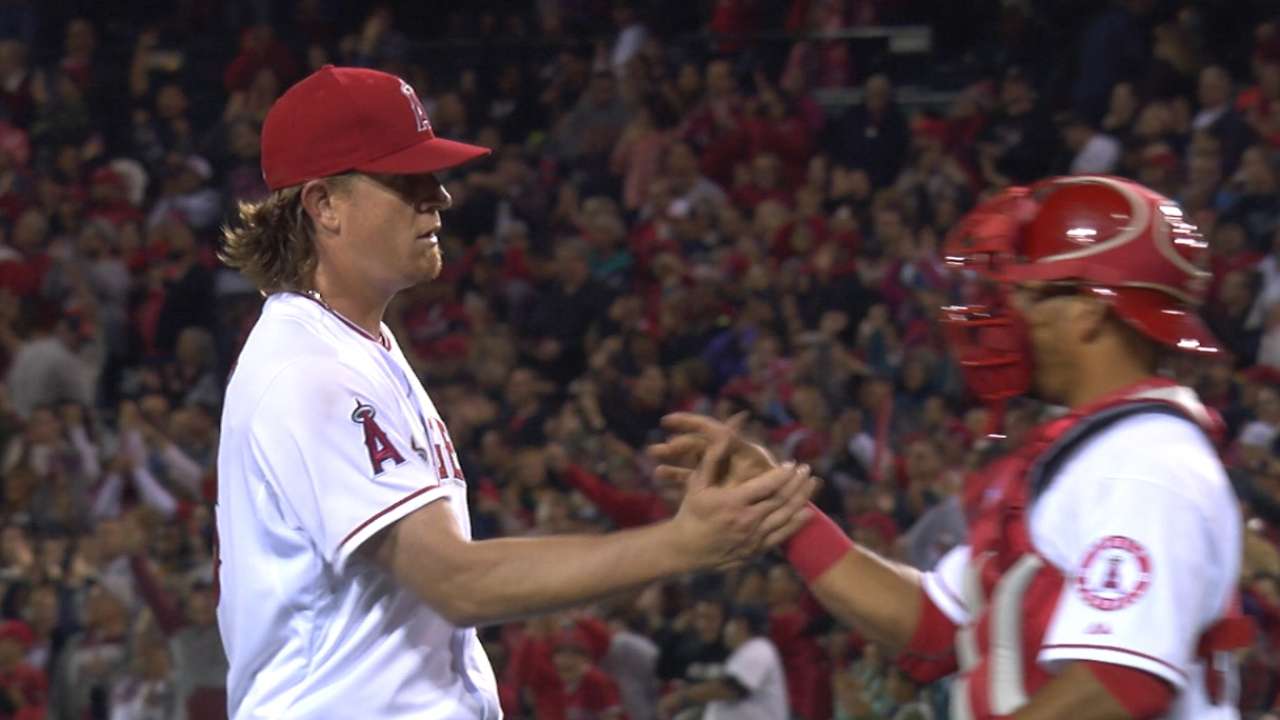 Weaver is encouraged by how he felt simulated game conditions throwing to teammate Taylor Featherston on Thursday at Angel Stadium. The hip no longer was constricting movement. He was able to wheel pain-free into his delivery and drill locations with the pace he needs to be effective.
"I felt good, normal," Weaver said. "I just have to get back out there and pitch the way I've always pitched. Sounds simple, right?"
Weaver's wry smile suggested he knows it's never that simple or easy when you're dealing with Major League hitters.
C.J. Wilson, Garrett Richards, All-Star Hector Santiago, Andrew Heaney and Matt Shoemaker have excelled in Weaver's absence. Who goes to the bullpen when the big dog is back in the pack? Shoemaker, as valuable as any Angels player besides Mike Trout last season, is the likely candidate.
Weaver, anywhere close to prime form, elevates any rotation in the game.
Opening the postseason at home last October against the Royals, Weaver yielded three hits and two runs across seven superb innings. The Angels lost in 11 innings, dropped two more, and it was over.
In seven postseason appearances, four as a starter, Weaver is 2-1 with a 2.60 ERA. He has 28 strikeouts in 27 2/3 innings, giving up just 15 hits.
At 32 with one year left on his contract, Weaver is no kid with unlimited possibilities. The only goal he hasn't reached is pitching in a World Series. It is time to get back to work and help his team make good things happen -- perhaps even some October magic.
Lyle Spencer is a national reporter and columnist for MLB.com. Follow him on Twitter @LyleMSpencer. This story was not subject to the approval of Major League Baseball or its clubs.