Morrow optimistic after simulated game
Pitcher could make rehab start in Triple-A this weekend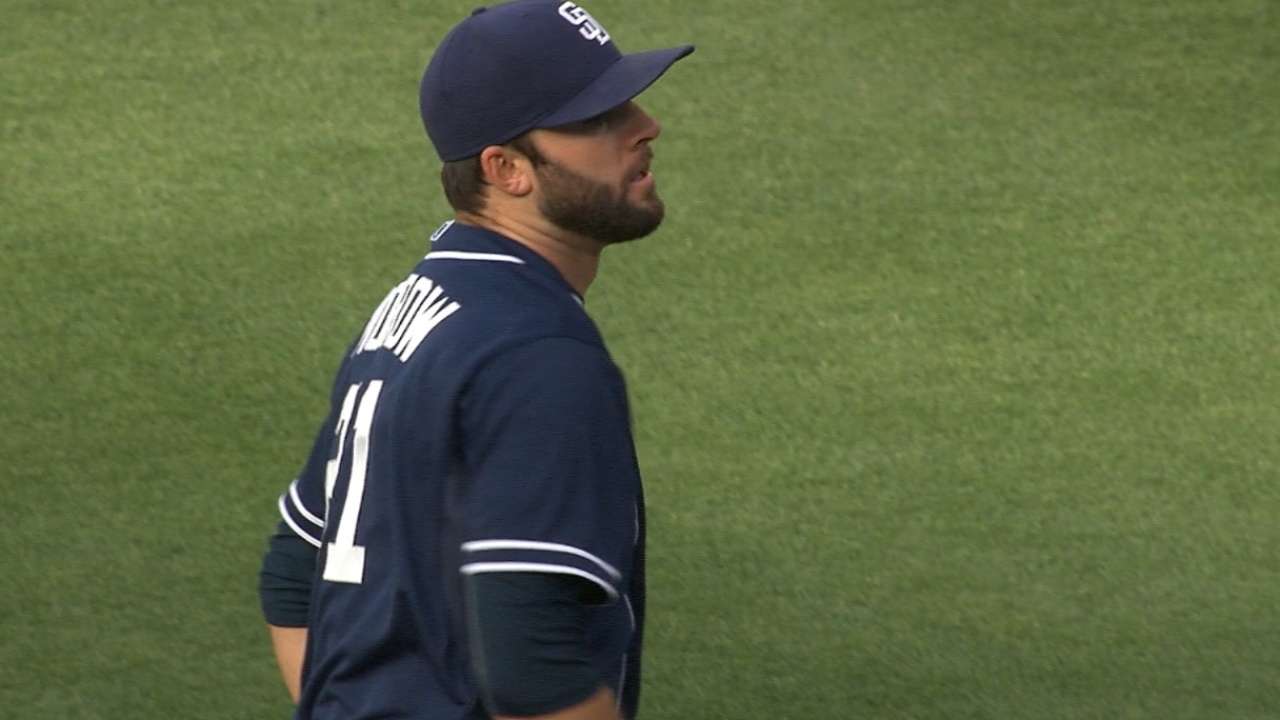 SAN DIEGO -- Padres right-hander Brandon Morrow said he feels confident after pitching a simulated game Monday before the Padres faced the Giants for the first game of a three-game series at Petco Park.
"I thought it went really well," Morrow said. "I felt good, I felt like the ball was coming out really good. I had good command of most everything. I was trying to treat it like a game situation. ... I felt stronger."
Monday marked the second time he threw 45 pitches in a simulated game. Morrow said he believed he threw about 25 fastballs Monday.
Morrow went on the 15-day disabled list May 3 for right shoulder inflammation. He then was transferred to the 60-day DL on June 24. The injury has been a recurring one for Morrow, who spent some time with Double-A San Antonio for a rehab stint, where he experienced a flare-up after starting in the second of two outings June 7.
Earlier this month, Morrow said he felt stronger compared to his first attempt at coming back from the injury. With the frustrating setback, Morrow said Monday feels like "there is a light at the end of the tunnel."
Josh Stein, an assistant general manager for the Padres, said they will see if everything looks good Tuesday and Morrow then would throw in the bullpen in a couple of days. If all goes according to plan, Morrow would get a rehab assignment starting this weekend.
"I guess tentatively I will make a start for [Triple-A] El Paso next, this weekend when I think they are in Salt Lake," Morrow said.
San Diego interim manager Pat Murphy said it's difficult to sense where Morrow is at in just a simulated-game format.
"It's hard to tell; the ball was coming out really well. There were some pitches you saw that showed some flashes of brilliance -- that's going to happen in a sim game," Murphy said. "It's encouraged that he felt good, that's the most important thing. If there was a hiccup in the delivery or balls were scattered everywhere, then you would be a little more concerned. He was around the zone for the most part."
Before the 30-year-old went on the DL in May, he pitched 33 innings, winning two games with a 2.73 ERA.
"Anytime you can have a guy that has had success be ready to rejoin you, I think that could help," Murphy said.
Beth Maiman is an associate reporter for MLB.com. This story was not subject to the approval of Major League Baseball or its clubs.