Fielder talks role in Odor-Conger dust-up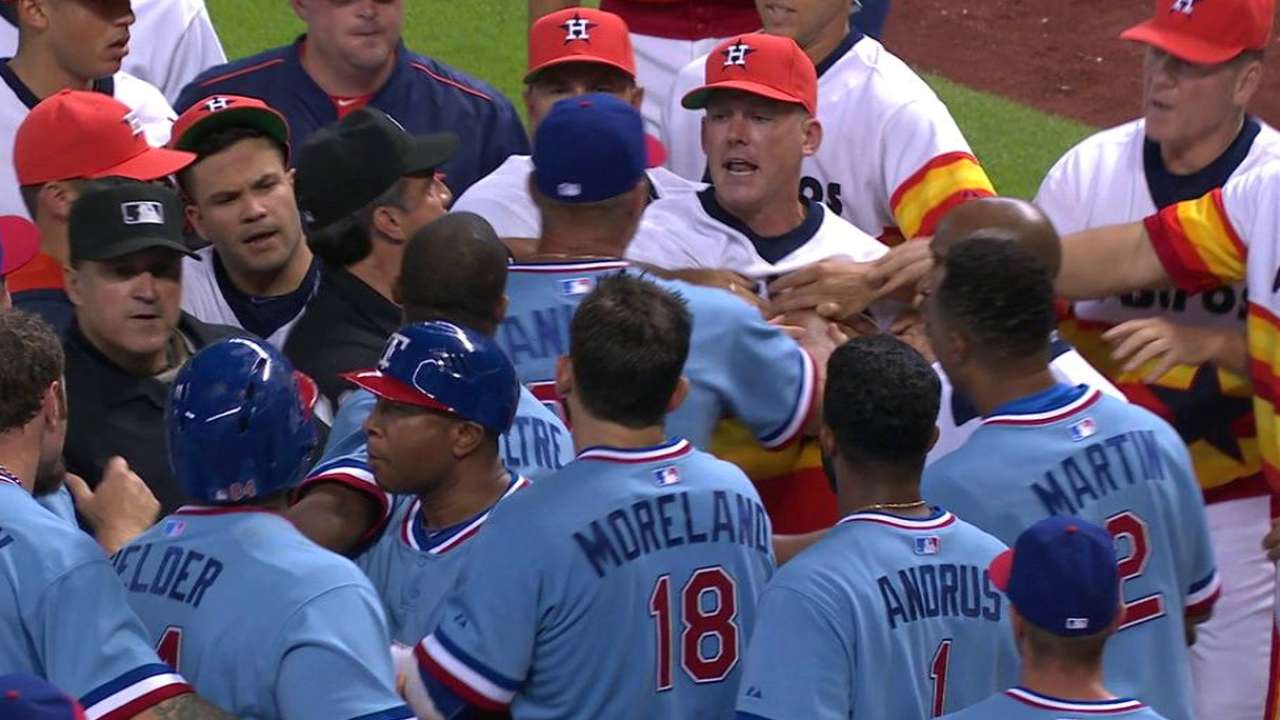 DENVER -- Prince Fielder was at first base against the Rockies on Monday with the Rangers playing without the designated hitter in a National League park.
That allowed the Rangers' "peacemaker/enforcer" to be on the field defensively if he is needed to break up any altercations that might erupt. Fielder had to play peacemaker on Saturday night after Rougned Odor got into it with Astros catcher Hank Conger at home plate.
Fielder was on deck at the time and the first person to reach the two players.
"He's my teammate," Fielder said. "I'm out there, what am I supposed to do? I was just trying to make sure I was part of the conversation."
Conger wasn't happy that Odor was taking too long to get in the batter's box to start the inning. The situation became inflamed when Conger came out of his crouch to continue the conversation.
"Rougie is better than me," Fielder said. "If I was a rookie, that wouldn't happen. If somebody got in my face, we wouldn't have had a conversation. If somebody gets in your face, you have to defend yourself."
Fielder said it's up to the umpire to get the hitter into the box, not the catcher.
"I don't know who made [Conger the] on-field policeman," Fielder said. "If that is a big deal, let the umpire handle it."
Worth noting
• The Rangers optioned pitcher Anthony Ranaudo to Triple-A Round Rock on Monday to make room for Nick Martinez, who started in Colorado.
• With Fielder playing first base on Monday, the Rangers had to sit Mitch Moreland. Manager Jeff Banister said there were no discussions on using Moreland in the outfield while the Rangers are in Colorado, because of Moreland's history of leg injuries.
• The Rangers struck out 14 times without drawing a walk on Sunday. The last time that happened was on Sept. 28, 2008, against the Angels.
T.R. Sullivan is a reporter for MLB.com. Read his blog, Postcards from Elysian Fields, follow him on Twitter @Sullivan_Ranger and listen to his podcast. This story was not subject to the approval of Major League Baseball or its clubs.