Morneau resumes swinging with tee work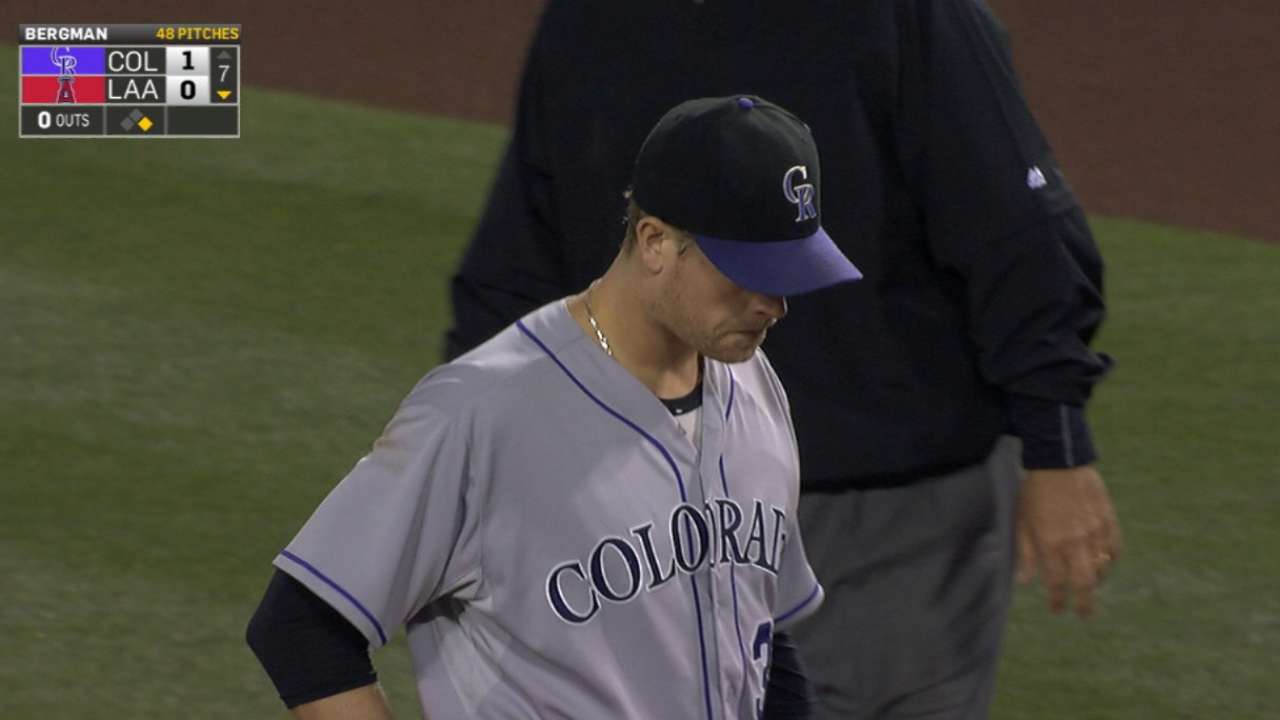 DENVER -- Rockies first baseman Justin Morneau is swinging the bat again, and this time he hopes it lasts.
Morneau, out since May with concussion symptoms and a cervical neck strain, attempted to swing the bat three or four weeks ago but had to stop because the torque brought back the lingering fuzziness. But Morneau has hit off the tee a couple times this week, and on Monday, he was scheduled to hit soft-toss.
With a concussion history dating to 2010, any concussion sparks concern about Morneau, 34. But he remains determined not only to come back this year but continue his career.
"It gets frustrating at times, but that's all part of it," said Morneau, who signed a two-year contract with the Rockies before last season and won the National League batting title in 2014. "I've gained a lot of perspective the last few years of going through rough times, and what's important.
"I've been through it before, which helps. I know what to expect. What you miss is being around the guys, being around the team, sitting through rain delays and going through all those little battles that bring you together and make you a team."
Worth noting
• One day after the Rockies placed Chad Bettis on the 15-day disabled list with right elbow inflammation, manager Walt Weiss said he felt "encouraged" with Bettis' status.
Bettis was scheduled to see doctors on Monday night, and the Rockies were hopeful that meeting won't reveal any significant damage.
"He checked out pretty well [during the day Monday], so it's encouraging," Weiss said. "You're never too sure. It is always concerning when there's elbow inflammation with a pitcher, but all signs are good."
• Outfielder Corey Dickerson (plantar fasciitis) began his rehab assignment on Sunday at Class A Advanced Modesto, going 1-for-3 while playing seven innings in left field.
"He's in a good place, so we're not anticipating any steps backward," Weiss said. "You never know with that type of injury, but we've got our fingers crossed."
• Relievers Christian Bergman and Brooks Brown are both working their way back from right shoulder inflammation, but Weiss said Bergman is "probably a little closer" to returning than Brown.
"I don't think Brooks is too far behind, but Christian's throwing program is a little bit further along than Brooks' is," Weiss said. "But Christian is sneaking up on getting in competitive games. I don't know exactly when, but he's getting closer."
Both pitchers threw bullpen sessions on Monday, but they varied in intensity. Bergman's was a regular 35-pitch session that included all of his pitches, while Brown's was more of a "touch and feel" bullpen. If the duo checks out without any issues, they will both throw another bullpen session later in the week -- possibly Wednesday or Thursday.
Thomas Harding is a reporter for MLB.com. Follow him on Twitter @harding_at_mlb, and like his Facebook page. Dargan Southard is an associate reporter for MLB.com. This story was not subject to the approval of Major League Baseball or its clubs.