Beltre: All-Star break didn't help ailing thumb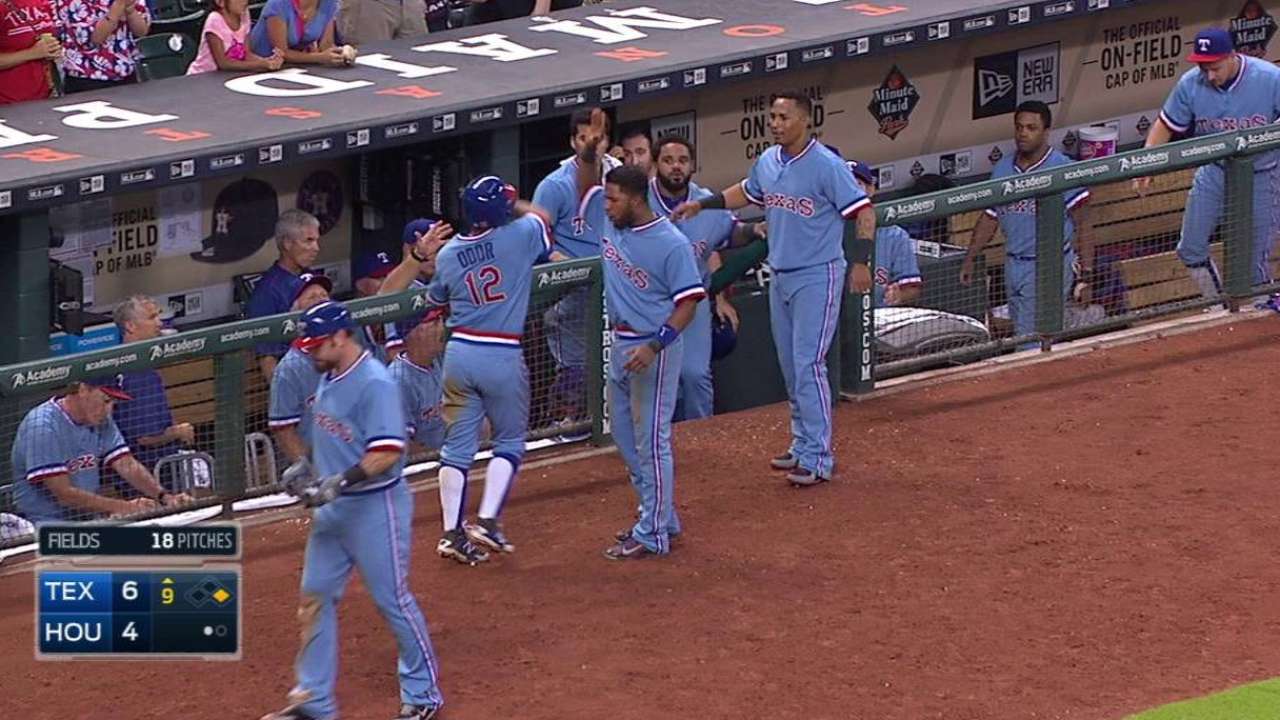 DENVER -- Rangers third baseman Adrian Beltre was quite succinct and candid when discussing his left thumb before Monday's game with the Rockies.
He was asked if the four-day All-Star break helped at all.
"Not one bit," Beltre said.
He was asked if he is doing the right thing by playing through the injury.
"Good question," Beltre said. "I don't have an answer. It's a good question with many answers, but I don't have one."
Beltre was also asked if he found a way to deal with the thumb when hitting.
"I'm still searching," Beltre said.
Beltre injured the thumb sliding into second base on May 31 and was on the disabled list until June 23. He was activated with minimal batting practice and no medical rehabilitation assignment. He went into Monday's game hitting .250 in 21 games since coming off the disabled list, but also 10-for-28 (.357) in his last seven games.
"I just don't think that if I had waited as long as I could wait, that it was going to make a difference," Beltre said. "I've been playing for a month or so, and I took those four [All-Star break] days off. I assumed it would be better after those days. It didn't happen, so I'm confused and I'm not exactly sure what the best thing to do is. As of right now, I'm playing and trying to do the best I can to help my team win."
The Rangers' position is they will take what they can get from Beltre as long as there is no chance of re-aggravating the injury or doing irreparable damage.
"The last thing I would want to do is put a player in that position," Rangers manager Jeff Banister said. "We have made that abundantly clear with our pitching staff, guys who have hamstring issues…"
There have been no discussions about Beltre needing surgery after the season, yet.
"If I had concerns, I wouldn't have him out there," Banister said. "As long as he is good to go, Adrian is our third baseman. Adrian has earned the right to play through what he needs to play through. I'll be in communication with him every day. If he needs a day, he'll get a day."
Even with a sore thumb, Beltre hit another milestone on Monday by starting at third base. It was his 2,413th game at third, the second most in Major League history. He trails only Brooks Robinson, who played in 2,870 games at third.
"That means that I'm old and have been playing for a long time," Beltre said. "It's surprising to me, but it's something cool. I never expected to play every season 100 percent, because I knew there would be something that would happen.
"But I didn't expect to be where I'm at right now. I didn't expect to play all those games. I've done a lot of things that I'm proud of, things that I never put in my mind when I started playing baseball."
T.R. Sullivan is a reporter for MLB.com. Read his blog, Postcards from Elysian Fields, follow him on Twitter @Sullivan_Ranger and listen to his podcast. This story was not subject to the approval of Major League Baseball or its clubs.