Paulsen's redemption is Rockies' walk-off win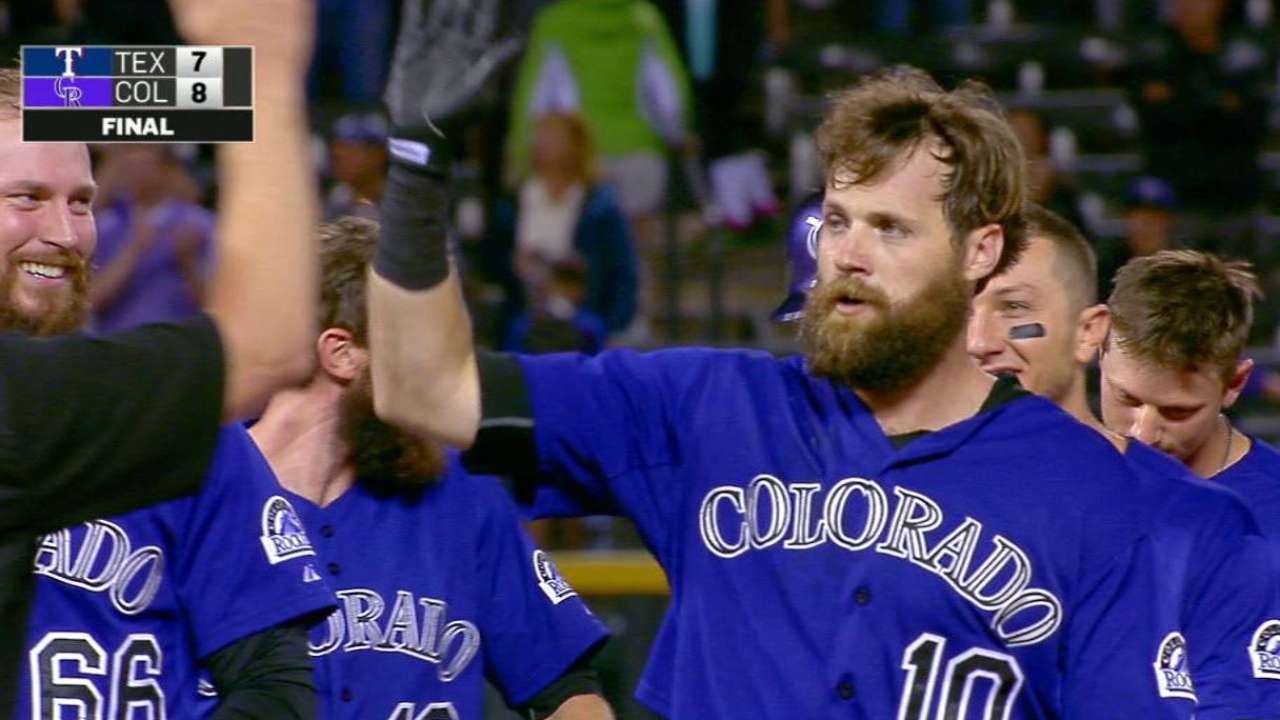 DENVER -- Ben Paulsen's Monday night ended with his Rockies teammates happily pounding on his batting helmet, which beat the heck out of the way it could've ended.
Paulsen delivered the RBI single in the bottom of the ninth that provided an 8-7 victory over the Rangers at Coors Field. But had he not come through and had the Rockies lost, he may have been beating himself about the head over his absent-minded mistake in the fifth inning.
With one out, Paulsen picked up Prince Fielder's grounder with runners at second and third and stepped on first base. Thinking it was the third out, Paulsen trotted toward the dugout, only to turn in horror and see the Rangers' Rougned Odor sprinting for the plate with a second run when just one should've scored. Paulsen's throw was late, and the run made it 7-5.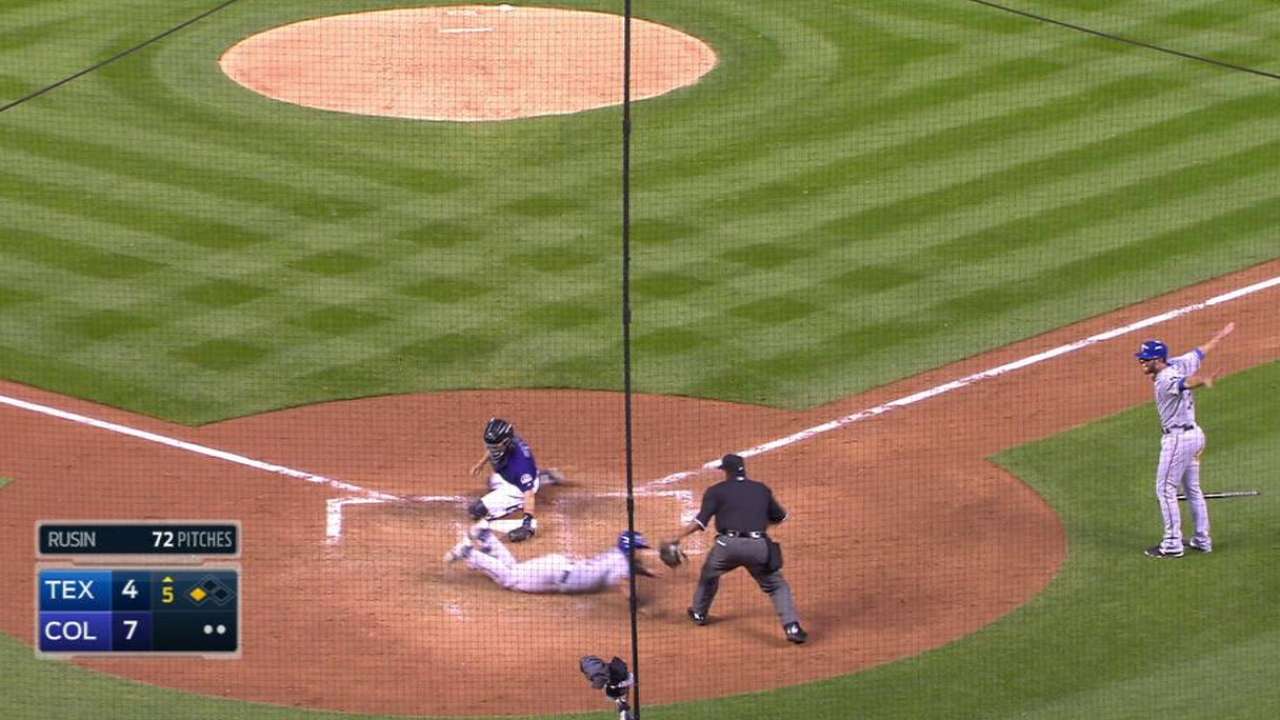 "When you make bonehead plays like that, you've just got to forget about it and keep going," said Paulsen, whose game-winner -- the first walk-off of his career -- came off Rangers reliever Tanner Scheppers. "It's funny how it worked out."
Rockies manager Walt Weiss quipped, "That's the first time I've seen two walk-offs in one night."
Paulsen's play, which wasn't charged as an error but may be after it is reviewed overnight, was part of the Rockies blowing the 7-0 lead they'd built through two innings. Had the Rockies lost, Paulsen's mistake would have been the signature indignity -- on the heels of two sloppy weekend losses at San Diego.
"We talked about that [focus] today," Weiss said. "But Benny's a high baseball IQ guy."
A video that will live forever involved Expos outfielder Larry Walker, who would become one of the Rockies' first stars, handing the ball to a fan in Dodger Stadium, only to have to grab it back and try to make a play. So it happens. Injured veteran first baseman Justin Morneau offered comfort Paulsen … to a point.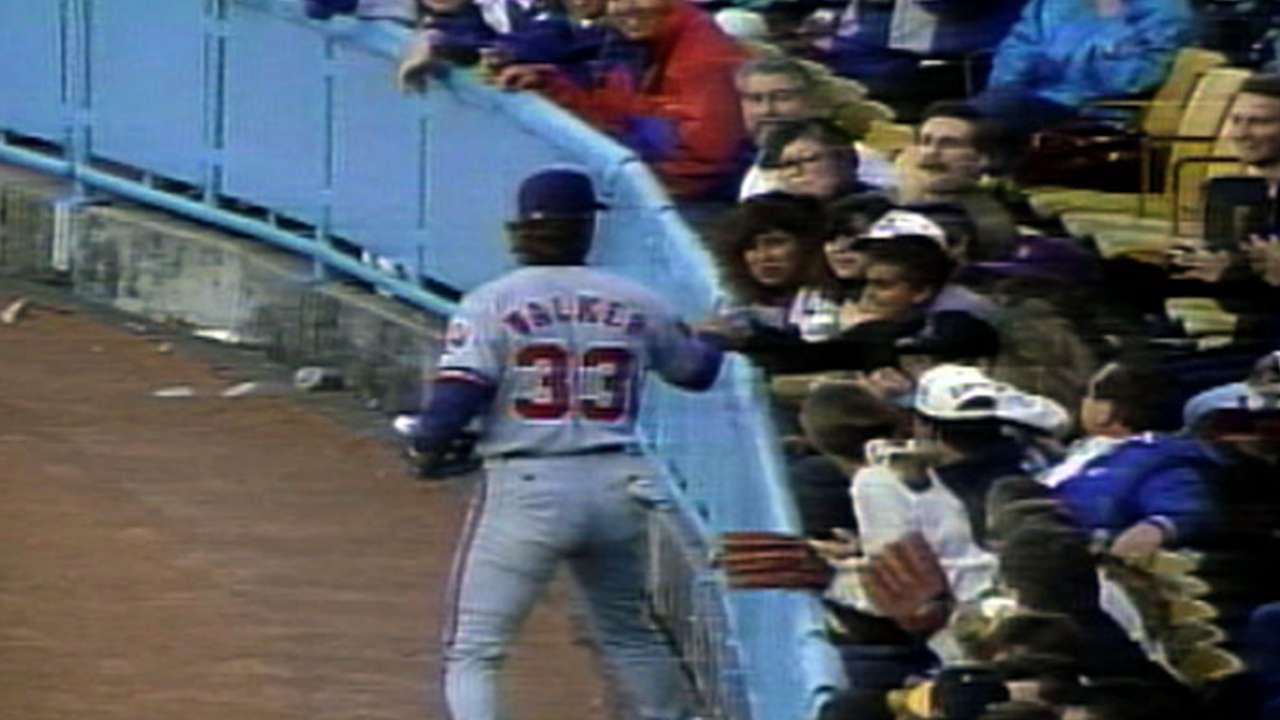 "'Morney' was in the dugout -- it's always awesome having him in there," said Paulsen, in his second Major League season. "He was like, 'It's OK. I've done it a couple of times. But it's been with no people on base.'"
Paulsen's only defense was he was confused. On a previous play, right fielder Carlos Gonzalez made an impressive throw to the plate, but the Rangers' Tomas Telis slid past catcher Nick Hundley's tag. The play was close -- so close that Paulsen thought the tag had been made.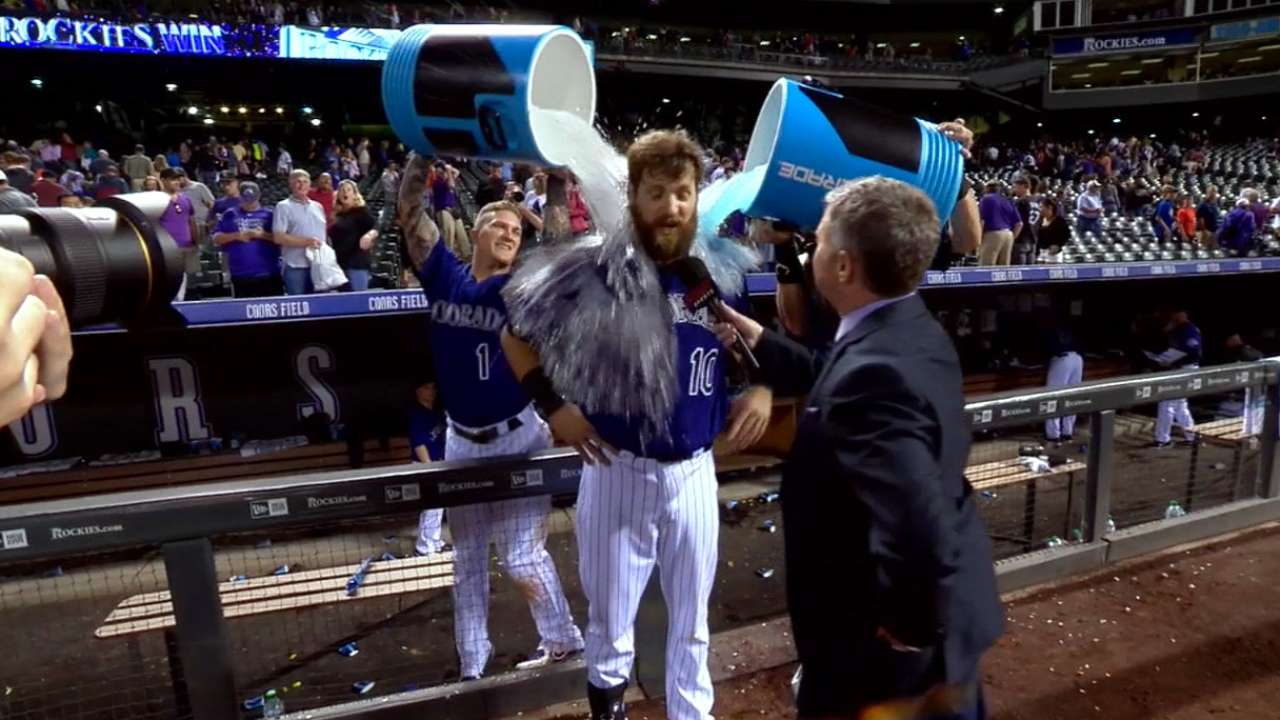 "I went back and was holding up two [fingers], and my whole mindset, I was holding up two and I didn't think to look at the board," Paulsen said. "Maybe next time, I'll throw three rocks in my pocket and take one out each out."
Paulsen heard from someone who made it all OK -- his mother, Leslie, in the Atlanta area.
"She said that she never stays up for a game but she stayed up for this one," Paulsen said. "That was the first [text]. That was nice."
Thomas Harding is a reporter for MLB.com. Follow him on Twitter @harding_at_mlb, and like his Facebook page. This story was not subject to the approval of Major League Baseball or its clubs.