Freeman optimistic after light BP work
Braves first baseman expected to need rehab assignment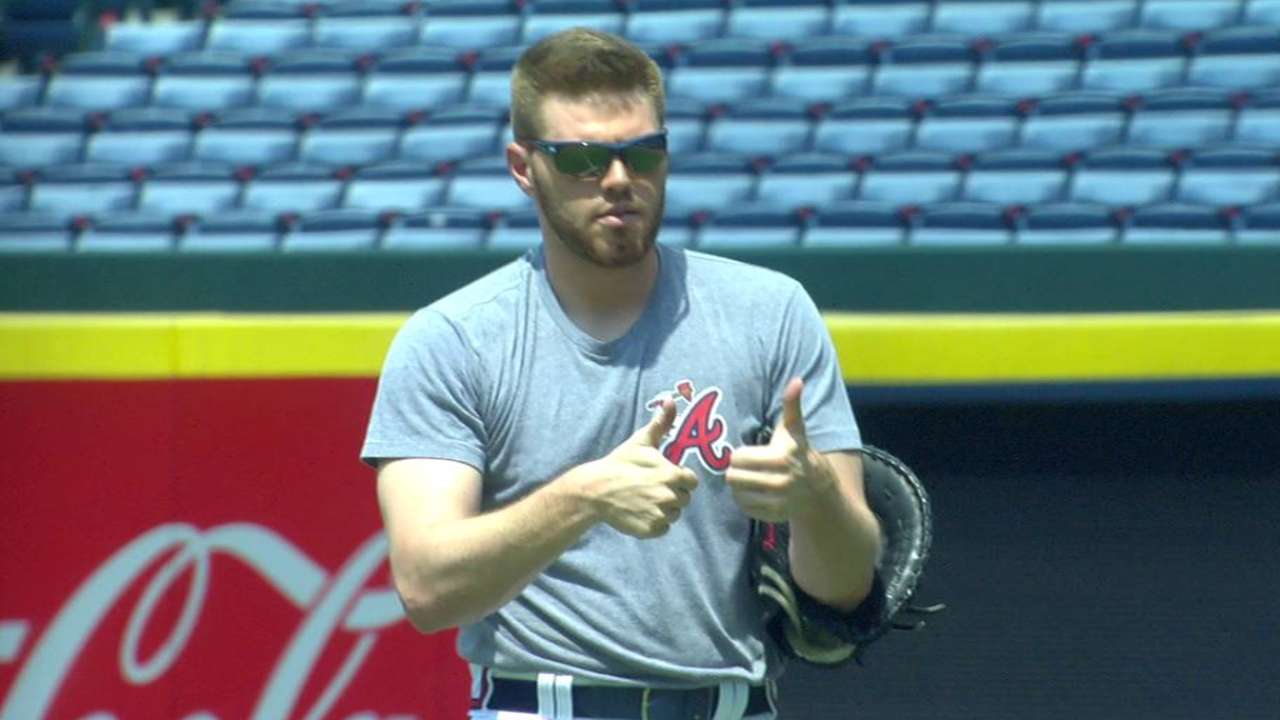 ATLANTA -- Freddie Freeman exited a light batting practice session Monday afternoon feeling more optimistic and encouraged than he has since being sidelined by a right wrist injury more than a month ago. But to the Braves first baseman's chagrin, he will likely have to play a few Minor League rehab games before coming off the disabled list.
"He feels great," Braves manager Fredi Gonzalez said. "He's trying to talk me into playing or putting him in the lineup tonight. We'll get a plan in place to get him out, get him some at-bats and get him some games under his belt. How many games or at-bats we'll figure out [later]."
Though Gonzalez said Freeman might begin a rehab stint as early as Tuesday, the Braves have not finalized a specific schedule for the 25-year-old, who has been sidelined by a right wrist sprain since June 18.
Freeman has spent the past few weeks discouraged by the fact that he did not feel the wrist was improving. But after hitting off a tee and taking some soft-toss swings Monday, he at least saw a light at the end of the tunnel.
"He came out of the batting cages feeling great," Gonzalez said. "[Hitting coaches Kevin Seitzer and Jose Castro] said this guy hasn't missed a beat. But we'll see. That's good news."
Freeman certainly will not be rushed back. But the simplicity of his swing might reduce the number of rehab games he would need before the Braves are confident he is ready to return to regular action at the Major League level.
"There's not much timing base with him," Gonzalez said. "There aren't many pieces to his swing. It's pretty short and pretty simple. It's just a matter of him being in shape and getting his legs in shape. But I think today was really, really a step in the right direction."
Mark Bowman is a reporter for MLB.com. This story was not subject to the approval of Major League Baseball or its clubs.