Schwarber returns to face hometown Reds
Catcher plays in Cincinnati for first time as big leaguer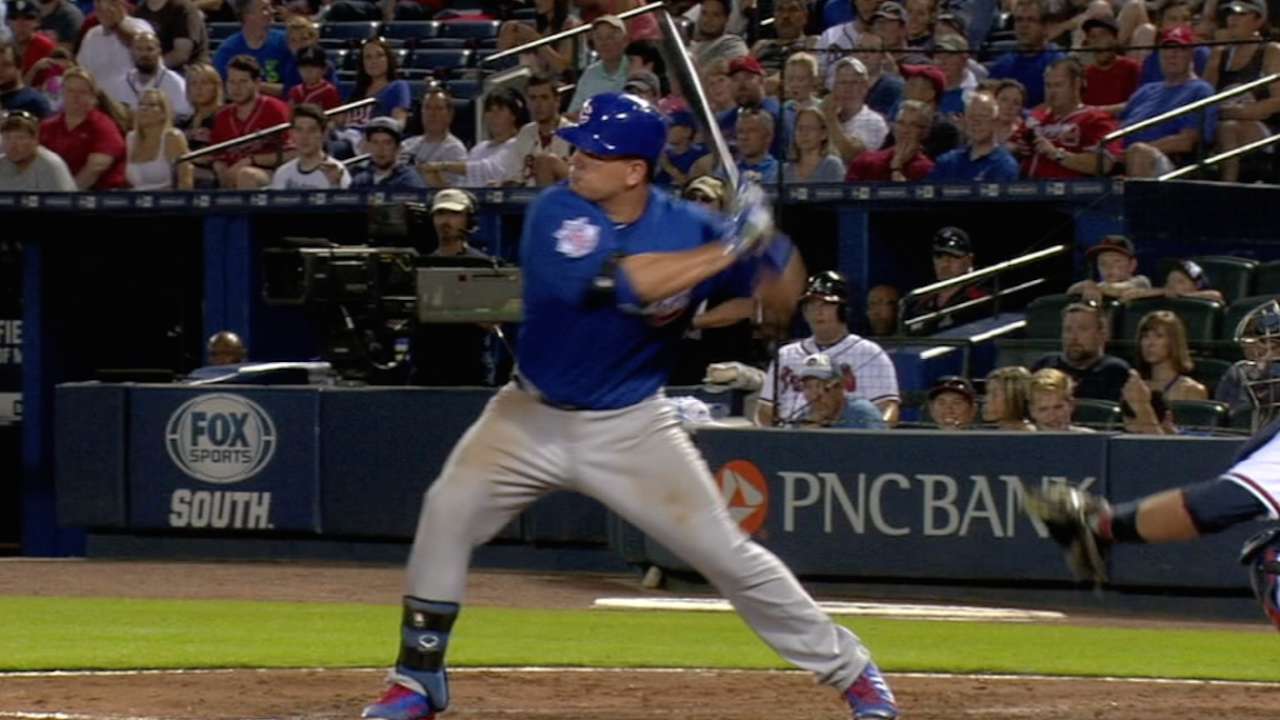 CINCINNATI -- The loudest cheer during Monday night's Reds-Cubs game at Great American Ball Park might be for a player wearing a blue uniform instead of red.
Cubs catcher Kyle Schwarber grew up in Middletown, Ohio -- about 45 minutes away from Great American Ball Park -- and on Monday he made his first official Major League appearance against the team he grew up loving. Schwarber went 1-for-4 with a run scored and one walk on Monday night against the Reds. He also lined out to end the second inning with the bases loaded.
"Outstanding at the play, behind the plate," Cubs manager Joe Maddon said. "You saw him go out to the mound and talk to the pitchers a couple times very comfortably. And he always has a good message. I got to give the kid a lot of credit. He's really understanding this quickly."
Schwarber made his debut with the Cubs on June 16, playing in six games as a pinch-hitter or designated hitter. He was then optioned to Triple-A Iowa, but returned to the Major Leagues to start the second half of the season. Schwarber, who entered the series hitting .393 in 28 at-bats, is expected to be behind the plate for the Cubs throughout the four-game series against the Reds.
"It's good to be back here playing in the big leagues and playing at a place I played at [and] watched games being played at for years," Schwarber said before the game. "It's going to be fun."
Monday was Schwarber's first Major League game at Great American Ball Park, but he has played there in the past, including the recent Sirus XM All-Star Futures Game on July 12. The hometown kid stole the show that day, claiming the game's MVP honors after going 1-for-3 with a triple and two RBIs.
Schwarber said the combination of already playing nine games in the Majors and playing in the Futures Game prepared him for the crowd he'll experience on Monday night.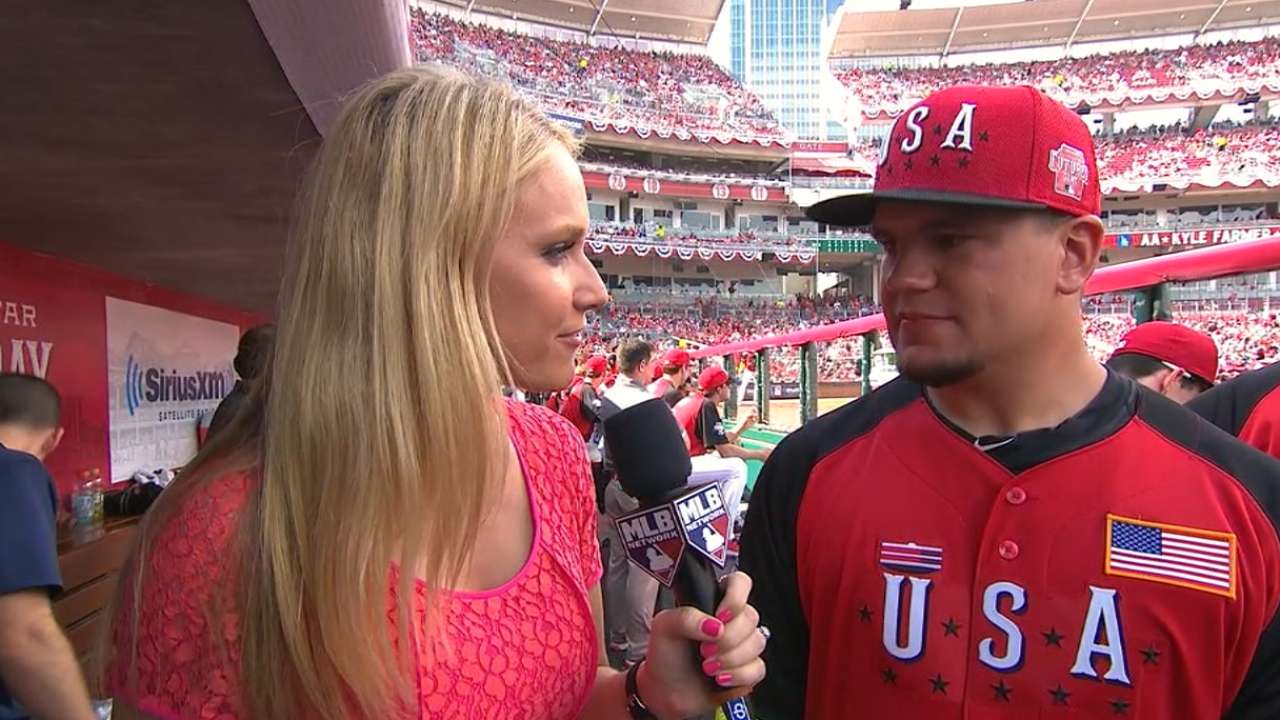 "I got a little bit of taste of it when I was up there for six days and got my feet wet," Schwarber said. "Got to come here and play a game. You know what it's like. It was almost a sold-out crowd for the Futures Game, so now I know what to expect going into today."
Being around the game for so long, Cubs manager Joe Maddon knew what Schwarber could expect in his return home. He said this type of experience can be exciting for players but also overwhelming.
"It is always exciting for a guy to go back to his hometown. Also can be, not stressful, but the biggest thing is tickets," Maddon said. "Tickets or making sure you don't forget somebody or something. That's the biggest thing, so as long as he gets beyond that, once he's on the field, he's going to be fine."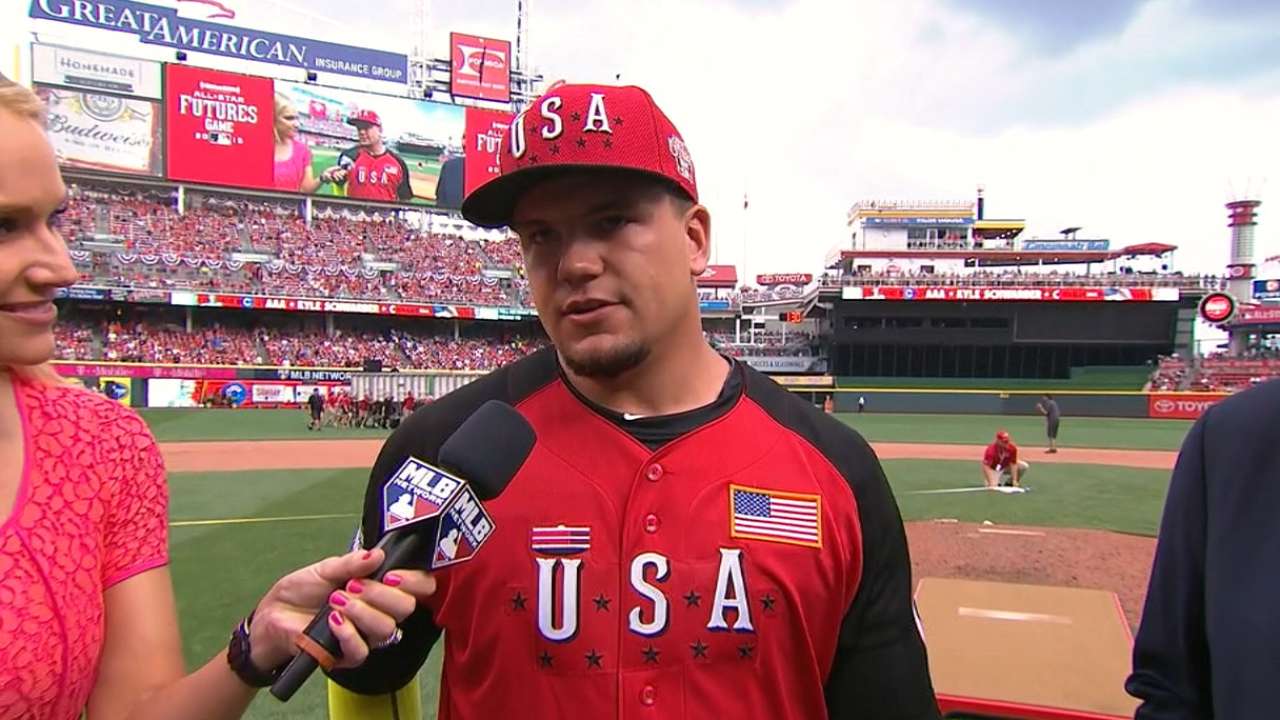 Schwarber is going up against some guys he remembers watching when he was young, including Joey Votto, Jay Bruce and Todd Frazier. He said he modeled part of his swing after Votto, and is excited about the opportunity to play against them now.
"Now that I'm here and I'm getting to play against them, it's a good feeling," he said. "I'm looking forward to the challenges that's going to be put in front of me and I'm ready for it."
Robert Bondy is an associate reporter for MLB.com. This story was not subject to the approval of Major League Baseball or its clubs.