Amaro gives insight on injuries, Deadline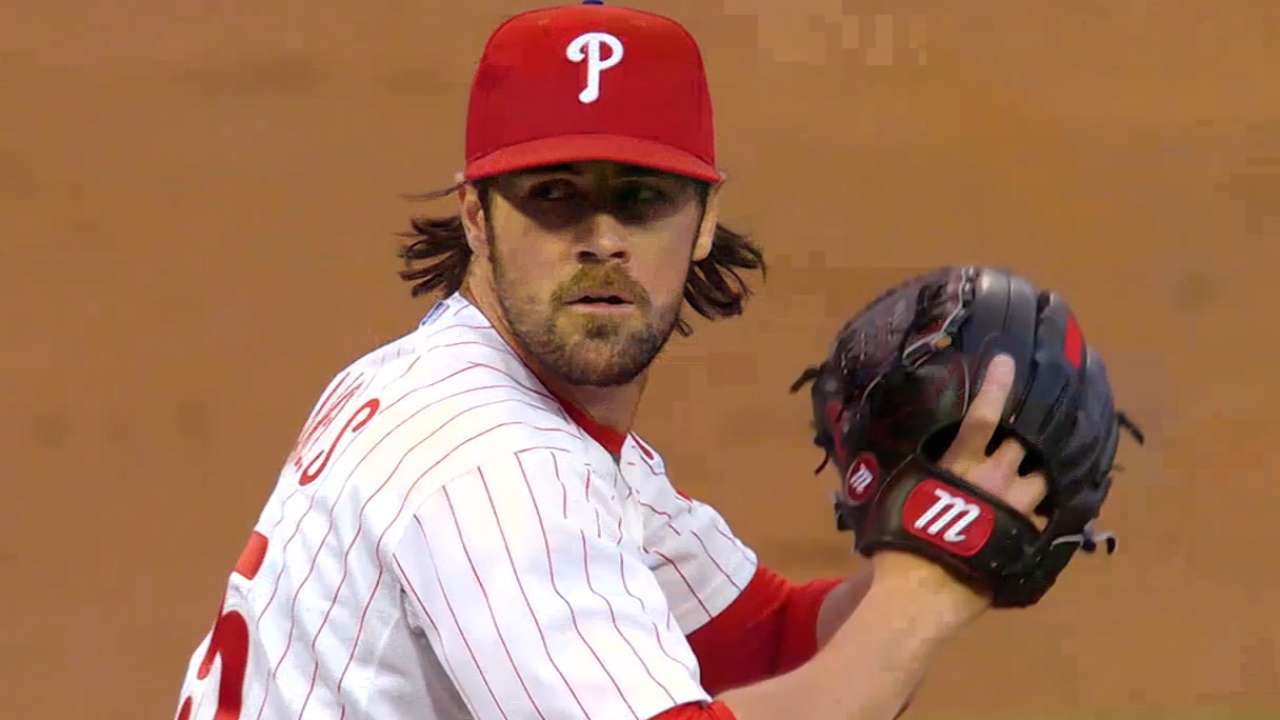 PHILADELPHIA -- Injuries and the impending July 31 non-waiver Trade Deadline are making it rather difficult for Pete Mackanin to map out the Phillies' immediate future.
Nowhere is this more evident than in the Phillies' pitching rotation. With off-days preceding and following the team's weekend series in Chicago, interim manager Mackanin can't decide who will take the ball to begin games because he isn't sure who will be on his active roster.
"We're going to make some adjustments," Mackanin said. "Everything is kind of day-to-day because of the Trade Deadline. It could change our whole plan, so it's a constant process of figuring it out, and we'll be making a decision tomorrow, obviously, with what to do."
General manager Ruben Amaro Jr. provided a little bit of clarity Monday as to what Mackanin's options may be. Starting pitcher Chad Billingsley, who exited his start Saturday prematurely with elbow stiffness, will be headed to the disabled list for the third time this season. Amaro said the MRI data isn't conclusive yet, but Billingsley will not be able to pitch for at least 15 days, and at the most severe, his season may be over. On the opposite end of the spectrum, Amaro said Jerome Williams is ready to return from the disabled list and that Aaron Harang shouldn't be far behind after he threw 80 pitches in a simulated start Monday.
In non-pitching-related injury news, Amaro said that Chase Utley has been resuming baseball activities and should be able to begin a rehab stint within the "next week or so."
Injuries, however, haven't been Amaro's primary focus in recent weeks. With Amaro and the Phillies anticipated to be major sellers at the Deadline, he said he has been at work trying to make deals a reality.
"Well, we have had a lot of active discussions the last few weeks, actually," Amaro said. "And I think they will continue to pick up. Just like every July 31 , there's activity. There will be more activity as you get closer and closer."
Two of the Phillies' most prominent trade pieces, Cole Hamels and Jonathan Papelbon, have been the subject of discussion as to whether their value has decreased recently -- Hamels because of consecutive ineffective starts and Papelbon because of his comments regarding his desire to be traded. However, Amaro said on both fronts that these events have not affected their standing in trade talks.
With regards to Papelbon, Amaro said that even though his closer will be unhappy if he isn't traded, he believes he will continue to pitch.
"He's a professional," Amaro said. "He'll go about his business. And when he gets on the mound, he'll be competing just as he normally does. I don't think that's going to change the guy who's on the mound. Whatever uniform he puts on, he'll be competing."
Nick Suss is an associate reporter for MLB.com. This story was not subject to the approval of Major League Baseball or its clubs.