Nola arrives in Philly set to debut Tuesday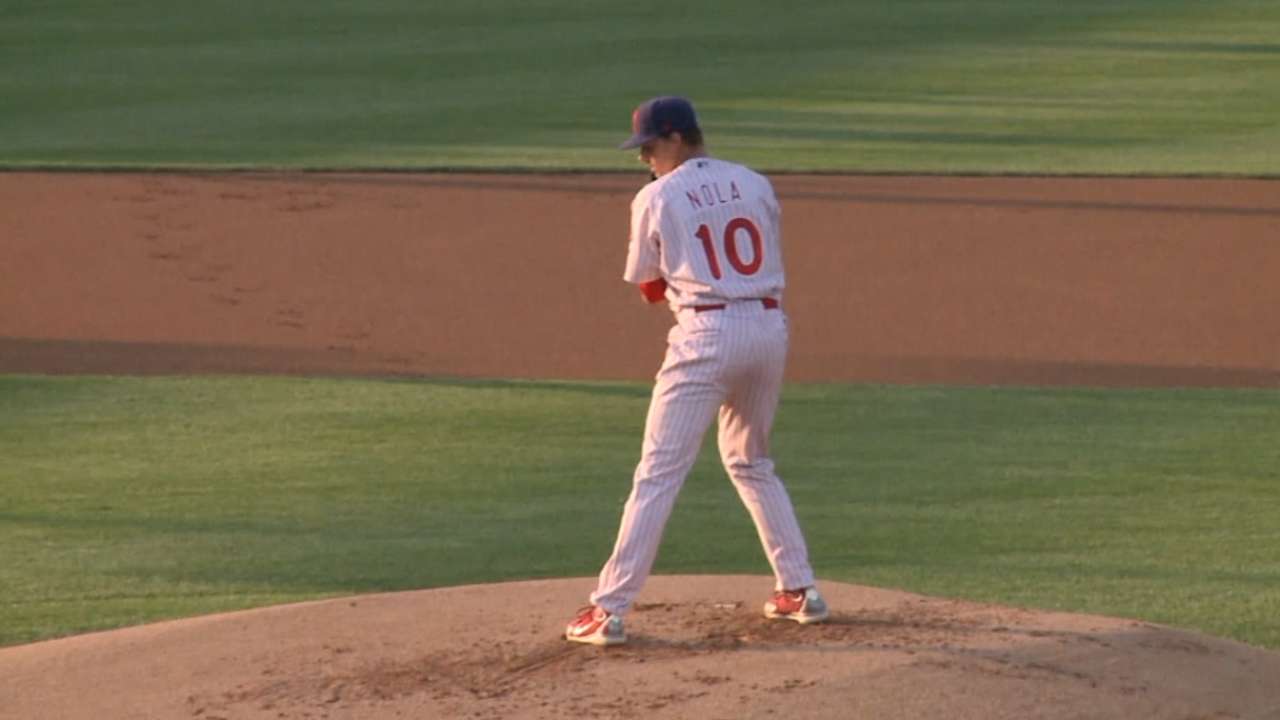 PHILADELPHIA -- Aaron Nola doesn't think he's going to have any trouble falling asleep tonight.
"[It's] just a regular night," Nola said. "I feel like I'll sleep pretty good."
That being said, Monday night might be the last regular night Nola has for a few months. As of now, the 22-year-old right-hander is the No. 2 prospect in the Phillies' organization and No. 28 in all of baseball. But when he wakes up Tuesday morning, he won't be a prospect; he'll be just hours away from making his Major League and Citizens Bank Park debut when the Phillies host the Rays.
Nola arrived in Philadelphia on Monday a few days after the Phillies announced he is scheduled to start Tuesday's game. He said his callup caught him by surprise, given that he struggled through his final start at Triple-A Lehigh Valley, but now his focus is on silencing the expectations and starting his MLB career as best as he can.
Phillies general manager Ruben Amaro Jr. said that the plan to bring Nola up didn't deviate much from what he and the rest of the front office expected when they drafted Nola with the seventh pick of the first round in the 2014 Draft 13 months ago. The prime factor to Nola's development was how he was able to adjust to throwing every fifth day, which Amaro said he has done well.
Despite this, Amaro said he is cognizant that Nola's arm isn't used to throwing 200 innings a year and will adjust his innings limit according to what he feels the youngster is capable of.
"We'll kind of monitor his progress as far as innings, etc.," Amaro said. "He had about 172 of them last year between college and official innings, so we'll probably not go too far beyond that. I guess we'll have to play some of it by ear, but we probably won't go too far beyond that this year."
Nola said that he hasn't discussed an innings cap with anyone in the organization and plans to throw as many innings as he is allowed. Given interim manager Pete Mackanin's emphasis on starting pitchers lasting deeper into games than five innings, Nola's reputation as an innings-eating control pitcher fits well into Mackanin's plans for 2015.
However, Mackanin's plans for Nola in 2015 pale in importance to what the expectations are for the rookie moving forward. Nola said he fancies himself adept at "blocking out" fan and media hype, but regardless of this, how he fares in limited work in 2015 will likely shape how he is perceived for some time.
With that in mind, Nola said the best way to take advantage of the rest of 2015 is to learn how to compose himself on and off the field from the veterans in the clubhouse.
"I watched them on TV before," Nola said. "I want to see them on the field, how they actually handle themselves and how they go about success and failure. I think that's pretty cool to actually be on the same field as them now and get to learn from them."
Nick Suss is an associate reporter for MLB.com. This story was not subject to the approval of Major League Baseball or its clubs.