Soriano joins Cubs' bullpen mix
Right-hander Jackson designated for assignment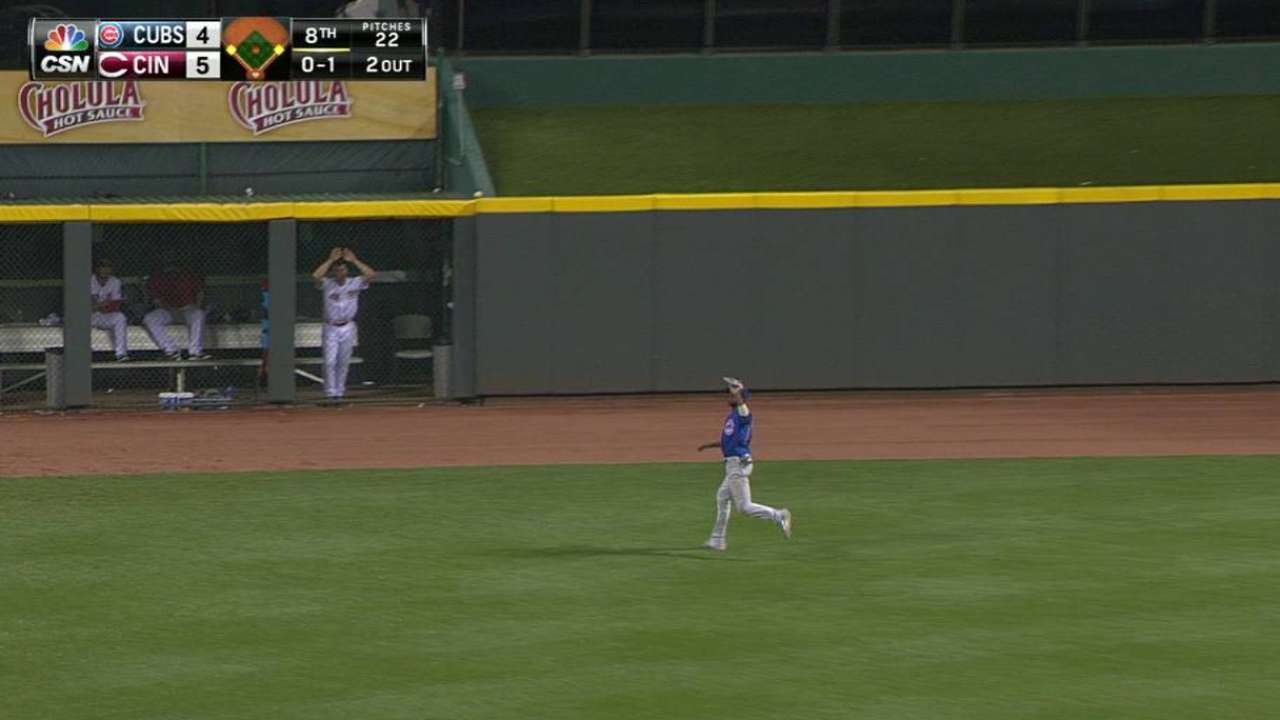 CINCINNATI -- The Cubs selected the contract of right-handed pitcher Rafael Soriano from Triple-A Iowa on Monday, and he pitched one scoreless inning in relief during a 5-4 loss to the Reds.
Soriano came into the game in the eighth inning, giving up one hit -- a double to Jay Bruce -- and one walk.
"A little bit rusty," Cubs manager Joe Maddon said of Soriano. "He'll tell you that himself, but here's the thing: He faced the toughest part of their batting order and battled through without giving up any runs because of his acumen. He knows what he's doing out there. He never gave into [Marlon] Byrd even after the ground-rule double by Bruce."
Soriano, 35, signed a Minor League contract with the Cubs on June 9, and threw seven scoreless innings between Double-A Tennessee and Triple-A Iowa. Opponents hit only .174 against him with seven strikeouts in his seven appearances in the Minor Leagues.
Last season, Soriano went 4-1 with 32 saves and a 3.19 ERA in 64 appearances with the Nationals. After getting an opportunity as the closer last season, Soriano said he isn't worried about returning to that role with the Cubs.
"Right now, I don't think about that," Soriano said before the series opener at Great American Ball Park. "I think about helping the young guys and helping these guys win."
Soriano is 22-28 with 207 saves and a 2.85 ERA in 585 appearances during 13 seasons in the Major Leagues. He has pitched for the Mariners (2002-06), Braves (2007-09), Rays (2010), Yankees (2011-12) and Nationals (2013-14).
Soriano had a career-high 45 saves when he last played for Cubs manager Joe Maddon with the Rays in 2010. He said Maddon is a proven winner and believes the Cubs can go on a postseason run with him as the manager.
"He's a guy who likes to win," Soriano said. "He done it before, he's done it in the past with [the Rays] in 2008. He didn't have a very good team in numbers and he made it to the World Series, so it can happen here this year."
The Cubs have had five different players record a save this season, with Hector Rondon leading the bunch with 12. Maddon didn't comment on if Soriano will be closing out games soon, but said he told Soriano to be ready for any late-game scenarios.
"Sori's good, he smelled really good, I got to find out what his aftershave is. We had a good conversation and he's ready to roll," Maddon said. "He feels really good. He looks like he's in really good shape, that was my first impression. Talked to him about the latter part of the game, be ready for anything in the latter part of the game."
Jackson, 31, signed with the Cubs in January 2013 and became a popular figure in the clubhouse, but the right-hander led the National League in losses in 2014 with 18, and went 14-33 with a 5.58 ERA in two seasons in the rotation. Jackson came out of the bullpen this season, primarily used in long relief, with a 3.19 ERA in 23 appearances.
Tweet from @HammelTime39: Rough day 4 me personally. @EJ36 is 1 of the best teammates u could ask 4. Grinded w/him for years. Best of luck EJax! C u down the road.
Worth noting
Maddon confirmed prior to Monday's game that Kyle Hendricks will start the first game of Wednesday's doubleheader against the Reds, and Dallas Beeler will be called up from Triple-A Iowa to start the second game.
Robert Bondy is an associate reporter for MLB.com. This story was not subject to the approval of Major League Baseball or its clubs.