V-Mart works at first, could be option in future
Ausmus doesn't rule out possibility; concerned about injury risk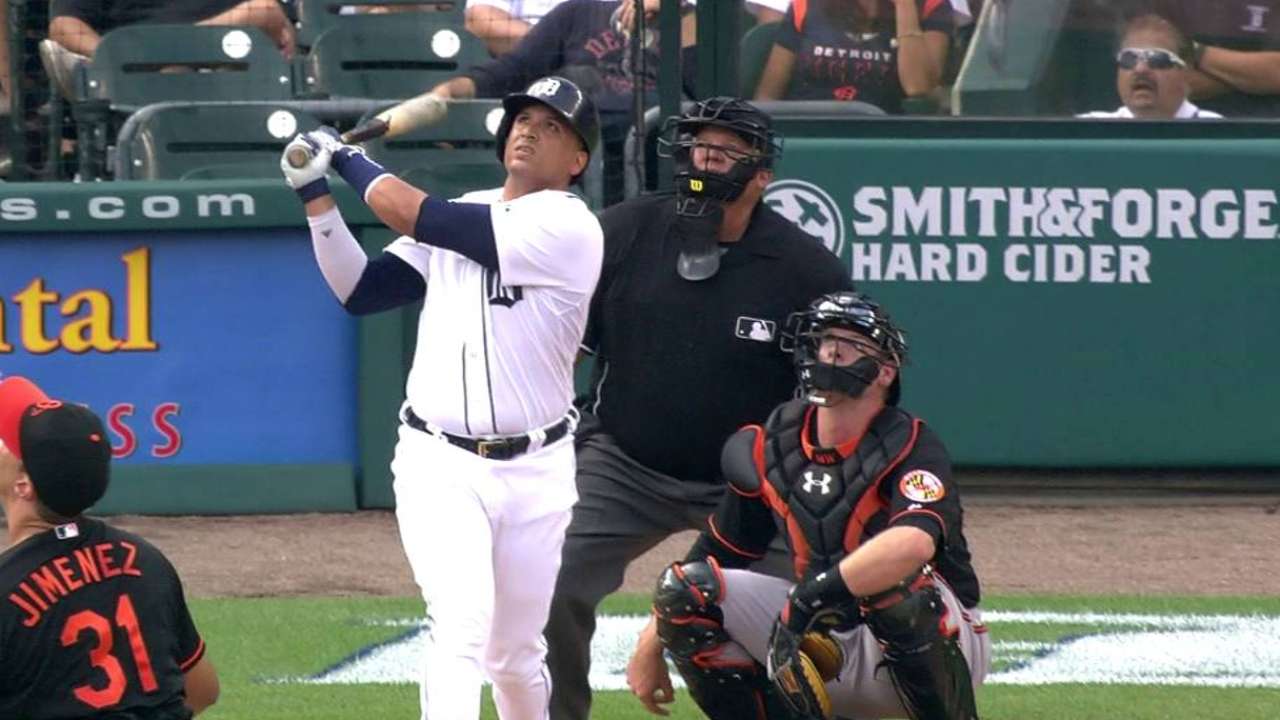 DETROIT -- Miguel Cabrera's calf strain, which is expected to sideline him until mid-August, has forced the Tigers to get creative with their options at first base. Marc Krauss, catcher Alex Avila, third baseman Jefry Marte and utility infielder Andrew Romine have all filled in at the position.
On Monday, manager Brad Ausmus hinted at another possibility: Victor Martinez.
The veteran designated hitter has fielded ground balls at first base during batting practice and has discussed the practicality with Ausmus, but the manager said he feels the injury risk is too great.
"We kind of joked about it a while ago," Ausmus said. "We joked about catching, too. We'll see. Right now, obviously, you're not going to see him at first anytime soon. I guess that could change."
Krauss, who was claimed off waivers from the Tampa Bay Rays on July 6, is Detroit's only true first baseman -- but he's also a .188 lifetime hitter. Marte was called up from Triple-A Toledo on July 4, and is a third baseman by trade, and Ausmus has been hesitant to use Avila, who missed May and June with a loose body in his left knee.
Martinez has played in 198 career games at first base and 858 as a catcher, but a knee operation in February has since relegated him exclusively to DH.
Martinez also spent a month on the disabled list earlier this summer with inflammation in his surgically repaired left knee. In 25 games since returning from the DL, he is hitting .330 with five home runs and nine doubles.
And while the Tigers -- who are 5-7 since Cabrera's injury and have dropped below .500 -- are looking for a spark, moving Martinez to first isn't likely in the near future.
"For me, right now, it's a little too risky," Ausmus said. "Game speed is a little different. You have to cut left and also cut back right. There's a runner involved and a base involved. I would hate to lose Victor."
Alejandro Zúñiga is an associate reporter for MLB.com. Follow him on Twitter @ByAZuniga. This story was not subject to the approval of Major League Baseball or its clubs.