Jackson, McClendon enjoy return to Detroit
Seattle manager spent 8 years as Tigers coach; CF played 4 1/2 years with club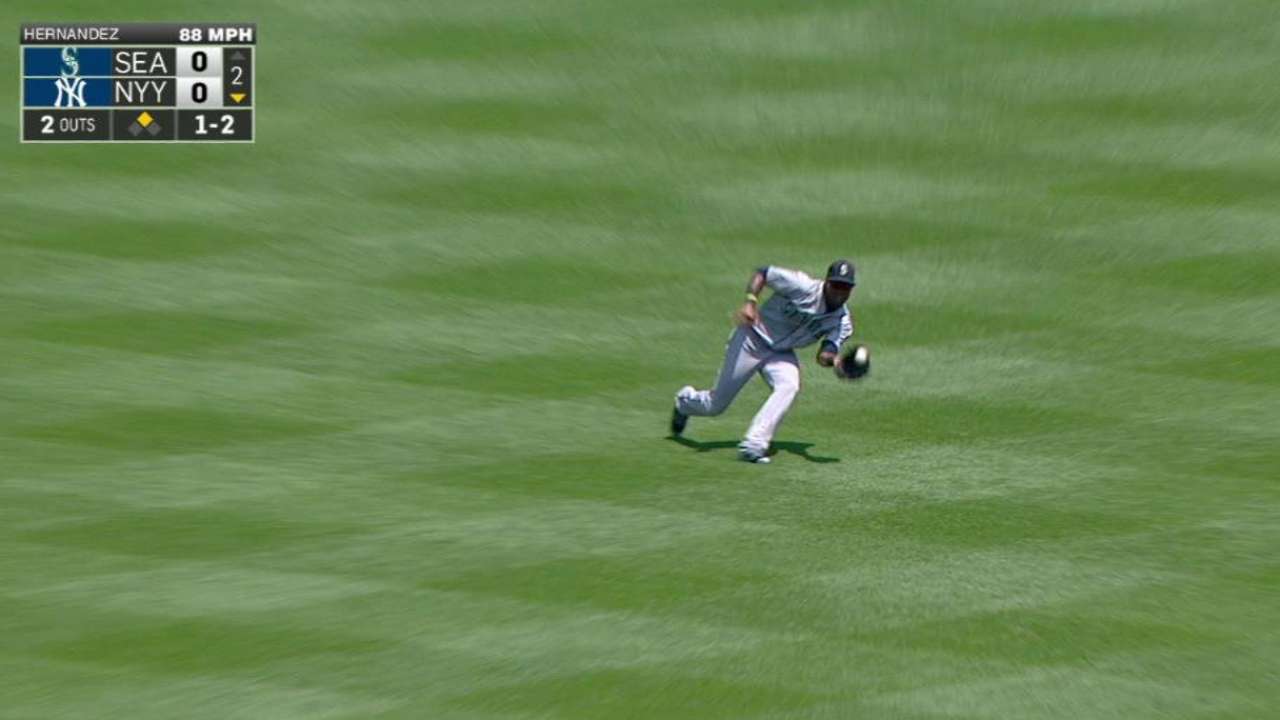 DETROIT -- Lloyd McClendon says it's no big deal returning to Comerica Park now, a year and a half removed from his Detroit departure. But some things don't and won't ever change for the man who worked eight years as a Tigers coach before returning to managing with the Mariners in 2014.
"We had a lot of great memories in this ballpark and did some special things here," McClendon said, sitting in the visiting manager's office prior to Monday's game, a 5-4 Tigers win. "It's always nice to come back and see friends. But other than that, I want to beat their [butts]."
McClendon was the Tigers' hitting coach for his final seven years in Detroit and one of his prized pupils, Miguel Cabrera, will miss the entire four-game series as he's on the disabled list with a strained left calf.
"Obviously Cabrera, those guys come along once in a lifetime," McClendon said. "Any time you're fortunate enough to not have to face him, you have to take advantage of it. It's different [without him], no question about it. He makes any lineup pretty good."
McClendon laughingly acknowledged Cabrera "didn't need a lot of teaching" from his former batting instructor and said he is a special talent.
"Cabrera has the memory of an elephant," McClendon said. "He doesn't do a lot of thinking at the plate, but he understands and feels how guys are trying to work him. He never forgets how guys pitched him in the past and got him out, so he has an idea of what they're going to try to do up there. He's not a film guy, not a cage guy. I used to have to go find him to get him down there. But reaction, ability to make adjustments on the fly, I've never seen anybody as good as him."
Mariners center fielder Austin Jackson hung out with Cabrera on Monday afternoon in Detroit, enjoying his own second return to the city where he spent his first four-and-a-half seasons in the Majors and played in three American League Championship Series and one World Series.
"It's always good to get a chance to see people you've met and had friendships with," Jackson said.
Jackson is a career .292 hitter at Comerica and his 27 triples are tied for the second-most in the history of the ballpark.
"I think when you have a chance to hit at a stadium for a long time, you figure out how to hit there and where to try not to hit the ball," he said. "You can try to stay consistent with your approach. I played here for four years and some change and you start to feel out the field and your strengths and weaknesses in the ballpark."
Jackson, acquired by Seattle on July 31 last year, is coming up on his first full year with the Mariners. He said Safeco Field isn't as big as the expansive Comerica, but he's learning more about his new home park now, including the fact the ball doesn't travel as well at Safeco in the cooler months of the year and gives him more of a chance to run down drives hit to the center-field gaps.
"Once it heats up in Seattle, the ball started traveling a lot more," Jackson said. "Last year, I just didn't see as many balls hit out to the big part of the field as I've seen this past month or so. As opposed to here, the ball travels well, but the gaps in center field are a little bigger."
Greg Johns is a reporter for MLB.com. Follow him on Twitter @GregJohnsMLB, read his Mariners Musings blog, and listen to his podcast. This story was not subject to the approval of Major League Baseball or its clubs.