Orioles set to embark on defining period
Beginning with three-game set in Bronx, road trips down stretch will be pivotal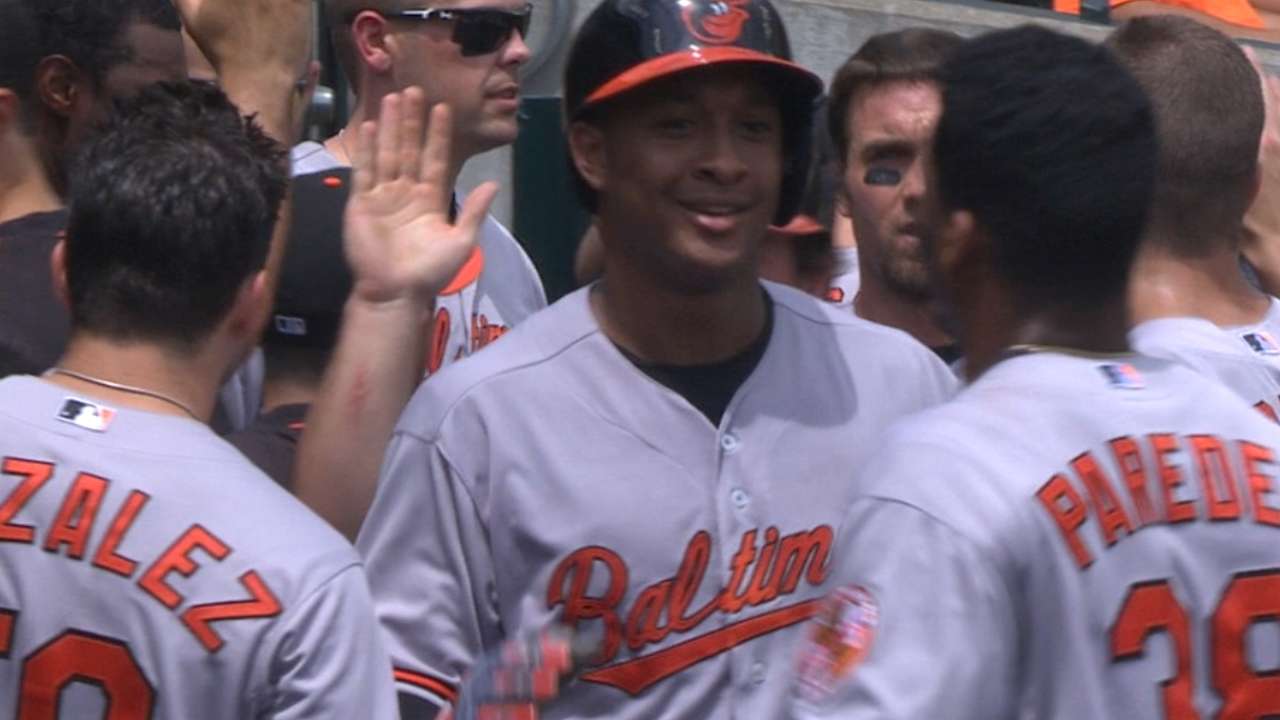 BALTIMORE -- The Orioles enter Tuesday's series in New York four games behind the American League East-leading Yankees and, despite a two-week slide, very much in control of their own destiny -- that is, if they can continue to figure out ways to win away from Camden Yards.
After losing Friday's series opener in Detroit, Baltimore posted back-to-back wins to take its first road series since June 23-25 in Boston. It was a pivotal start to a daunting second half that features several three-city road trips -- including one to the West Coast -- although manager Buck Showalter won't publicly put that much emphasis on one three-game set in July.
"[The] season wasn't going to end if we won one or we got swept," Showalter said of his team, which is 19-27 on the road. "I understand how people look at it in a minute-to-minute, day-to-day mentality. Certainly we have some private moments where you get frustrated with it, but you can't live in that world. You can't, and if that starts permeating your locker room, you're done."
Perhaps there wasn't internal panic for a club that went 3-11 before Saturday's win, but the Orioles' second-half schedule is particularly brutal. After not playing out of the Eastern time zone until June, the O's -- who will head to New York and Tampa Bay for three games a piece -- will play 16 of their final 32 road games in a different time zone.
They're currently in a stretch of 18 of 25 games away from Camden Yards, where they went 27-18 in the first half.
"If you win series, I think you put yourselves in a good situation," center fielder Adam Jones said as the Orioles packed their bags for the Bronx. "We hadn't won too many series going into the break, so this is a good win. Now let's go to New York and do the same thing there."
The Orioles lost three of four games to the Yanks in early May, though they have played well at Tropicana Field, taking both series from the Rays (though one counted as a "home" set). The impetus of the O's this season has been waiting for them to get healthy. The additions of Matt Wieters and Jonathan Schoop, who has been red hot since returning from the disabled list July 5, could be a difference-maker down the stretch. So, too, could be Opening Day starter Chris Tillman, who finally saw his ERA drop under 5.00 with Saturday's dominant eight-inning outing.
And while the July 31 non-waiver Trade Deadline draws near, Baltimore doesn't appear to be in any sort of position to make an impact move, with its top two prospects (Dylan Bundy and Hunter Harvey) both hurt, and a move involving a young member of its current roster (such as Schoop or Manny Machado) highly unlikely.
By and large, it will be up to the current roster to get hot and stay healthy with just five off-days remaining from now until the end of the season.
"We live in a world constantly reminding you of your failures," Showalter said. "That's just part of the world they live in. I think they understand the answers to being competitive are in our locker room. "[The players] aren't looking at anyone but the person standing beside them."
Brittany Ghiroli is a reporter for MLB.com. Read her blog, Britt's Bird Watch, follow her on Facebook and Twitter @britt_ghiroli, and listen to her podcast. This story was not subject to the approval of Major League Baseball or its clubs.