Ross meets expectations with quality start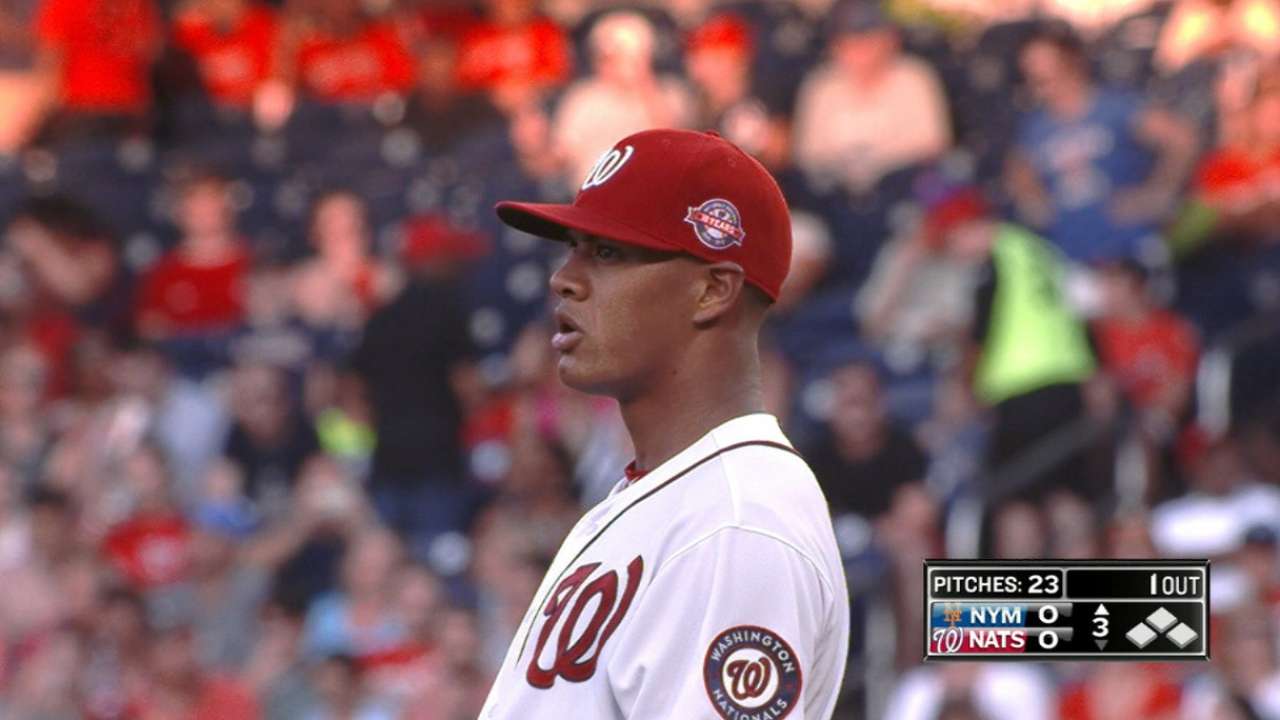 WASHINGTON -- Joe Ross' return to the big leagues came with the hopes that he would make quality starts in the absence of Stephen Strasburg. The 22-year-old rookie did just that on Tuesday night, tossing 6 1/3 innings and allowing two earned runs in Washington's 7-2 loss to New York.
"I thought he pitched well," manager Matt Williams said. "He was in command the whole time he was out there."
With one out in the top of the seventh, Ross exited to a standing ovation, a one-run lead and two Mets in scoring position.
"I felt good," Ross said. "It was one of those situations where I wanted to stay in and try to pitch out of it, but bringing in [reliever Aaron] Barrett was probably the smart move."
Barrett allowed both runners to score on a pinch-hit single by Eric Campbell. The runs were charged to Ross, though only one of them was earned.
Campbell's hit put New York in front, 3-2, and lapses down the stretch increased the Mets' lead to five runs in the ninth. The win brought the Mets within two games of the Nationals in the National League East.
Early on, Ross and Jacob deGrom matched zeros. After retiring the first nine batters, Ross surrendered a leadoff single to Curtis Granderson in the fourth inning. Granderson stole second on a botched hit-and-run and scored on a single by Wilmer Flores.
That RBI base knock was one of four hits Ross allowed. He struck out four and did not walk a batter.
He responded to the slight hiccup with scoreless fifth and sixth innings but found trouble waiting in the seventh.
Flores started it with a single, and first baseman Clint Robinson misplayed Kirk Nieuwenhuis' chopper down the line, putting both runners in scoring position before an out was recorded.
After Kevin Plawecki popped out to Danny Espinosa, Ross' return to the Major Leagues was done.
"We're going to get to Barrett there with guys on second and third," Williams said. "Joe made a good pitch to get the popup. So they went to Campbell, and Barrett's a good matchup for Campbell. [Barrett] just left a slider up."
The loss dropped Ross to 2-2 on the season with a 2.70 ERA. Barring any changes, he will remain in the rotation until Strasburg returns from the disabled list.
Jacob Emert is an associate reporter for MLB.com. This story was not subject to the approval of Major League Baseball or its clubs.