Medlen activated, makes Royals debut
In first appearance since 2013, righty goes 3 1/3 IP in relief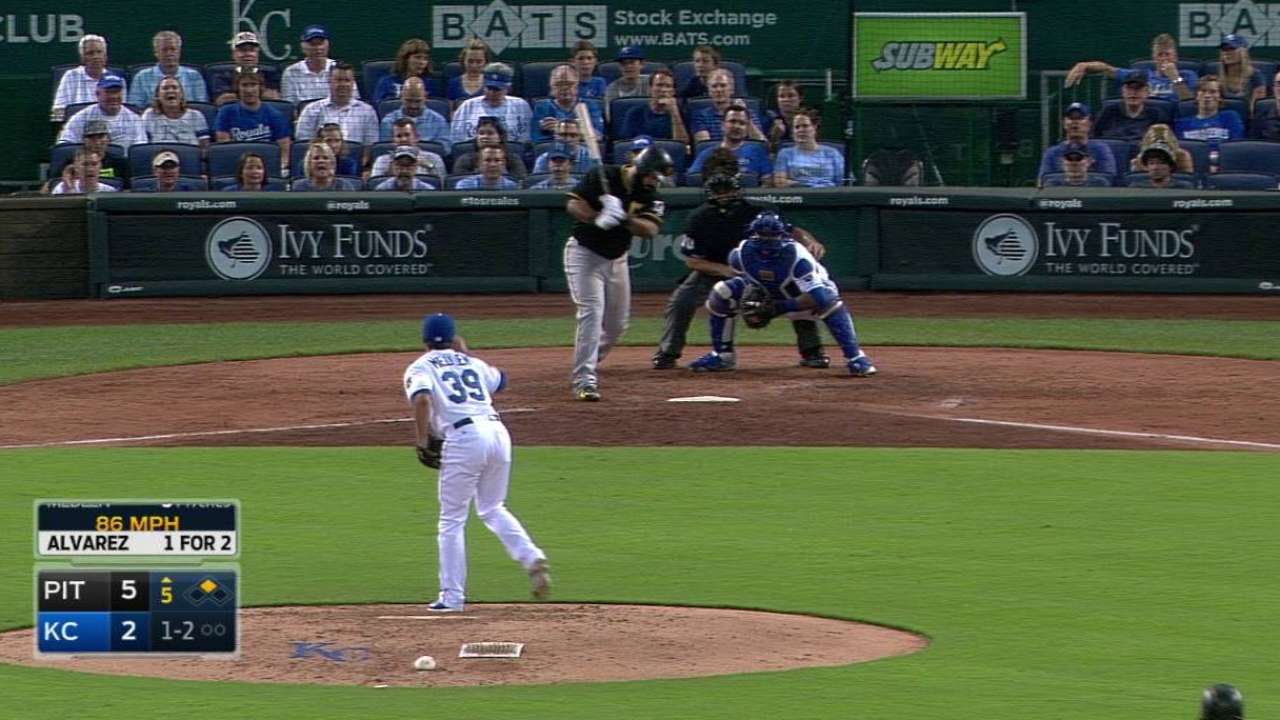 KANSAS CITY -- The long wait is over for right-hander Kris Medlen. Medlen is back on a Major League roster after being activated by the Royals on Monday following his rehab stint from a second Tommy John surgery. Right-hander Yohan Pino was optioned back to Triple-A Omaha.
Medlen, 29, had not appeared in a big league game since 2013 before entering Monday's game with a runner on base and no outs in the fifth. He struck out the first two hitters he faced, then gave up an opposite-field homer to Travis Ishikawa of the Pirates in a 10-7 loss to the Royals.
"I felt really good coming out of the 'pen and then got a changeup to Ishikawa, the kind of pitch that if it touches the bat, it's a home run," Medlen said. "I had no intentions of throwing it for a strike."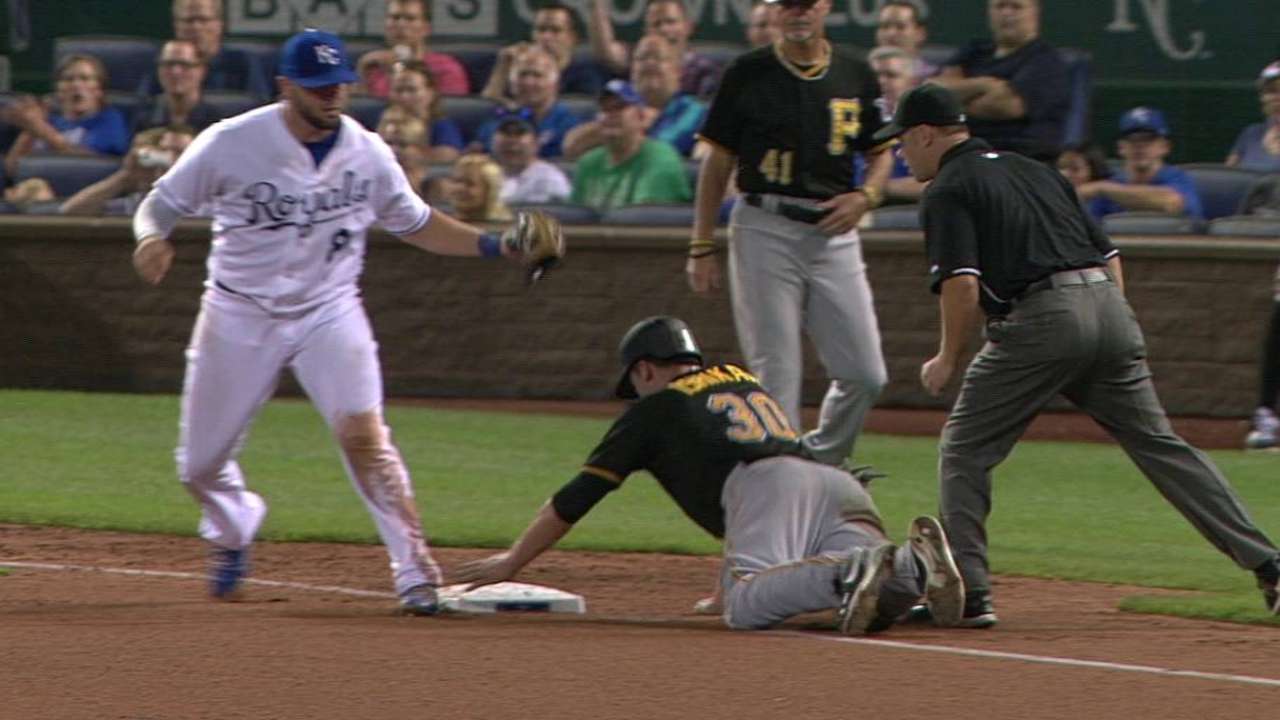 Medlen seemed relieved to get that first appearance over with.
"I guess so," he said. "I guess having a few years in the big leagues, the game didn't speed up on me, which is good. I did a pretty good job of controlling my emotions."
Medlen wound up going 3 1/3 innings and giving up four runs, though two of the runs came when Luke Hochevar took over.
"Physically I felt good," Medlen said. "But it's not an individual game. We were battling back but I kept giving them runs back."
Still, there had to be some measure of success for Medlen just to be back pitching in the big leagues again.
"It's been a tougher year than I'm used to, but it's worth it," Medlen said of his rehab. "It's a big day for me and my family."
The Royals signed Medlen last fall to a two-year deal in hopes that he could be recovered in time for the season's second half. That time is now.
"I know that was expected -- the team really showed patience, signing me to a two-year deal," Medlen said. "They wanted to make sure I felt comfortable ... In the beginning [of rehab] I was a little nervous because it felt like I had never thrown a baseball before. But I kept getting better and better and more comfortable."
Medlen's final rehab outing last week was in Double-A, and he threw seven scoreless innings.
"I will be expected to produce here," Medlen said. "That's why this organization signed me."
Medlen will start out in the bullpen, according to manager Ned Yost. That will require a slight adjustment from Medlen.
"Nowadays, every guy in the bullpen throws 95 [mph] and up," Medlen said. "That's not really me. I have to have all my pitches working, and right now they are."
Down the road, Medlen could be an addition to the rotation, though Yost and the Royals already will have some tough decisions ahead regarding the roster and the rotation.
When Jason Vargas is activated Tuesday to start against the Pirates, someone will have to come off the 25-man roster, and that possibly could be Joe Blanton, who is out of options.
Yost said he won't go to a six-man rotation long-term but will stick with it over the next week, meaning Vargas will start again next Monday. After that, someone will have to come out of the rotation. Danny Duffy, Yordano Ventura and Edinson Volquez would appear locks to stay in the rotation. Chris Young (8-5, 3.03 ERA) has been good all year, and Jeremy Guthrie, Yost reminded, was one of the Royals' best pitchers in the second half of 2014.
"These things will work themselves out," Yost said.
Jeffrey Flanagan is a reporter for MLB.com. Follow him on Twitter at @FlannyMLB. This story was not subject to the approval of Major League Baseball or its clubs.