Biggio in final stages of prep for HOF induction
HOUSTON -- Craig Biggio contends life hasn't changed too much since he was elected to the National Baseball Hall of Fame in January, and he maintains he'll still be the same guy he always has been once his plaque is unveiled on Sunday afternoon in Cooperstown, N.Y.
As always, Biggio -- the 20-year Astros legend -- has remained a busy man in the months, and now the days, leading up to the Hall of Fame induction ceremony. He and his family have spent the last few days at his house in New Jersey while juggling the busy softball schedule of daughter Quinn and watching youngest son Cavan compete in the Cape Cod League. Biggio's oldest son, Conor, has typed out his acceptance speech.
"I don't really think it has changed at all really, not in my house at all," Biggio said. "I mean, we're still doing, you know, all the things that we normally do as a family and my responsibilities with the Astros. But, obviously, it's pretty exciting."
Biggio, who retired following the 2007 season after amassing 3,060 hits during his illustrious career with Houston, will become the first player inducted into the Hall of Fame wearing an Astros cap. He'll be inducted alongside pitchers Randy Johnson, Pedro Martinez and John Smoltz. Live coverage of Hall of Fame induction day begins at 11 a.m. ET Sunday on MLB Network, simulcast live on MLB.com.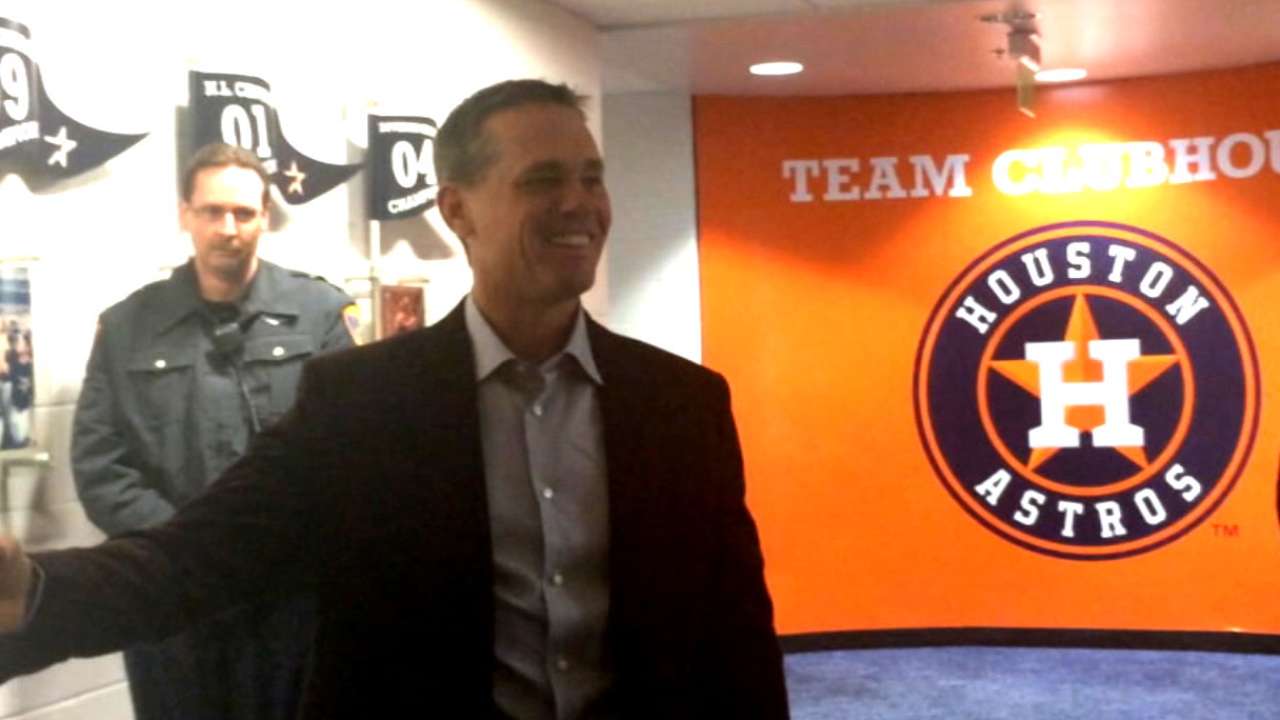 When asked about his preparations for the weekend, Biggio said his wife of 25 years, Patty, has handled much of that. There are travel itineraries for family and friends to worry about, as well as, of course, the speech. Biggio joked Patty was ready to have a nervous breakdown.
"I mean, God bless her," he said. "She's been doing it all. You know, when you spend your whole life with one organization, there's a lot of people that we wanted to make sure that we invited. And she has been really doing an amazing job with it. So my biggest thing is really just trying to make sure that we get all the words and everything down and try to get the list of people and her list of people.
"But she has been doing everything. And, obviously, just like most players in the big leagues, you're only as good as the woman behind you, and she has been unbelievable."
The Astros have been assisting the Biggios as well. Team president of business operations Reid Ryan said the team appointed director of corporate sponsorships Creighton Kahoalii to assist Craig and Patty with everything Hall of Fame-related. The family will drive to Cooperstown from New Jersey.
"We've tried to help them work their plan to get everybody they needed to the Hall of Fame to have a great time, but also to take the worry and stress off of Craig and Patty so they can enjoy it," Ryan said.
Of course, Ryan was able to provide firsthand knowledge of the process to the Biggio family as well. His father, Nolan, was inducted into the Hall of Fame in 1999, so the Ryans know the drill.
"What I told Patty was, 'I've been through it from your side with my mom and my brother and my sister in 1999 and having gone in with a big class of people and experienced it,'" he said.
The Astros reserved three spots for events on Friday, Saturday and Sunday for Biggio and guests, which will include some in the ownership group, members of the media and a lot of former players, managers and executives. Ryan said among those who will be in Cooperstown are former owner Drayton McLane, former general managers Gerry Hunsicker, Tim Purpura and Bill Wood, former managers Phil Garner and Larry Dierker, along with former players Billy Wagner and, of course, Jeff Bagwell.
"There's a lot of teammates that want to come, but they have kids similar ages and they have commitments to their teams and travel and all that other stuff," Biggio said. "But one is Moises Alou, who's coming, and I love Mo. He's a great teammate and unbelievable hitter. I'm real excited about seeing him.
"Obviously, you never know until you get there, until you've got to present it. But, you know, there's a lot of people that I'm very grateful for, because I didn't get to the Hall of Fame on my own. There's a lot of people that helped me along the way."
Of course, the Hall of Fame acceptance speech requires much planning. Biggio doesn't want to leave anybody off the list when he begins to thank those who have helped his career. He has a speech already prepared, and he has practiced it in advance of Sunday, even joking that his kids know it better than he does.
"The biggest thing is trying to make sure that in your time frame that you have that you don't sit down in your chair and [leave] somebody out," he said. "I'm just trying to smooth it out a little bit right now, and we're getting there."
Brian McTaggart is a reporter for MLB.com and writes an MLBlog, Tag's Lines. Follow @brianmctaggart on Twitter and listen to his podcast. This story was not subject to the approval of Major League Baseball or its clubs.