Lindor showing veteran moxie during early trials
Indians impressed with rookie shortstop's work ethic, attention to detail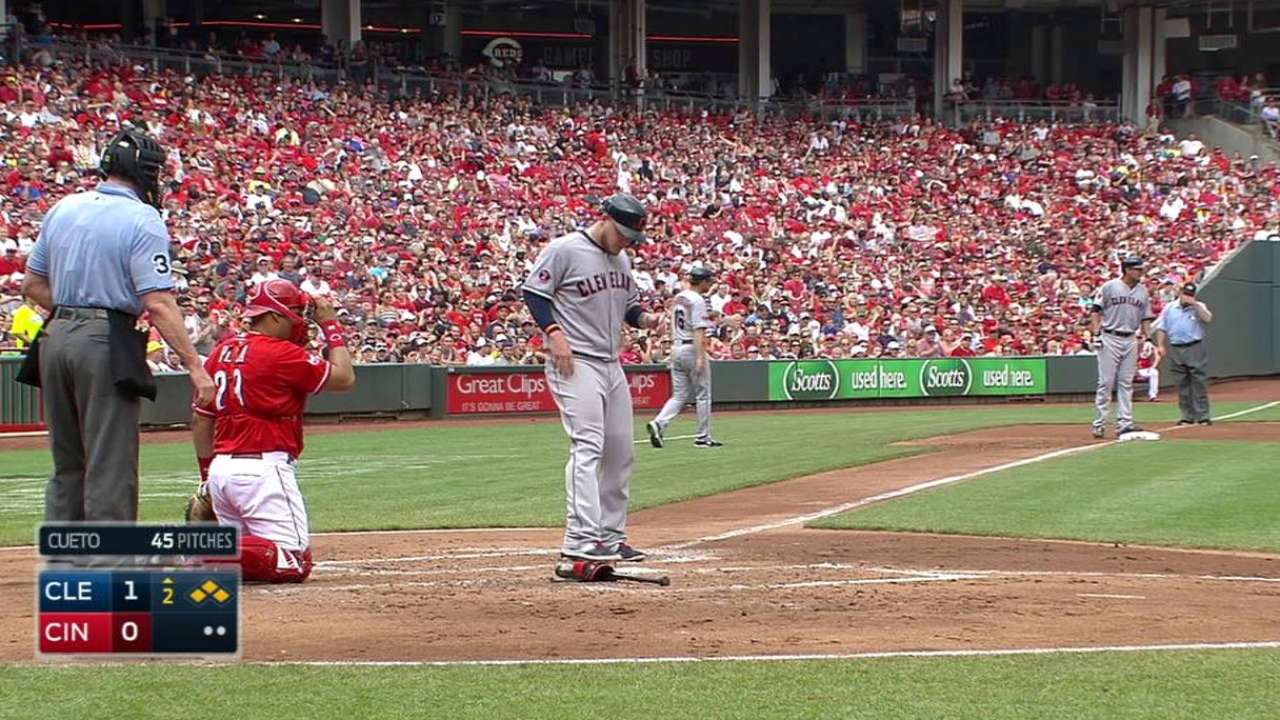 CLEVELAND -- The temptation to glance up at the scoreboard exists for every player. When they walk to the batter's box, their numbers are displayed in large type under bright lights for all to see. For a young player trying to make his way in the Majors for the first time, it is a difficult temptation to resist.
Francisco Lindor has not been looking up at the board. His reasoning is simple.
"It's early," Lindor said. "I don't have many at-bats."
Lindor made that statement while relaxing at his locker before Saturday's game against the Reds. Over the next 24 hours, the young shortstop showed exactly what he meant, churning out five hits and lifting his season average 22 points to .246. The hot prospect with the high expectations has not gotten off to a roaring start at the plate, but Lindor is maintaining a veteran perspective.
Both Lindor and the Indians knew there would be a learning curve for the 21-year-old shortstop. He boasts plenty of tools, and he has flashed them all with highlight-reel defensive gems, aggressive sprints around the bases and some hard-hit balls from both sides of the plate. Lindor has also shown that he is still very much a rookie, making both physical and mental errors early on.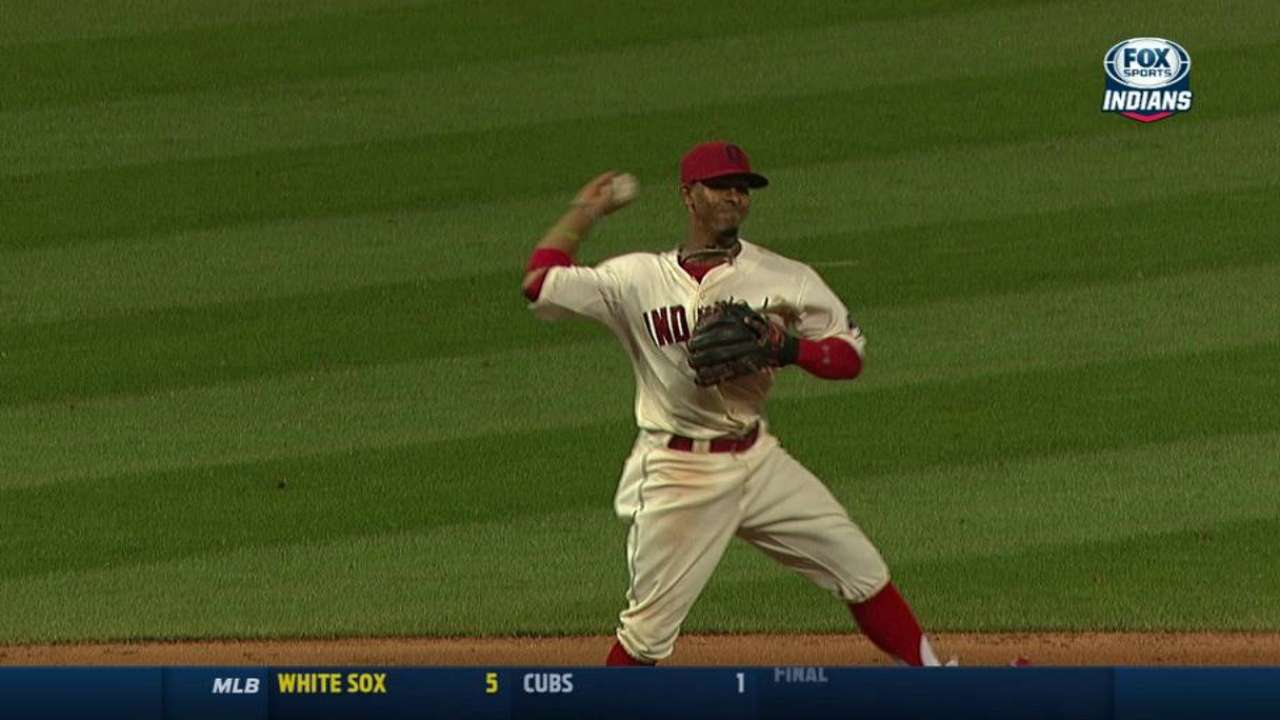 On Sunday morning, for example, Cleveland manager Terry Francona met briefly with Lindor to discuss running hard to first base, no matter what. The conversation came after the shortstop let frustration get the best of him during one seventh-inning at-bat on Saturday.
"We knew when we called him up, those types of things can happen," Francona said. "I just don't want to look up three years from now and have not handled something, because younger kids are impressionable and we want them to play the game the right way."
That one misstep aside, the Indians have been impressed with Lindor's dedication and work ethic behind the scenes.
"He takes it seriously," Tribe hitting coach Ty Van Burkleo said. "He wants, every day, to get better. He's been fun to watch go about his business."
Lindor has also displayed level-headedness in terms of his slow start at the plate.
Overall, the switch-hitter has turned in a .246/.280/.331 line through 29 games, falling well short off the .278/.354/.384 rates he posted throughout his steady five-season climb up the organizational ladder. After opening his Cleveland career with a .203 average (.497 OPS) in his first 19 games, though, Lindor has improved of late with a .318 average (.802 OPS) in his past 10 contests.
Self-evaluation appears to be a strength for Lindor, too.
"I've got to go up there and execute my plan, no matter what," he said. "That's what I've been doing, but the ball hasn't always dropped. I feel like I've been having good at-bats. It's just the ball sometimes hasn't gone my way."
Those comments are not just cliche.
According to Pitch-f/x data, Lindor has turned in a .167 average on balls in play with a batted-ball velocity of at least 103 mph, while the Major League average was .592, entering Monday. Lindor also was below league average on batted balls over 100 mph (.412 compared to .539) and over 95 mph (.419 compared to .460). It is a very small sample, but it shows that luck has not aligned with skill.
"If you look at his overall numbers, they're not indicative of the at-bats he's had," Van Burkleo said. "He's had a lot of hard luck. In that amount of at-bats, his stats are a lot lower than what they could be. ... But he hasn't let it affect him or get him trying to do more. He's just stayed the course, and he knows it won't keep happening if he keeps maintaining the swing he's got and the approach he's got."
To help with that, Francona has maintained his approach as well, keeping Lindor in the lineup's second spot.
"That shows me he believes in me," Lindor said. "It helps with my confidence. It helps me to continue to work. I don't want to let him down or let any of my teammates down. I want to do whatever it takes to help the Indians win."
Jordan Bastian is a reporter for MLB.com. Read his blog, Major League Bastian, follow him on Twitter @MLBastian and listen to his podcast. This story was not subject to the approval of Major League Baseball or its clubs.