Inbox: Will Cards deal outfielder before Deadline?
Beat reporter Jenifer Langosch fields questions from fans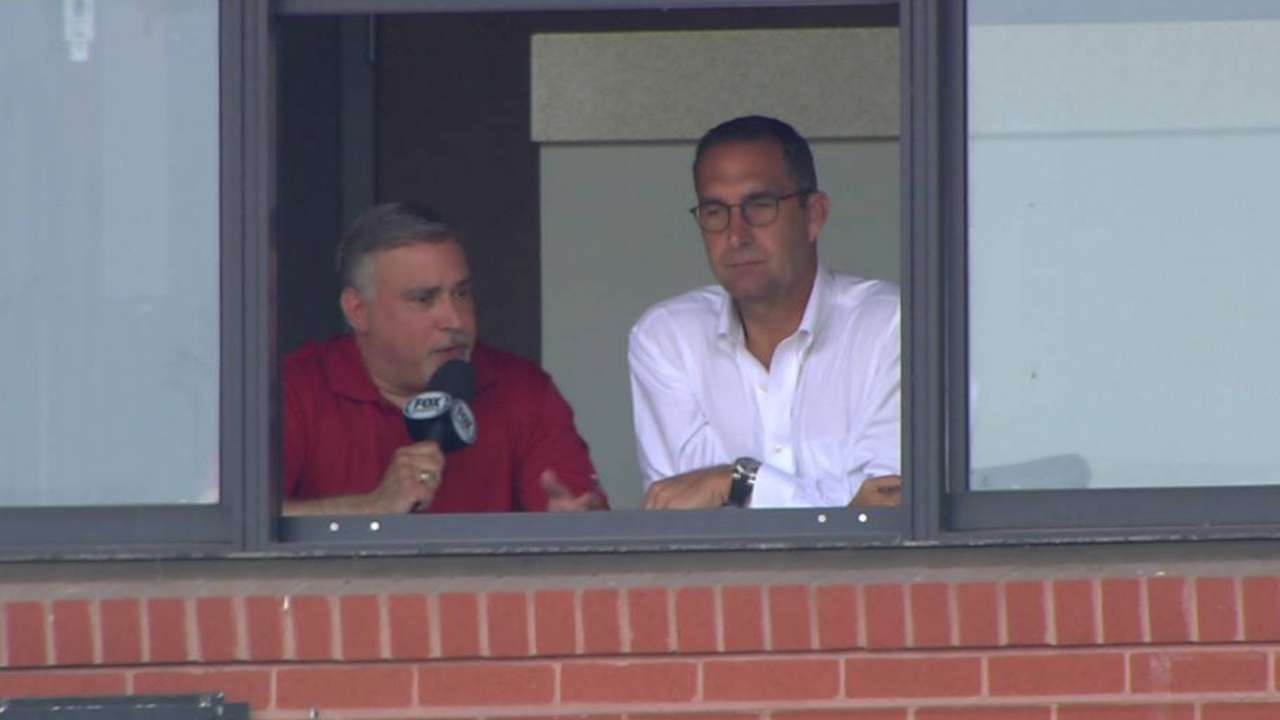 CHICAGO -- Before diving into a fresh batch of reader questions, a reminder that if you want to submit a question for future Inbox inclusion, don't forget to provide your first name, last initial and hometown along with it. And now, on to the good stuff …
If the Cardinals do transition Stephen Piscotty to first base and call him up, do you see us making a deal for a full-time top-tier center fielder by maybe trading Jon Jay or Peter Bourjos?
-- Caleb K., Arkadelphia, Ark.
After weeks of pregame work at the position, Piscotty played first base in six straight games for Triple-A Memphis and is set to be called up on Tuesday, although the Cardinals have not confirmed the move. He has hit safely in 35 of his last 45 games, and with the Cards' offense lagging, his promotion comes at an opportune time.
If Piscotty does become the team's internal answer at first base, that will not lead the club to pursue a center fielder. The reason the Cardinals haven't had room for Piscotty before now is because the roster is so crowded with outfielders. Look for Randal Grichuk to get a good chunk of playing time in center. Jay is a non-factor until he's healthy. Bourjos and Tommy Pham represent other backup options.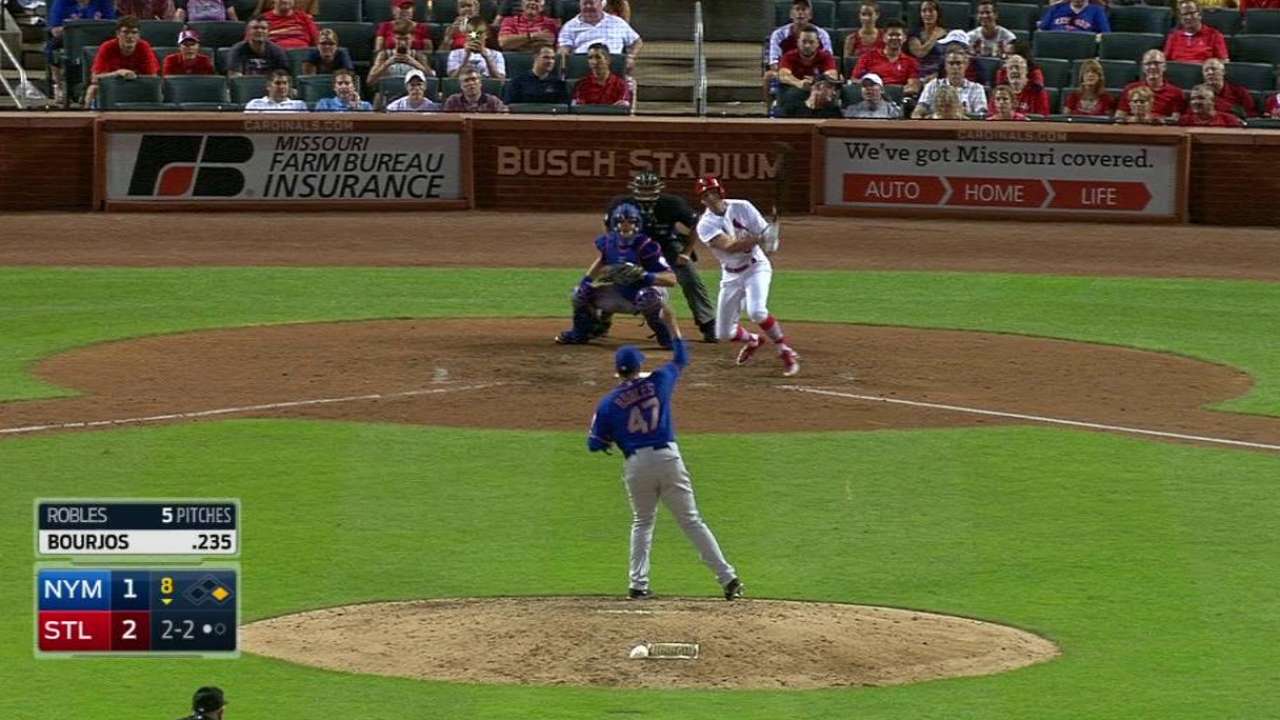 Will the Cardinals trade an outfielder before the July 31 non-waiver Trade Deadline? Assuming Matt Holliday and Jason Heyward are everyday starters, that leaves Grichuk, Bourjos, Pham and Jay all competing for time at one spot. If so, who would be the best candidate to be moved?
-- Clayton L., Monmouth, Ill.
So while the Cardinals won't be looking to add an outfielder, they certainly could subtract one as they go about addressing other deficiencies. Holliday and Heyward aren't going anywhere, nor would I suspect the Cards have any interest in trading Grichuk. Jay won't have much trade value until he fully recovers from a wrist injury. St. Louis has enough outfielders, however, to deal either Bourjos or Pham this month. Alone, neither of those players would net the Cardinals much. But the possibility to include them as part of a package is very realistic.
What, if any, significant moves will general manager John Mozeliak make before the Trade Deadline?
-- Kyle T., Edmond, Okla.
With Tim Cooney pitching well, and Jaime Garcia and Marco Gonzales on the mend, the Cardinals don't appear to be as interested in the starting-pitching market as they once were. Instead, their priorities are on the offensive end. The club is seeking improved production at first base, though that could be addressed any number of ways. Piscotty is the internal candidate, but if the club chooses to add from outside, it can be flexible in searching for a first baseman or third baseman, given Matt Carpenter's ability to move across the diamond, if necessary. A left-handed bat for a weakened bench is also being targeted.
I'd have to believe, too, that the Cardinals will keep their eye on the reliever market. They have three relievers (Trevor Rosenthal, Kevin Siegrist and Seth Maness) who they have relied on quite heavily to this point. And there is uncertainty regarding the return timetables for Matt Belisle and Mitch Harris. Though Jordan Walden is nearing a wrapup of his rehab, the Cards could use additional bullpen depth.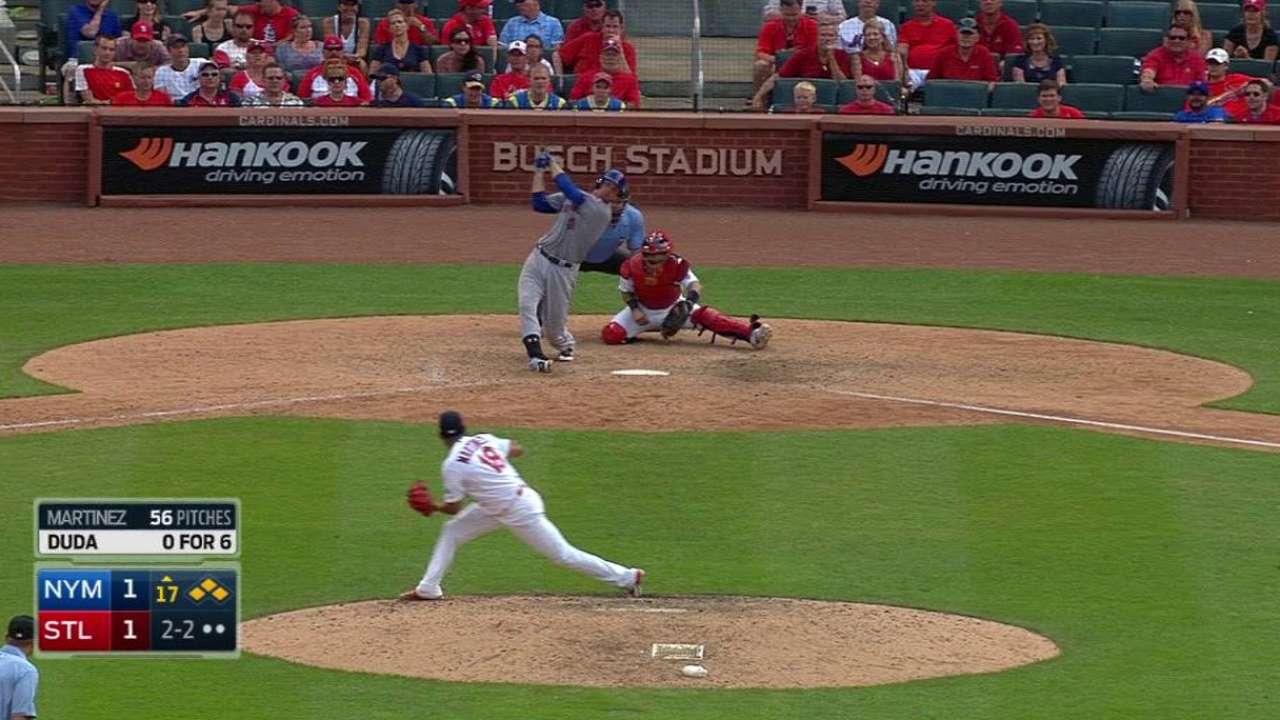 Carlos Martinez has already thrown 111 1/3 innings. How do you think the Cardinals will manage his innings in the second half?
-- Andy A., Highland, Ill.
The Cardinals haven't publicly laid out their innings-saving plan for Martinez, but there has to be one in place. He's already thrown more innings than he did in 2014 (103 2/3) and is likely going to surpass his 2013 total (120 2/3) before the end of the month. The club did use the All-Star Game to build in a midseason break, though even those plans were somewhat foiled with the team's need to use Martinez in Sunday's 18-inning game.
Obviously, the Cards won't want to shut Martinez down before October, but they also aren't ready for him to throw 200 innings. With the pace he's on, that means the club will have to build in an extended break or two at some point by skipping additional starts. They will have more flexibility to do so once Garcia returns from his groin injury.
Is there any chance the Cardinals will try to sign Heyward and/or John Lackey to an extension before they become free agents in the offseason?
-- Jeremy H., Omaha, Neb.
I wouldn't rule out potential negotiations with either, though the Cardinals would likely move more aggressively after Heyward than Lackey. Heyward will be the more sought-after player of the two this winter, so if the Cards were to want to work something out with him, they'd benefit from in-season negotiations. Mozeliak previously hinted that the timing for talks could be right soon after the All-Star break. The biggest question then becomes how St. Louis' value of Heyward compares to the player's expectations in free agency.
Jenifer Langosch is a reporter for MLB.com. Read her blog, By Gosh, It's Langosch, follow her on Twitter @LangoschMLB, like her Facebook page Jenifer Langosch for Cardinals.com and listen to her podcast. This story was not subject to the approval of Major League Baseball or its clubs.