MLB.com Columnist
Roger Schlueter
Stats of the Day: Greinke approaching history
Dodgers righty has tossed 43 2/3 consecutive scoreless frames; Hershiser in sight at 59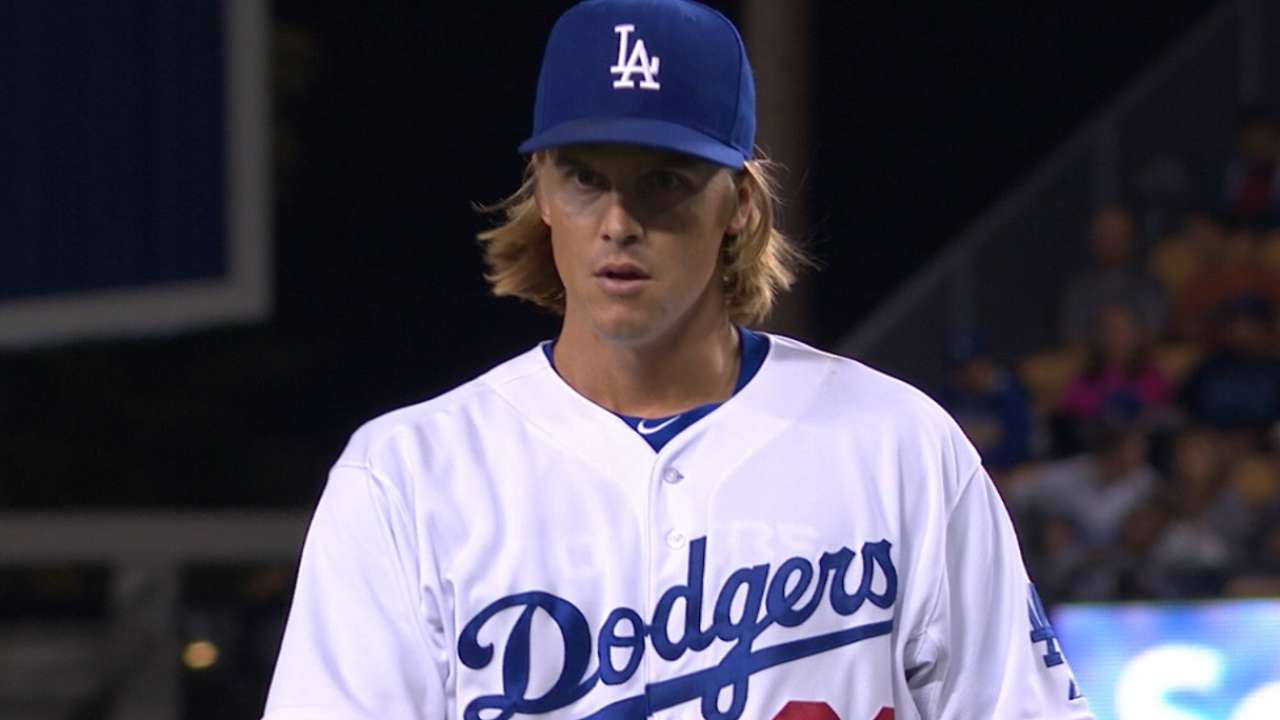 In Washington on Sunday, Zack Greinke limited the Nationals to three hits in eight scoreless innings, and he came away with the victory as the Dodgers claimed a 5-0 win.
With the eight frames, Greinke ran his scoreless streak to 43 2/3 innings, tied for the 11th-longest streak in the game, according to the SABR Baseball List and Record Book. Greinke's streak ties him with Rube Waddell (1905), and it is the longest in the Majors since the Dodgers' Orel Hershiser set the Major League record with 59 consecutive scoreless frames in 1988. With Hershiser besting Don Drysdale's record (set in 1968) and Greinke just outside the Top 10, Dodgers pitchers account for three of the 12 longest streaks.
Greinke lowered his ERA for the season to 1.30. The last time a pitcher had an ERA this low on July 19, the year was 1968, and Bob Gibson owned a 1.06.
Greinke's ERA+ now stands at 281. In his American League Cy Young Award-winning season for the Royals in 2009, Greinke's ERA+ came in at 205. Since 1893, a qualified pitcher has finished a season with an ERA+ of 200 or greater 34 times, with the following moundsmen being responsible for more than one: Pedro Martinez (five), Walter Johnson (four), Roger Clemens (three), Christy Mathewson (two) and Greg Maddux (two).
Greinke lowered his WHIP to 0.822. This figure is only second lowest in the Majors, as Max Scherzer (Greinke's mound opponent on Sunday) owns a 0.804. The last season to see multiple hurlers qualify for the ERA title and finish the year with marks below 0.900 was 1968 -- Gibson, Dave McNally and Luis Tiant.
Strikeout kings
• On Saturday, Clayton Kershaw fanned 14 with no walks during an eight-inning masterpiece. With the line, he became the second pitcher since 1914 to have back-to-back efforts featuring at least 13 K's and no walks (he had 13 on July 8). In September 1984, Dwight Gooden put together back-to-back games with 16 K's and no walks.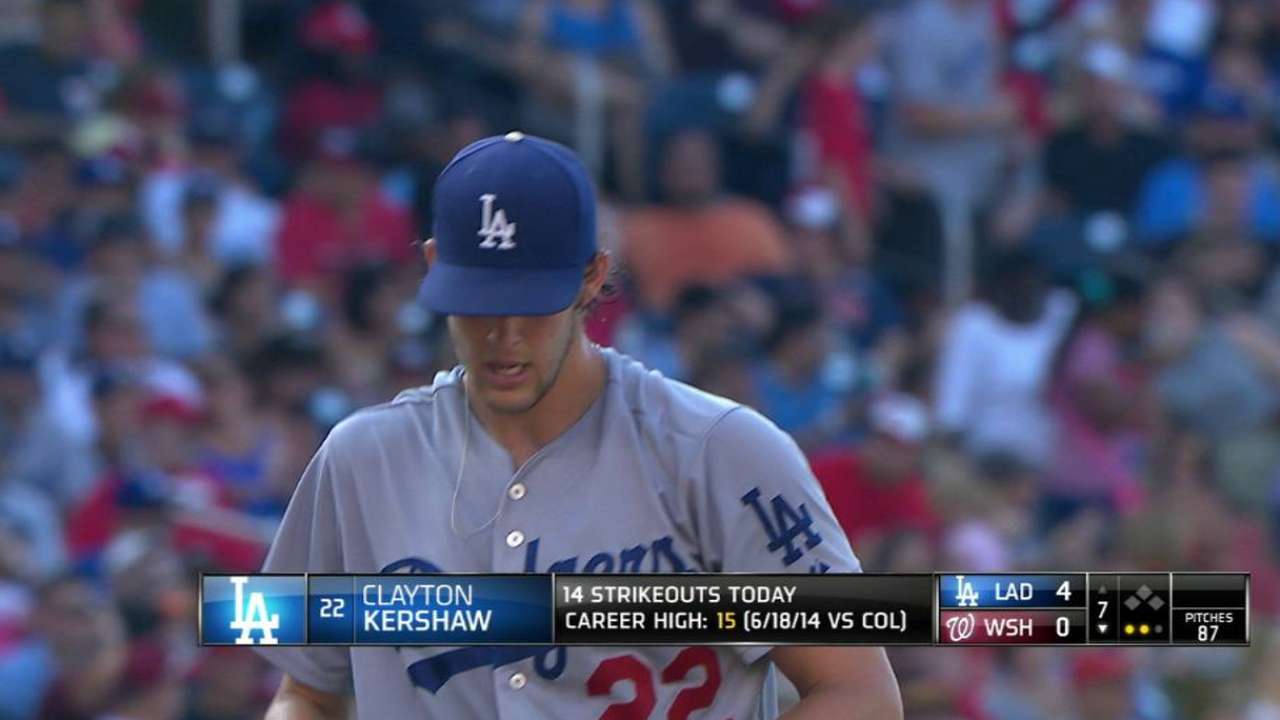 • Taylor Jungmann allowed a run in seven innings and recorded the win as the Brewers finished off a three-game sweep of the Pirates, 6-1, on Sunday. Jungmann has made eight career appearances, and he is 5-1 with a 2.04 ERA. Among players in franchise history to see their first eight Major League games all come in starts, Jungmann's 2.04 is the lowest, beating out Bill Parsons' 2.07.
• On Sunday, Dallas Keuchel fanned a career-high 13 while allowing two hits in seven shutout innings; behind the effort, the Astros cruised to a 10-0 victory over the Rangers.
• Keuchel became the 12th Astros pitcher to post a line with at least 13 strikeouts and no walks. Among this dozen, the two hits allowed tie for the fewest. Turk Farrell surrendered two in a complete game on May 10, 1963, and J.R. Richard allowed his two over eight innings on April 10, 1980.
• Keuchel has three games this season with at least 11 strikeouts. Those three tie for the second most in a season for an Astros southpaw, with Randy Johnson having six in 1998 and Mike Cuellar having three in '67.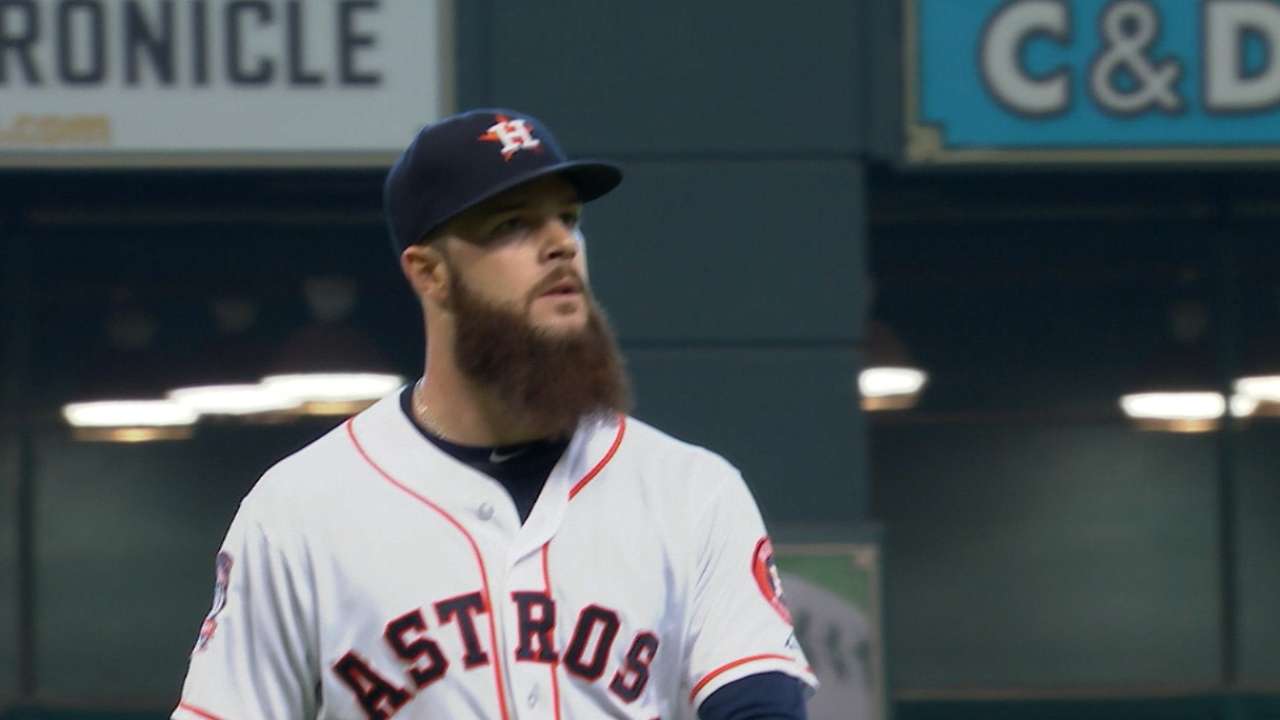 Walking tall
In Atlanta's 4-2 win over the Cubs on Friday, A.J. Pierzynski drew his 293rd career walk, which was his 66th career intentional walk.
Through Friday, Pierzynski was one of 396 players since 1893 to have at least 7,000 plate appearances. Among this collection, he was one of four players with a walk percentage of less than four percent. The other three: Tommy Corcoran (played from 1890-1907; reference points here are just for his career starting in 1893), Hal Chase (1905-19) and Pierzynski's former manager, Ozzie Guillen ('85-2000).
Intentional walks have been tracked since 1955. Since '55, there are 259 players with at least 7,000 plate appearances through Friday. Among this collection, Pierzynski's percentage of walks from intentional free passes (22.5 percent) is the 19th highest. The top two percentages are owned by Garry Templeton (38.4 percent) and Vladimir Guerrero (33.9 percent).
The history books
• In Friday night's loss, the Mets' Curtis Granderson hit his 33rd career leadoff home run to tie Paul Molitor for 10th most all-time. With his next, he will tie Devon White and Ray Durham. Granderson has five leadoff home runs this season; with six in 2006, Jose Reyes has the most in any single season for the Mets.
• On Saturday, Lorenzo Cain's 13th-inning home run pushed the Royals to a 7-6 victory over the White Sox and concluded an afternoon where Kansas City's center fielder fell a triple shy of the cycle. On Sunday, Cain homered again, and he now owns a 143 OPS+. Only one Royals center fielder has ever qualified for the batting title and finished the year with a higher mark: Amos Otis, who produced a 151 in 1978.
Milestone watch for Monday
• Albert Pujols is two homers shy of tying Mike Schmidt (548 homers) for 15th on the all-time list, and the Angels have a doubleheader after a rainy weekend.
• Jonathan Papelbon needs one save to tie Rollie Fingers (341) for 12th on the all-time list.
Roger Schlueter is senior researcher for MLB Productions. This story was not subject to the approval of Major League Baseball or its clubs.