MLB.com Columnist
Bernie Pleskoff
Scouting profile: Eduardo Rodriguez
Background
One can only imagine how difficult it was for the Baltimore Orioles to part with excellent left-handed-pitching prospect Eduardo Rodriguez in their July 2014 trade with the Boston Red Sox for lefty relief specialist Andrew Miller. Miller helped the Orioles reach the postseason. Rodriguez could be a fixture in the Red Sox's rotation for years to come.
My first look at Rodriguez came in the 2013 Arizona Fall League. Tall and slender at 6-foot-2, 210 pounds, Rodriguez was poised and confident on the mound. He had that "something special" scouts look for in pitchers. And he was left-handed, a bonus.
Signed by Baltimore in 2010 as an international free agent from Venezuela, Rodriguez has spent parts of six seasons in development. He compiled a 3.23 ERA and a 1.21 WHIP in the Minors. Rodriguez yielded only 0.6 home runs per nine innings pitched. In short, he had a very solid and successful development program in the O's and Sox's systems. Rodriguez was ranked third on Boston's Top 30 Prospects list.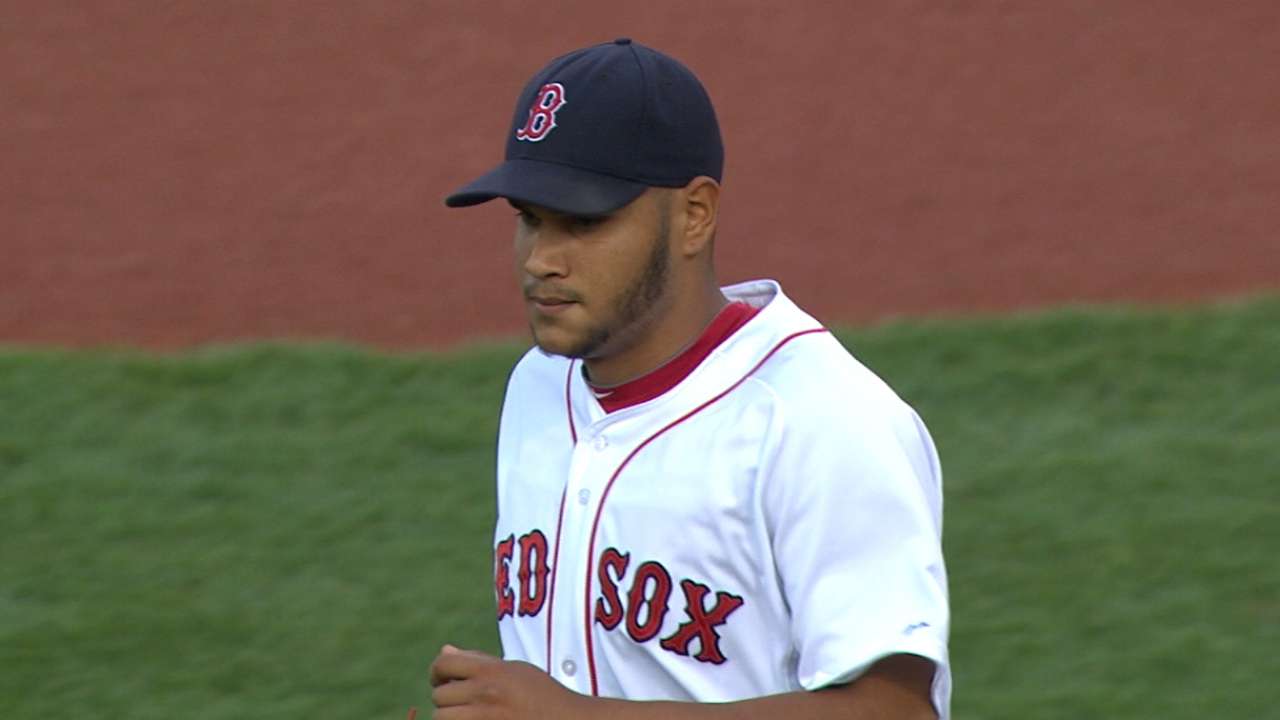 Repertoire
Rodriguez relies upon a moving 95 mph fastball as the bread and butter of his arsenal. It's a pitch that is difficult to catch up with and one with which he has great success. Rodriguez uses it to set up an improving changeup and a steady slider. Both of those offspeed pitches are true weapons, and they tend to sit at 87 mph without much differential.
Rodriguez's changeup against left-handed hitters is a difference maker in his overall game plan. Once he has the hitter sitting on the blazing speed, the 10 mph difference and the change in the location baffles hitters.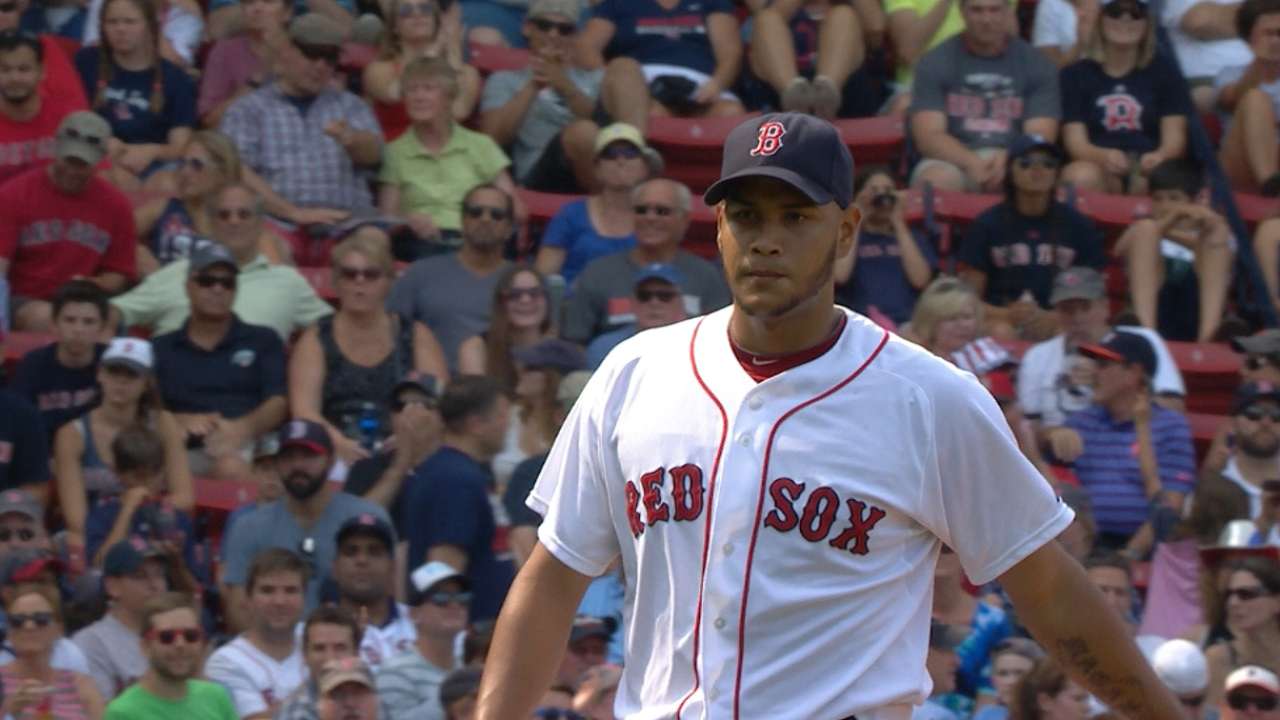 Mechanics
Rodriguez is still only 22 years old. His command and control are well advanced beyond his age. Rodriguez knows how he wants to sequence each hitter, and he comes right after it with good follow through and extension. He makes pitching look easy.
An early season knee injury cost Rodriguez some time in 2014. He came back well, finishing the year with a 4-3 record and a 2.98 ERA at Triple-A Pawtucket. Rodriguez threw only 48 1/3 innings in eight starts.
Rodriguez scuffled a bit with his command and control prior to being traded to the Red Sox. However, his delivery is smoother, his landing point is direct and he repeats his good mechanics pitch after pitch. That has all come with improved confidence. Where Rodriguez once may have been seen as a thrower, he is now more a true pitcher.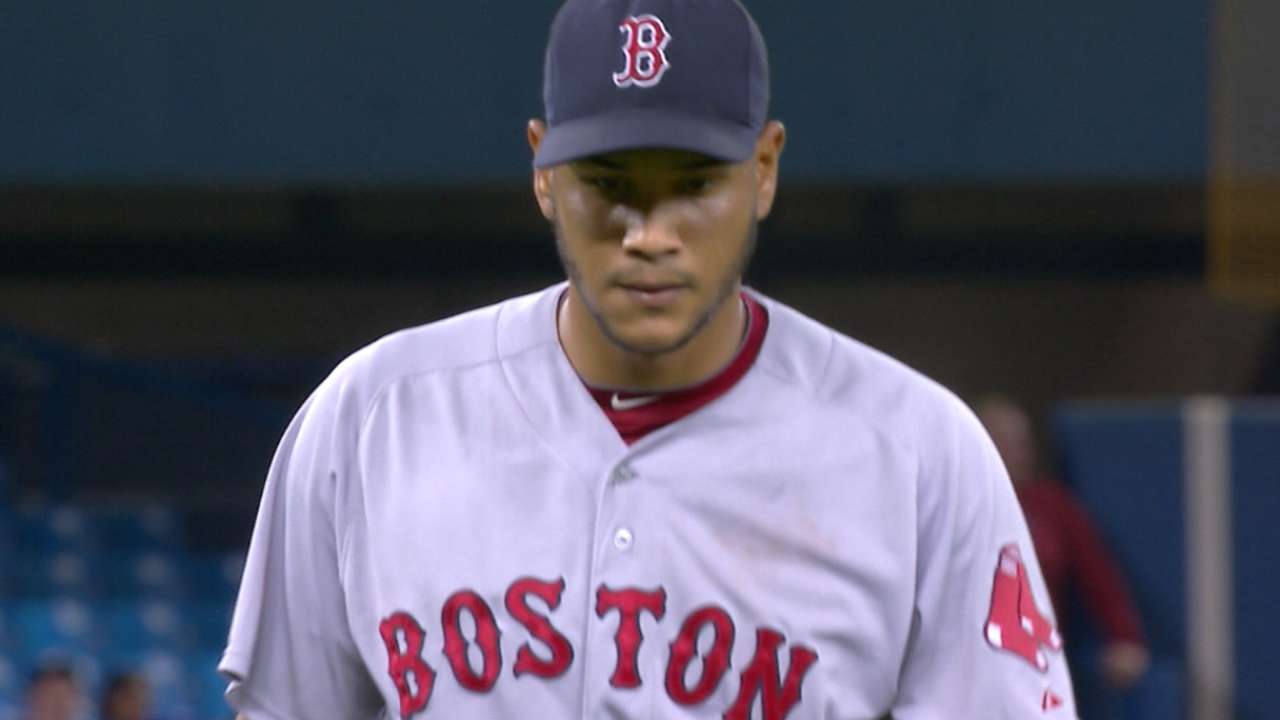 Strengths
Rodriguez has an outstanding fastball and two very solid complementary offspeed pitches. He can use any pitch at any point in the sequence. Velocity differentials throw the hitter off balance.
Pitching down in the zone more than he had ever done before, Rodriguez is happy to see the hitter pound the ball into the ground. But he throws strikes and gets his share of swings and misses.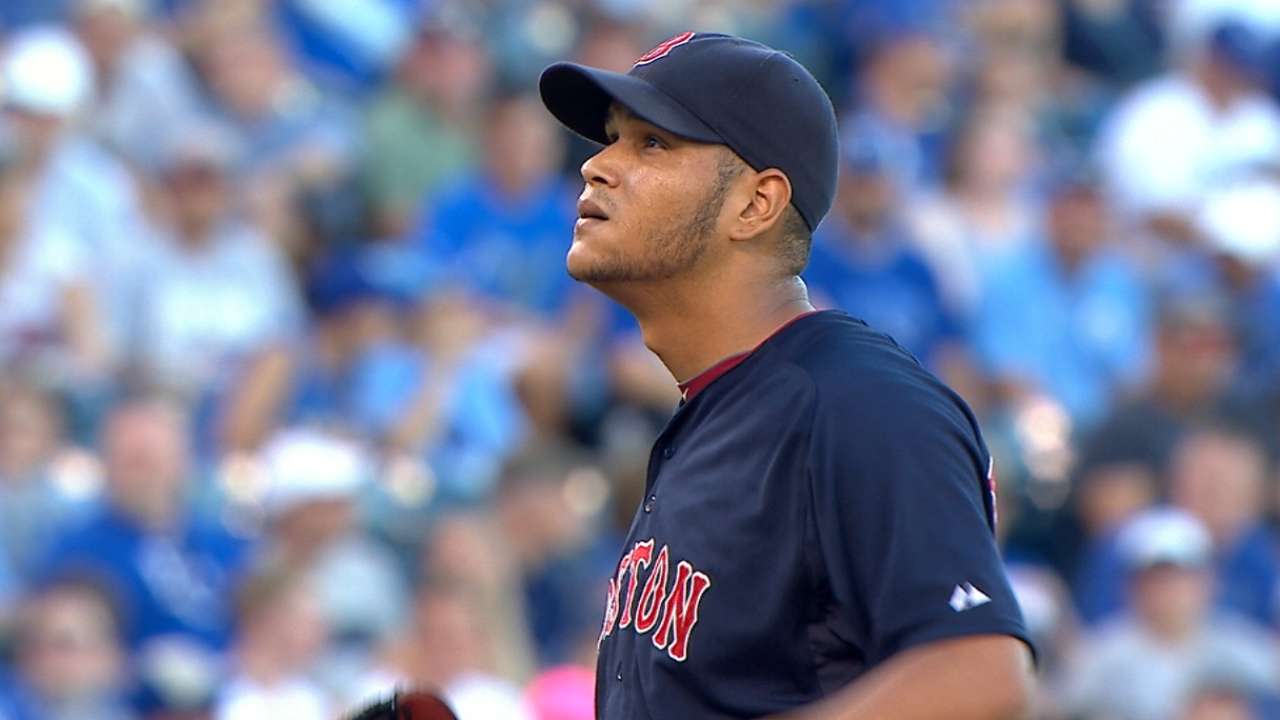 Weaknesses
Rodriguez still needs a bit of refinement on his secondary pitches. In particular, the release point on his changeup has to gain more consistency. Rodriguez has to make the hitter think he's throwing the fastball.
Like any high-velocity fastball pitcher, if Rodriguez alters his arm action, the ball can flatten out. When that happens, he can be hit hard.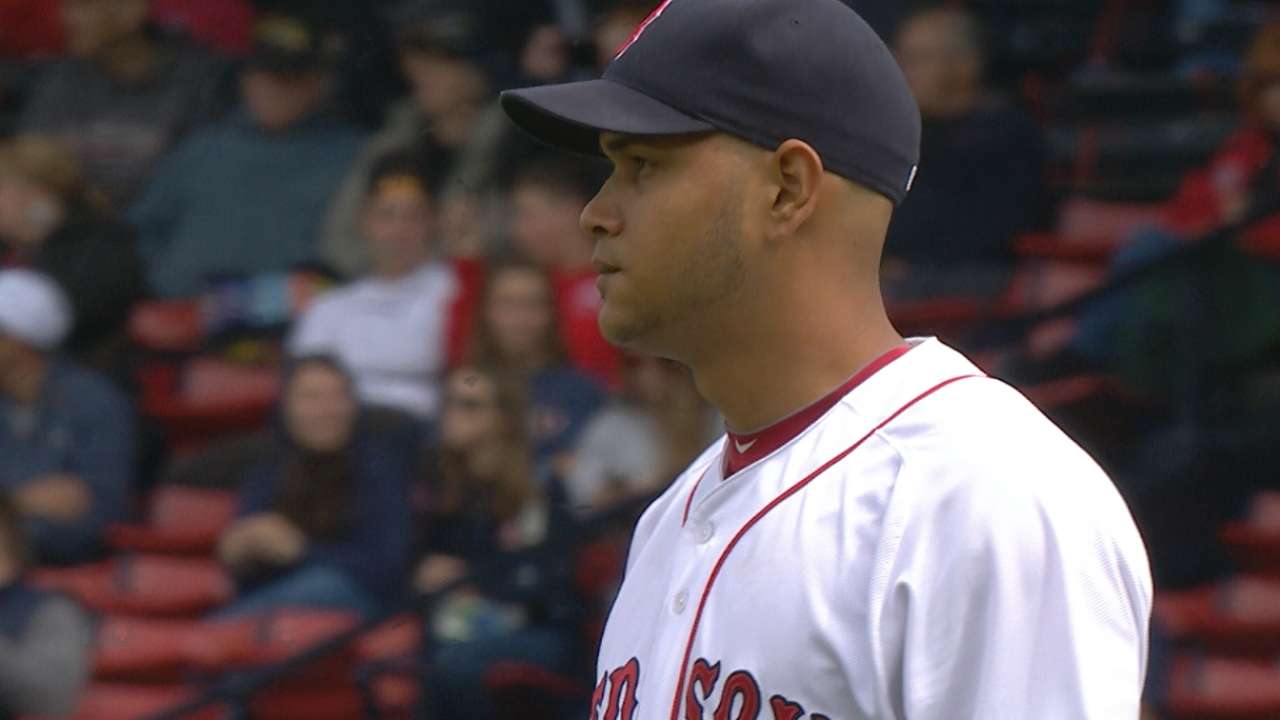 I find this interesting
In his 534 2/3 innings of Minor League pitching, Rodriguez has yielded only 22 home runs. The highest total he surrendered in one year was nine. That happened in 2013. Rodriguez is the consummate ground-ball pitcher.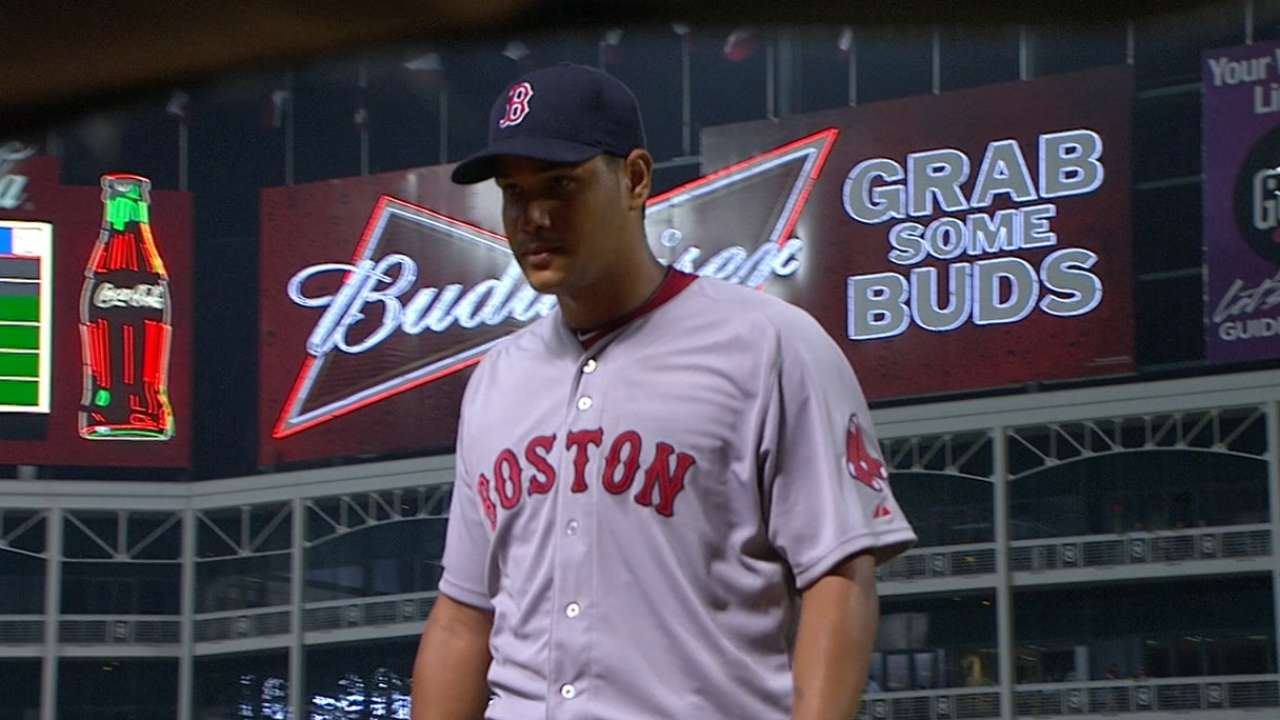 The future
Some scouts say Rodriguez reminds them of a very young Johan Santana. While I see the left-handed and possible repertoire comparisons, I'm not ready to call him Santana. However, Rodriguez has already shown an ability to pitch at the big league level. He has taken his spot in the Red Sox's rotation and should retain that role in the future. Rodriguez's stuff plays. When he is in rhythm and in sync, every pitch moves. Rodriguez has a tremendous future.
Rodriguez in a word
Movement.
Bernie Pleskoff has served as a professional scout for the Houston Astros and Seattle Mariners. Follow @BerniePleskoff on Twitter. This story was not subject to the approval of Major League Baseball or its clubs.