Mets duo among top 10 prospect performers Sunday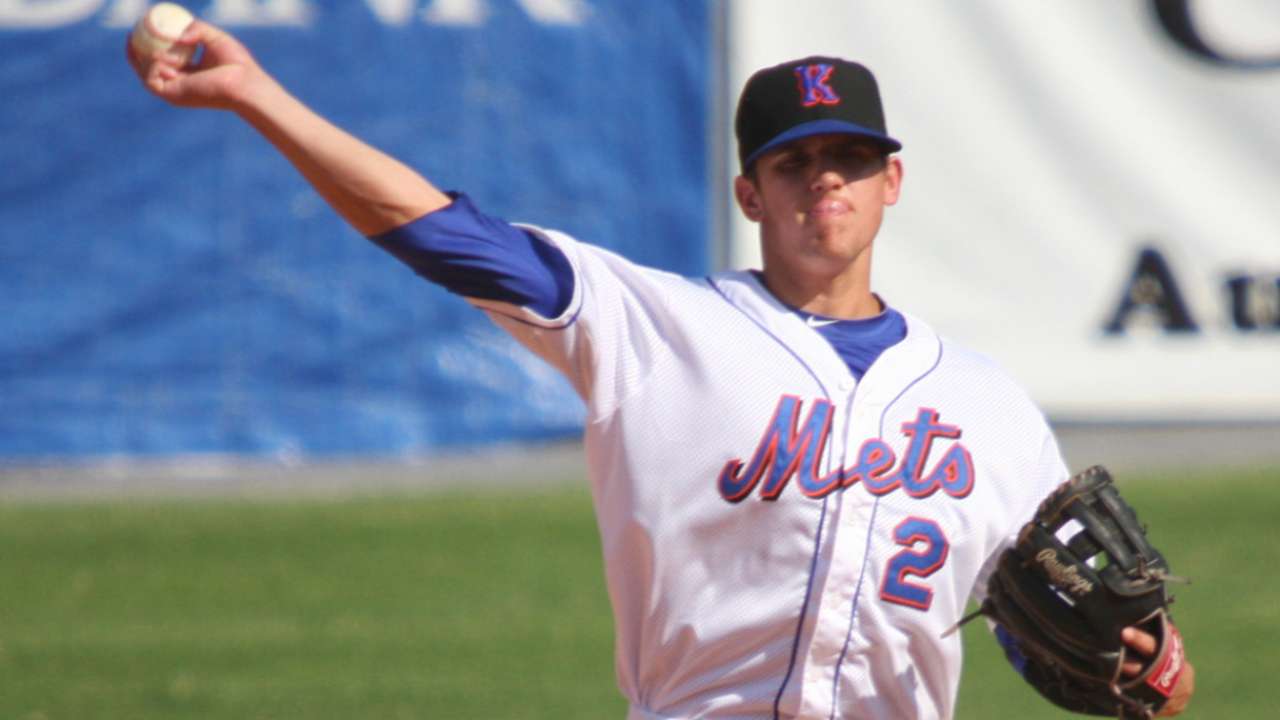 Two of the Mets' hottest prospects -- Gavin Cecchini and Michael Conforto -- continued their scorching ways in leading Double-A Binghamton to a 9-4 win over Trenton on Sunday.
Cecchini, the team's No. 7 prospect, went 4-for-6 with four RBIs and now has eight hits in his past three games.
"One thing he's been doing lately is doing a good job of working ahead in the count," Binghamton manager Pedro Lopez told MiLB.com. "He's getting good pitches to hit, and that's something he did very well today. Even when he's behind, he's laying off tough pitches and just waiting for the good pitches. That's what we're seeing from him."
Conforto, No. 3 on the Mets' Top 30 Prospects list, went 2-for-5 with a triple for the B-Mets. He's 7-for-16 with two homers and three RBIs since participating in the All-Star Futures Game last week.
"He was getting a little tired going out there and trying to hit in the middle of our lineup," Lopez told MiLB.com. "That takes a lot out of a player. ... Going to the Futures Game helped him because it got him the breather he needed right, and now, he's been able to get back to where he was before he got here."
Other notable performances from around the Minor Leagues on Sunday
Rockies No. 1 prospect (No. 11 overall) Jon Gray bounced back from a rough start to post the second outing of his past three in which he has not allowed an earned run. On Sunday, Gray yielded just three hits and one unearned run in five innings while striking out seven and walking two. The 2013 third-overall Draft pick now has 10 quality starts in his past 12 trips to the hill. Overall, he's 4-6 with a 4.57 ERA.
Phillies No. 1 prospect (No. 15 overall) J.P. Crawford is slugging for Double-A Reading. The shortstop went 1-for-4 with his first homer since June 26 as the Fightin Phils took down New Britain, 6-5. Sunday's performance followed a strong Saturday showing in which Crawford laced a double and a triple. He has 10 doubles, four triples, three homers and 16 RBIs in 43 games with Reading.
Blue Jays No. 2 prospect (No. 33 overall) Dalton Pompey made his only hit count on Sunday afternoon, delivering a walkoff single in the 12th inning of Triple-A Buffalo's 4-3 win over Columbus. He finished 1-for-5 with two walks and the lone RBI, which came against Trey Haley with two outs and the bases loaded. Sunday marked Pompey's eighth straight game with a hit, and he's now 11-for-35 with a triple and four RBIs in that span. The center fielder has also played for Double-A New Hampshire and the Major League club this season, hitting .294/.362/.420 with six homers and 29 RBIs in the Minors while adding two homers and six RBIs with Toronto.
Astros No. 2 prospect (No. 56 overall) Domingo Santana set a Triple-A Fresno record when he hit a single as part of a 1-for-3 day. The base hit made it 43 straight games getting on base, the longest such streak in Grizzlies history. The 22-year-old Santana has hit in six straight and now boasts a .323/.436/.596 line with 14 homers and 48 RBIs this year.
Cubs No. 4 prospect (No. 85) Gleyber Torres went 2-for-5 with a double for Class A South Bend, his fourth straight multi-hit game. The shortstop has gone 10-for-19 with three doubles, a triple and three RBIs in that time. On the year, he's collected 18 two-baggers, a pair of homers and 48 RBIs while swiping 15 bases, en route to hitting .316/.380/.413.
Orioles No. 3 prospect Christian Walker hit his second homer in three games for Triple-A Norfolk. The highly touted first baseman has spent almost his entire season with the Tides -- save for one game with Baltimore -- and has collected 21 doubles and seven homers in 87 contests. He's done most of his bashing over the past month, with five bombs since June 23.
Yankees No. 4 prospect Greg Bird had a career-high four hits for Triple-A Scranton/Wilkes-Barre, finishing 4-for-5 with two RBIs. He improved his batting average from .234 to .288 in the process, and now has eight RBIs in 13 games since being promoted from Double-A Trenton, where he hit .258/.358/.445 with six homers and 29 RBIs in 49 games.
White Sox No. 8 prospect Courtney Hawkins ripped a two-run homer as part of a 2-for-5, three-RBI day for Double-A Birmingham. His round tripper was his third of the month, and Hawkins now has nine homers and 40 RBIs on the year. A first-round pick in 2012, he's hitting .255/.307/.434 in his first season with the Barons, and has picked up at least one hit in six straight.
Giants No. 16 prospect Adam Duvall cracked two home runs for Triple-A Sacramento on Sunday, helping the River Cats to a 7-6 win over Tacoma. The first baseman has been absolutely sizzling over the past seven games, sending seven baseballs over the wall in that span, including a three-blast game on July 11. Duvall has five straight multi-hit performances, and is now tied for second in the Minors with 23 home runs. A.J. Reed and Adam Brett Walker are only one ahead of the Sacramento slugger with 24 apiece.
Alex Smith is a reporter for MLB.com. This story was not subject to the approval of Major League Baseball or its clubs.