MLB.com Columnist
Richard Justice
5 teams that need to trade to get in title contention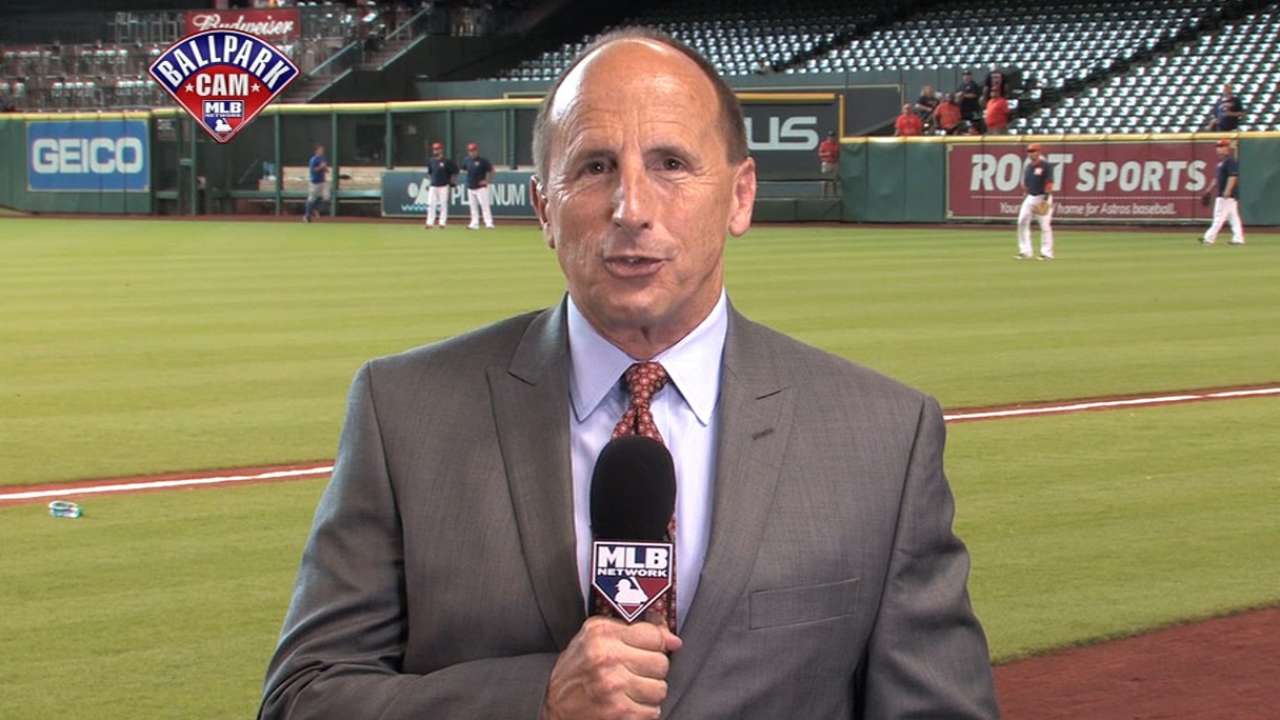 If you're the Cardinals, Royals, Pirates or Angels, there's no urgency to do a single thing. You've got a good deal going. On the other hand, all four of them would like to: (a) solidify themselves for the stretch run; and (b) be more October-ready.
So all of them hope to get better in the 11 days leading up to the July 31 non-waiver Trade Deadline. That's also true of at least 17 other teams.
This season is fascinating in that way. No team has emerged as a World Series favorite. At the moment, 17 clubs are within 5 1/2 games of a postseason berth. Only one division leader -- Kansas City -- has a lead of more than 4 1/2 games.
But even with so many teams still in contention, there will be impact players changing teams, possibly several of them. Reds ace Johnny Cueto could be the best, but there is a long list of others, including Cueto's teammate Mike Leake.
The Brewers will listen to offers for first baseman Adam Lind, third baseman Aramis Ramirez and others. The Phillies will discuss Cole Hamels and Jonathan Papelbon. The Athletics could trade Ben Zobrist and Scott Kazmir. And the Padres are at least willing to discuss Justin Upton, Tyson Ross and Andrew Cashner.
So brace yourself for an intense couple of weeks. Some teams will feel a special kind of pressure. These are the clubs that may be one impact player -- or perhaps two -- away from being good enough to win a World Series. Consider these five:
Toronto Blue Jays
The Blue Jays probably aren't good enough to go to the playoffs without an upgrade or two, but here's the fascinating part: They might just be a couple of tweaks from being a potential World Series team.
Here's another factor: General manager Alex Anthopoulos and manager John Gibbons might need a postseason run to enusre their jobs are safe. No need to keep the powder dry with so much on the line. Besides that, Toronto has a long list of prospects to trade.
If the Blue Jays were to acquire, say, Hamels and Papelbon, they have a great shot at a deep October run. Acquiring just one of those two might position them to get back to the playoffs for the first time in 22 years.
Baltimore Orioles
The Orioles typically find solutions internally and with under-the-radar moves. And moving Chris Davis from first base to right field is a huge first step in just that direction.
Now left field is the issue. Upton would be an ideal fit. Zobrist would be a big upgrade. Reds outfielder Marlon Byrd is another name to watch.
The O's have had stretches in which they looked good enough to win with exactly what they have, but there has never been anything approaching consistency. At times the rotation has looked like the biggest need. Now a corner outfielder seems to be a more pressing concern.
GM Dan Duquette is a genius at filling needs. His Trade Deadline acquisition of reliever Andrew Miller last season was the most impactful move any club made.
Regardless, Baltimore has a manager, Buck Showalter, who is tremendous at getting the most out of what he has. Having reached the postseason in two of the past three years, the O's have a toughness and a September swagger. One additional piece might be enough to get them deep into October.
New York Yankees
Go ahead and admit it. The Yankees are better than you thought they'd be. You didn't think they'd get this much from Alex Rodriguez, Mark Teixeira, Masahiro Tanaka, Adam Warren, Chasen Shreve and others.
But the Yanks have spent 67 days atop the American League East and now have a healthy four-game lead. They're probably going to the playoffs regardless of what they do before the Trade Deadline.
GM Brian Cashman's thinking now is that his team may see David Price, Cueto, Dallas Keuchel or Hamels multiple times in the postseason, so why not think big to better position the Yankees for a 28th championship?
If Cashman lands Cueto or Hamels -- or, perhaps James Shields -- he will have made his club one of the favorites.
New York Mets
Yes, there's a big picture here. GM Sandy Alderson simply can't trade one of his young starting pitchers. In them the Mets have a chance to remain relevant for several years.
But after eight seasons out of the playoffs, there's also some urgency to end the talk about how great the future is and actually deliver. The Mets built their team around the hope that David Wright, Travis d'Arnaud and Lucas Duda would be healthy and productive.
Wright and d'Arnaud have played just 27 games, and Duda's OPS is down 76 points. So the Mets need a bat. If it's in the outfield, so be it. Manager Terry Collins can worry about the playing time.
If it's at shortstop, catcher or third, Collins can handle that, too, at least until (or if) Wright returns. If the Mets can get to the postseason, their pitching makes them a threat to stay around. Without at least one more bat, though, they're probably going to be on the outside looking in.
San Francisco Giants
The Giants are whole again with both Matt Cain and Hunter Pence back off the disabled list. They're 7-1 with Pence in the lineup this month. And so maybe they don't need a single thing.
But San Francisco will do something, and no one is better at positioning his roster for a late run than Brian Sabean. Best guess is that the Giants will be looking to add a bullpen arm or a bat for the bench.
Sabean understands that acquiring players at this time of the season not only makes his team better, it sends a message to the entire clubhouse that the front office believes in them and is doing all it can. In that way, there's a shot of energy and confidence. At this point, that may be all the Giants need.
Richard Justice is a columnist for MLB.com. Read his blog, Justice4U. This story was not subject to the approval of Major League Baseball or its clubs.