Peterson frustrated with costly misplay in loss
ATLANTA -- Shelby Miller saw his winless streak extend to 11 games Sunday night, as the Braves dropped their series finale to Jake Arrieta and the Cubs, 4-1.
In that 11-game stretch, much of the focus has been on run support -- or lack thereof -- but second baseman Jace Peterson said it was his throwing error in the second inning that solidified Atlanta's loss.
"It's a play I need to make and I didn't make it," he said.
Peterson referred to the second inning, when he ranged to his left on a ground ball from Starlin Castro and couldn't hit shortstop Andrelton Simmons with a catchable ball at second.
"I make that play, it saves two runs," Peterson said. "Different ballgame, but I didn't make the play."
To compound that error, the Braves offense left little room for mistakes, managing just five hits and one run against Jake Arrieta and the Chicago bullpen.
"We scored one run in two games," said Braves manager Fredi Gonzalez. "Our offense is not clicking right now."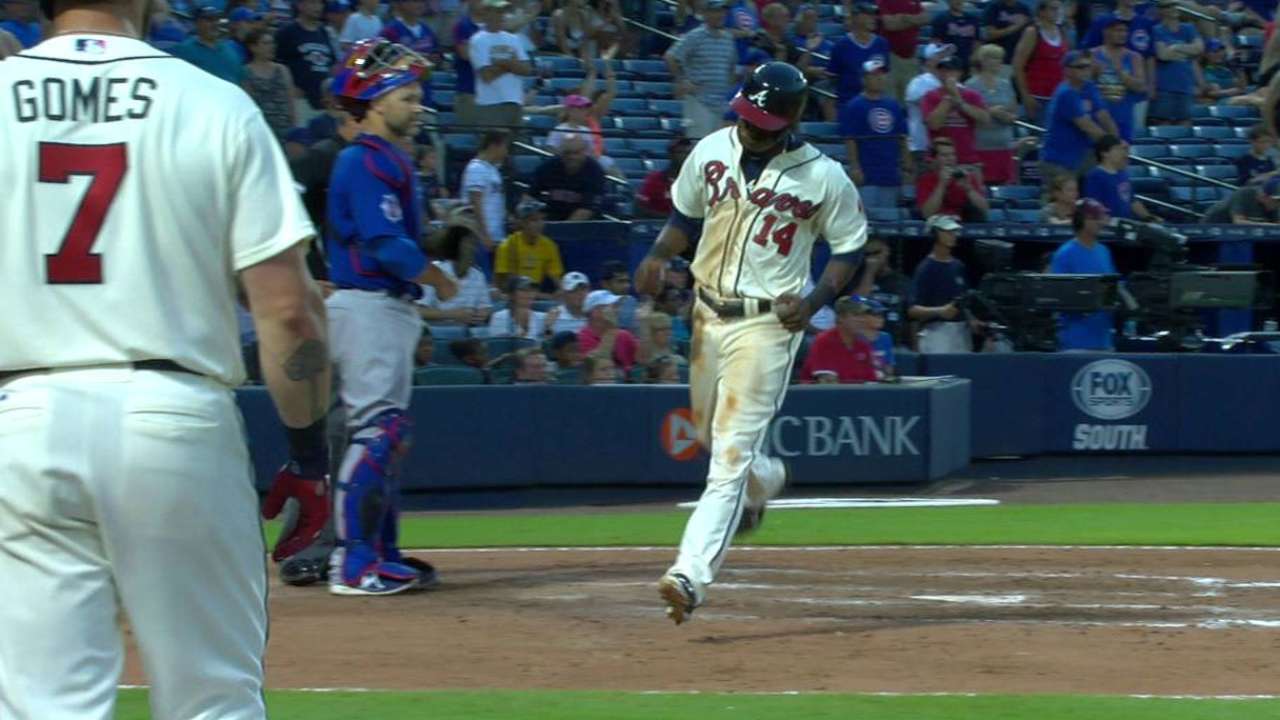 Offensive struggles have been a consistent theme with Miller on the mound. The Braves have scored just 2.8 runs per game in his last 11 starts and throughout the entire season, Miller has the 11th-worst run support (3 per game) in the Majors. But Miller has remained upbeat, just like he was after Sunday's game.
"Obviously unfortunate that we lost," he said, "but I felt like we played a good game. Physically I felt good so that's nice; all-around we played good, just didn't come out on top."
Gonzalez praised his starting pitcher's outing (his 11th start of the season allowing one earned run or less), but went back to Peterson's mistake as the turning point of the game.
"It cost him two runs," Gonzalez said. "Not only does it cost us two runs, but ... there's an extra 10-12 pitches he's got to throw to get out of that inning. And instead of going six innings he could have probably gone seven or maybe worked a little bit less than he did."
On a night where the Braves left eight runners on base and went 1-for-10 with runners in scoring position, everything still came back to that play in the second inning.
"In my opinion, it cost the game," Peterson said.
Carlos Collazo is an associate reporter for MLB.com. This story was not subject to the approval of Major League Baseball or its clubs.