The Week Ahead: Mets nipping at Nats' heels
Royals, Giants continue surges; Greinke seeks history for Dodgers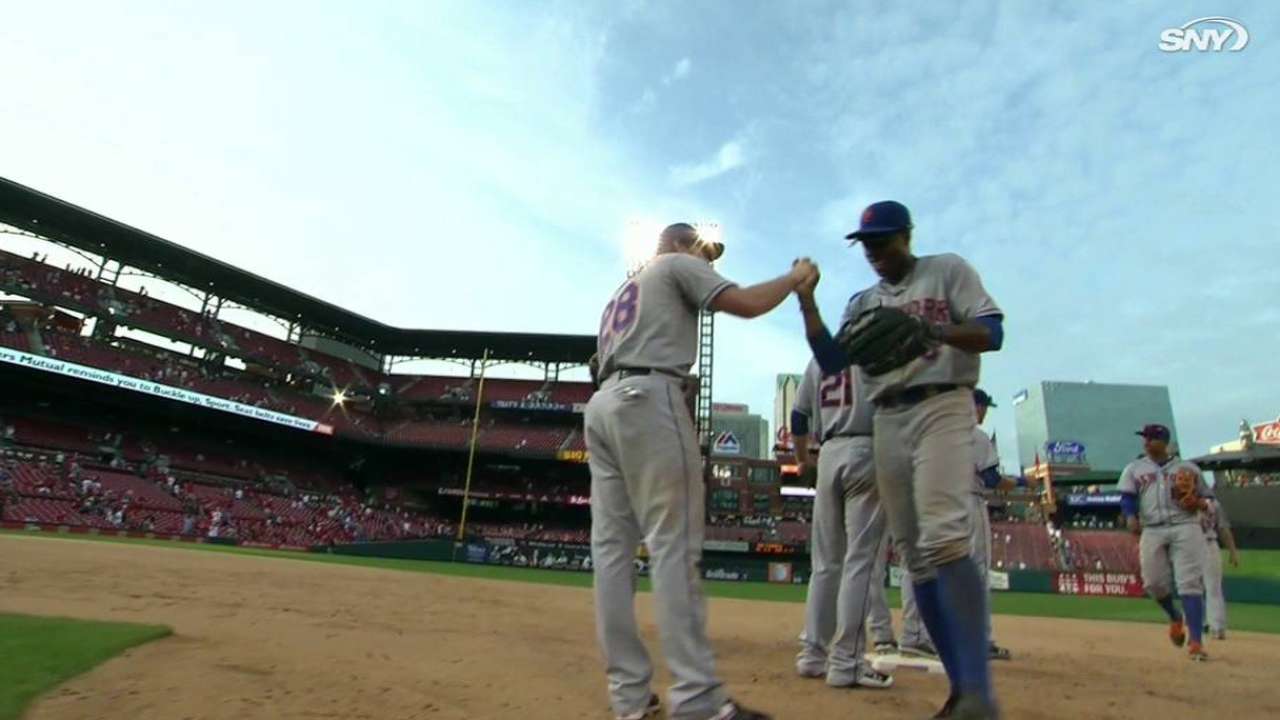 The Mets have hung in there all season. They've used a combination of dominant young pitching and occasionally timely hitting to somehow stay within striking distance of the heavily-favored Nationals in the National League East. After Sunday's dramatic 18-inning win at St. Louis, New York is only two games back of the Nats and looking forward to the next challenge.
Well, here it is.
The week ahead is headlined by one of the biggest weeks of the year for the Mets, who can make all kinds of statements about their postseason contention with a great seven days. It won't be easy, though. They start with three games against the Nats in Washington, then go back to Citi Field to take on the NL West-leading Dodgers in crucial four-game weekend set.
Fittingly, Monday will be Matt Harvey Day as the Mets look to their right-hander to get them going in the right direction. Harvey is slated to go up against Nats lefty Gio Gonzalez. The Mets might have some momentum, but they know they'll need more than a good outing from a starter and a few long balls, which has been their modus operandi lately.
"We're not hitting real well, and the games we hit two or three home runs, we've been winning those games because we pitch," Mets manager Terry Collins said. "If we start getting more guys [on], we'll be giving our pitching staff a little bit more support, but until we start swinging the bats better and getting guys on, we're going to be living with the home run."
Meanwhile, the team with the best record in the American League has been doing it via an opposite script. The Royals, who improved to 55-35 with a Sunday victory over Chris Sale and the White Sox, have been hitting up and down the lineup and getting typically great work from their bullpen. It's enabled them to overcome inconsistent starting pitching and the recent loss of Gold Glove outfielder Alex Gordon to a groin injury.
This week, Kansas City will have a full, tough schedule. They'll open with a three-game Interleague home series against the surging Pirates, then head to St. Louis for a makeup game against the club with the best record in baseball, then scoot back to Kauffman Stadium for a home weekender against the Astros, who are still holding on to second place in the AL West.
They're getting good news in the form of expected returns to the mound for Kris Medlen and Jason Vargas. Medlen, who has come back from his second Tommy John surgery, is likely going to the bullpen. Vargas, a dependable starter for manager Ned Yost last year, is slated to take the ball Tuesday.
Out west, the San Francisco Giants continue to confound. The defending World Series champions looked like they might be returning to status as usual odd-numbered-season also-rans as recently as last week. Of course, all they did was win six in a row to climb back to within 3 ½ games of the Dodgers in the division. This week, they'll enjoy a light travel week with three against the also-hot Padres in San Diego and three at home vs. their Bay Bridge Series rival A's.
Speaking of Dodgers, all eyes will be on starter Zack Greinke once again. Greinike's next start should be Friday at Citi Field against the Mets, and the baseball world will see how many more zeroes he's got coming.
Greinke tossed eight more shutout innings in the Dodgers' 5-0 victory over Washington on Sunday, extending his scoreless-innings streak to 43 2/3. Former Dodgers righty Orel Hershiser has the record for the longest scoreless-innings streak in MLB history. He went 59 innings without giving up a run in the Dodgers' last World Series championship season of 1988.
Phillies lefty Cole Hamels has been on the flip side of that type of spectrum lately, by the way. The veteran gave up five runs in three innings on Sunday, which followed a July 10 outing in which he gave up nine runs, a career-high, in 3 1/3 frames against the Giants. These type of things happen, but when you're the guy getting more trade speculation than anyone in the game, now that we're less than two weeks from the July 31 Non-Waiver Deadline, it makes things more interesting than usual.
"It can become an exciting time or difficult times for others," Hamels said of the stirring hot stove. "It is what it is. I know that being able to play the game of baseball and being able to pitch for this city or for any city, I'm fortunate to be able to do so and I want to do it for as long as I possibly can and help whatever team. Just to be able to go out there and help win a ballgame, I think that's what I focus on. That's the only thing I can control. There's a lot of scenarios and situations that you look to, and I don't have that type of control."
Count Johnny Cueto, Jeff Samardzija, Scott Kazmir, Tyler Clippard, Justin Upton and perhaps David Price and a host of other players in that category.
Nothing seems imminent on the trade front as we head into another crucial week in Major League Baseball, but it's now officially late July. Big things tend to happen in a hurry.
Doug Miller is a reporter for MLB.com. Follow him on Twitter @DougMillerMLB. This story was not subject to the approval of Major League Baseball or its clubs.